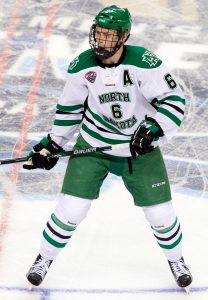 The Los Angeles Kings have signed former University of North Dakota defenseman Paul LaDue, Kings hockey operations has informed LA Kings Insider. The contract is a one-year entry level contract. Financial terms were not known immediately, but one-year, max-entry level contracts carry a $925,000 AAV, with hypothetical performance bonuses potentially added on.
UPDATE: LaDue's entry level contract comes with a $925K cap hit, via hockey ops.
A sixth round draft pick in 2012, the 6-foot-1, 186-pound LaDue spent three seasons at North Dakota, which culminated with a 5-1 defeat of Quinnipiac in the Division I Men's Ice Hockey Championship at the Frozen Four, played in Tampa, Fla, on April 9. In 41 games with North Dakota in 2015-16, the 23-year-old, right-shot defenseman totaled five goals, 19 points and a plus-31 rating. He amassed 16 goals and 62 points over 123 career NCAA games.
The Kings have pushed hard to get LaDue under contract for the past year. Last spring, Assistant General Manager Rob Blake traveled to Grand Forks, N.D. near the end of the Kings season, but instead of signing a contract, LaDue opted to remain at North Dakota for his junior season after mulling over the decision to turn pro for over a month. "Either side, I don't think, would've been a wrong choice. I just felt that going back for one more year will help me out in the long run, and I'm excited, more than ever, to come in here and work with these guys when the time comes," LaDue told LA Kings Insider at development camp last July.
The Kings were supportive of that decision, citing the comfort with the program's coaching staff and developmental process, which at the time was led by Dave Hakstol, who now coaches the Philadelphia Flyers. In the first year under Head Coach Brad Berry, North Dakota finished 34-6-4 and won its first NCAA title in 16 years but has lost defenseman Troy Stecher (Vancouver) and Keaton Thompson (Anaheim) to the professional ranks and may also lose LaDue's cousin, Luke Johnson, to Chicago, according to Brad Schlossman of the Grand Forks Herald. Forward Nick Schmaltz (Chicago) is also a candidate to turn pro.
The Kings restarted their push to sign LaDue shortly after North Dakota won the national championship and at the conclusion of the NHL's regular season. According to hockey operations throughout the last two weeks, the team was in regular communications with him and were waiting for his ultimate decision. Because he was four years removed from his draft date, LaDue did have the option to become a free agent later this summer and sign with any NHL team, but that was never expected to be a situation that materialized.
General Manager Dean Lombardi also traveled to Colorado to see LaDue play against Denver University in mid-February after having departed the Kings' eastern swing at the time. Los Angeles hockey operations was proud of LaDue's national title and his accomplishments at the NCAA level and is now ready for the defenseman to ply his trade at the professional level. The timing hasn't been finalized at the moment, but the expectation is that LaDue should ultimately join AHL-Ontario for some development as a Black Ace-type player; again, neither that decision, nor the timing, has been set in stone.
LaDue is a versatile defender who thrived at North Dakota in a "shutdown" role.
From Brad Schlossman, in October:
"That's a pro hockey player playing college hockey," an NHL scout told the Herald. "I can't believe they got him to come back. He is so good."

UND will have arguably the best two-way defenseman in the National Collegiate Hockey Conference on its roster this season with the 6-foot-1, 197-pound blue liners from Grand Forks Central.

Defensively, LaDue is one of UND's shutdown guys. He plays against opponents' top offensive threats and is always on the ice during the final minutes to protect leads.

"He has such a quick and strong stick," UND coach Brad Berry said. "He's very smart positionally and highly competitive. He's one guy when you watch him in a game, he might not be the flashiest. But I tell you what, he's effective. He's very good defensively. We want to continue to try to grow his offensive game, and I think that's a big part of him coming back."
LaDue is not expected to immediately contend for a position on the blue line and is almost certainly ticketed for AHL-Ontario come October. Still, he'll be among the more interesting players to watch at both development camp and training camp.