Reign game breakdown
The Reign were relentless on Thursday night — relentless in their goal to get traffic in front of San Jose goalie Aaron Dell, relentless on the forecheck and to loose pucks, and with their suffocating play took a 2-games-to-1 series lead in the best-of-5 matchup with a 3-1 victory on home ice. Adrian Kempe scored two goals and Nic Dowd added another on the power play in an all-around effort that put the Barracuda on the brink of elimination. "We wanted to establish something being back home and we want to be a team that's hard to play against at home," head coach Mike Stothers said. The first period saw the Reign dictate the pace and physicality and Kempe opened the scoring with a tip of a Michael Mersch shot at 7:12. Dowd had a chance to make it 2-0 on a penalty shot attempt with 5:25 left in the period after it was ruled a San Jose skater covered the puck in the crease, but he narrowly missed on a five-hole bid. The Reign eventually did take a 2-0 lead on a power play mark by Dowd in the second and Kempe made it 3-0 midway through the third period, holding the puck on a 2-on-1 and fooling Dell with a high shot inside the right circle. San Jose managed to get one goal by Peter Budaj, who faced just 17 shots, on a long shot from the point through traffic by Nikolay Goldobin at 13:28 of the third, but the Barracuda were chasing the Reign from start to finish in this one.
Best quote
Stothers, on Kempe raising his level of play in the postseason: "I don't know, he seems to like the playoffs. He stepped up his game last year for us. Maybe he's one of those playoff guys, might want to keep that in mind for future playoff pools."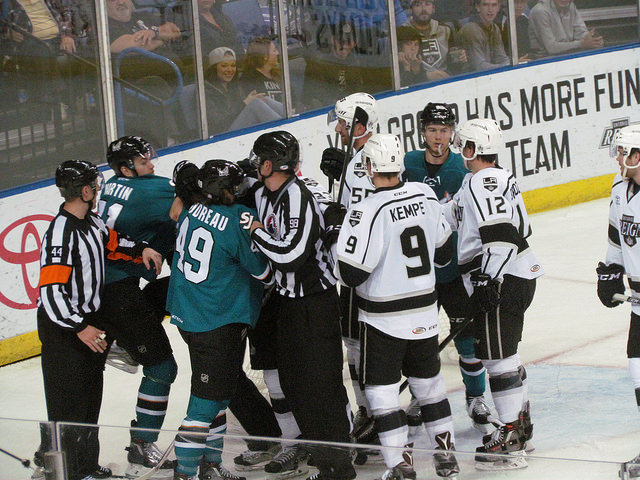 Three stars
–Adrian Kempe – Moved to the center position as an adjustment by Stothers with centers Ryan Horvat and Andrew Crescenzi out due to injuries suffered earlier in the series, Kempe found his stride in the middle of the ice. "I like to get low and get my speed going and get the puck to the middle," said Kempe. Skating between Mersch and Jonny Brodzinski, Kempe's multi-goal game was his first of such kind since a hat trick back in November. The Reign put a high priority on making Dell uncomfortable and Kempe's opening goal came as he was planted in front of the crease for a deflection. In the third period, he opted to not pass to Brodzinski on a clear 2-on-1 and instead buried the puck himself high blocker. Kempe had 8 goals last postseason and Stothers is hoping for even more production from him going forward.
–Nic Dowd – The first-line center broke the team's 0-for-6 power play drought in this series by cashing in 2:34 into the second period after a Derek Forbort shot was tipped by Brodzinski and found his stick in the slot — this all after a failing to score on the penalty shot. "Dowder doesn't score on the penalty shot but he was really close, there was some room there in the five hole, he just hit the top of the pad," said Stothers. "So what does he do? He doesn't get frustrated, he doesn't get mad, he buries one on the power play." As playoffs and special team-chances go hand-and-hand, Dowd's mark is the only power play goal for either side this series. His three points in three games are tied for the team lead with Brodzinski.
–Mike Amadio – Thrown into his first AHL game in the postseason no less, the 19-year-old rookie who just wrapped up his OHL season in North Bay didn't look out of place in the faster pace. Amadio provided quality minutes skating on the third line between Jordan Samuels-Thomas and Justin Auger and was one of the first players named by Stothers as a key cog in the win. "It was a little nervous to start obviously my first couple shifts was just getting out the nerves but after that I felt a little more comfortable and was able to play my game," said Amadio, a third-round pick by the Kings in 2014. He finished with one shot on goal and an even plus-minus rating, made smart plays and wasn't a liability by any means.
Turning point
Trevor Parkes was handed a 10-minute game misconduct and a 5-minute boarding major for his hit on Sean Backman 1:17 into the second period. While Backman missed some time being attended to in the locker room, Dowd scored on the power play. The 5-minute man advantage ate up a ton of clock in the period and with Parkes out of the game, San Jose lost one of its top six forwards.
Stat fact
–4 – Shots on goal for the Barracuda in both the first and second periods. Ontario's aggressive forecheck and physical play gassed the Barracuda and they could barely sustain any zone time in either period (Parkes' 5-minute major did not help their cause in the second). Overall, though, Ontario's patient breakouts helped it control the puck possession battle.
This and that off-ice
Kings president and general manager Dean Lombardi was in attendance and was seen watching the game among the fans in the upper bowl in the third period.
Next up
The Reign have a chance to clinch the series and move on with a victory at home on Friday night at 7 p.m. in Game 4. If necessary, Game 5 is Sunday at 3 p.m. in Ontario. Said Kempe on the message after Thursday's win: "The series isn't over yet. We need one more win here and everybody prepare for the game tomorrow and we're just going to go out there and play as we did today."\