From March 14-19, the Los Angeles Kings outscored the Blackhawks, Stars, Rangers and Bruins by an aggregate score of 16-6. The games against Chicago and Dallas, both played on the road, featured five-goal Los Angeles outbursts and post-game questions relating to the team's fight for the number one overall seed in the Western Conference.
The Kings ended the season where few would have expected at the time. Cleaning out locker stalls and holding exit meetings over the final week of April wasn't the foreseen outcome of a team comprised of a strong contingent of players who had succeeded in playoffs and played with excellent structure and controlled possession regularly under a two-time Stanley Cup-winning coach who had guided the team to wins in 10 of 11 playoff series between 2012 and 2014.
Results thus far in this postseason continue to serve as further indications that there is terrific parity in the National Hockey League, and very good teams lose in the first round every single year. But how come, five weeks after the Kings became the first Western Conference team to earn a playoff berth, they were also the first Western Conference team to be eliminated?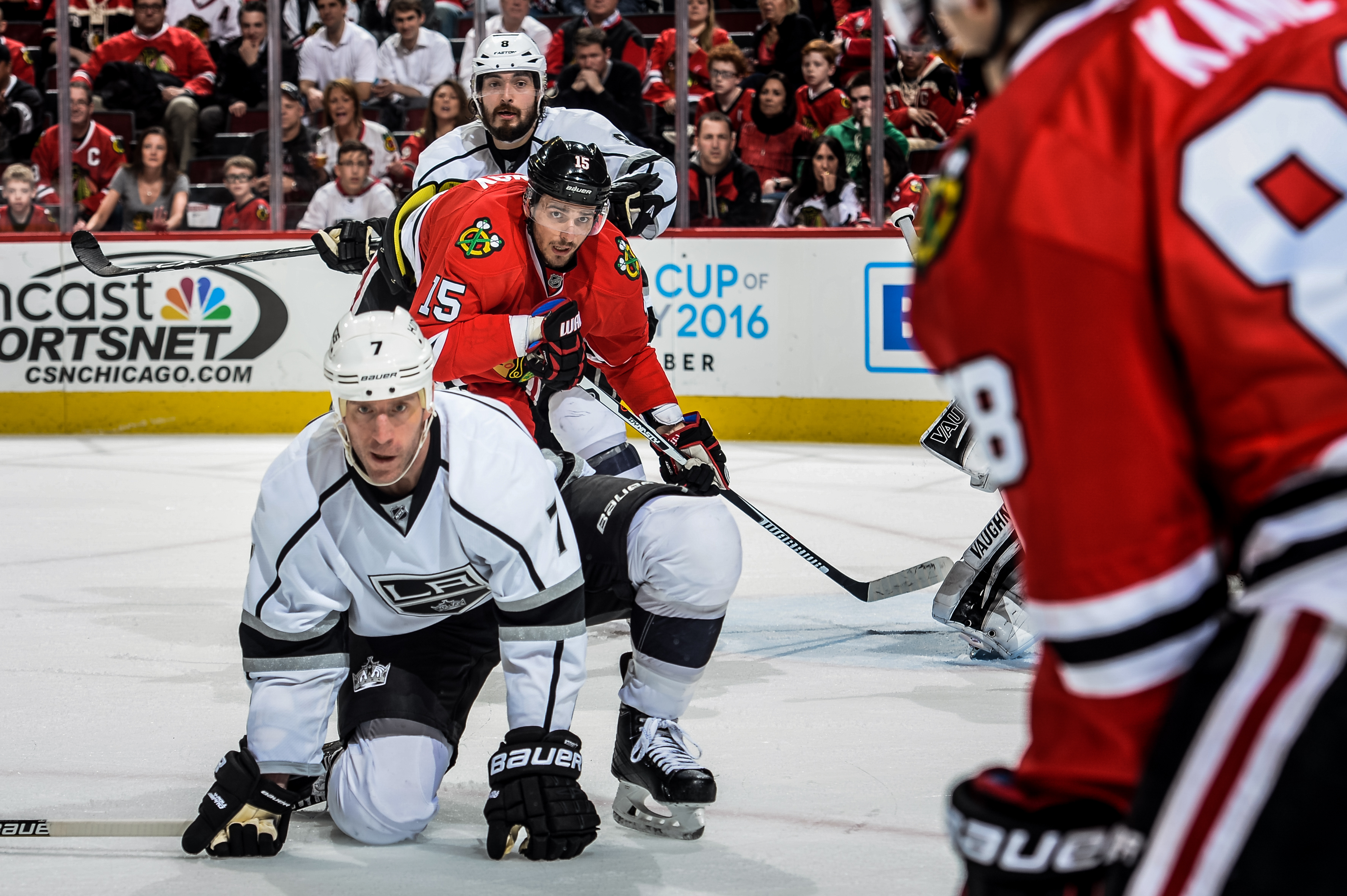 CHALLENGES IN UPGRADING A DEPLETED DEFENSE
The Los Angeles Kings still have been unable to find a suitable replacement for Slava Voynov, and really, those types of all-situational, 22-minute, right-shot defensemen who command only a $4.17-million cap hit aren't parted with for pennies and nickels. Voynov's own cruel and selfish actions hurt actual people, not just a hockey club, so again, any roster fall-out is secondary, but the team essentially lost a second defensive pair when he and Willie Mitchell departed the team's roster, an issue that was further exacerbated by Robyn Regehr's retirement one year later and Matt Greene losing a season due to injury after only three games in 2015-16. Having been stung by receiving only 16 games from Andrej Sekera in exchange for defensive prospect Roland McKeown and a first round draft pick, General Manager Dean Lombardi was understandably hesitant to complete a trade that would have brought in high-tier defensive reinforcements – particularly rentals – at a high cost. The defensemen the team did acquire were paid for with a much more affordable price – Luke Schenn and center Vincent Lecavalier joined the team in exchange for Jordan Weal and a third round draft pick, and Rob Scuderi inherited a higher degree of minutes of those vacated by Christian Ehrhoff, whom he replaced – and not the higher price that could have engineered a more significant upgrade on the back end. Brayden McNabb appeared to show a continued upward trajectory early in the season but was not playing his best hockey late in the year and was challenged by the pace of play in his first playoff series. Scuderi was a better fit than Ehrhoff and contributed with an active stick in his defensive zone but also lacked San Jose's footspeed in a challenging match-up. With Alec Martinez injured in Game 1, Jamie McBain, previously appropriate situationally but also a stopgap option who had opened the season as a (then) 27-year-old in the AHL, inherited a key playoff role after having played in only four of the team's final 22 games. This placed an added emphasis on Drew Doughty, who had emerged as a Norris Trophy favorite in the regular season, and Jake Muzzin, who was very good on most nights and dominant territorially but not at his seasonal zenith in the final two months.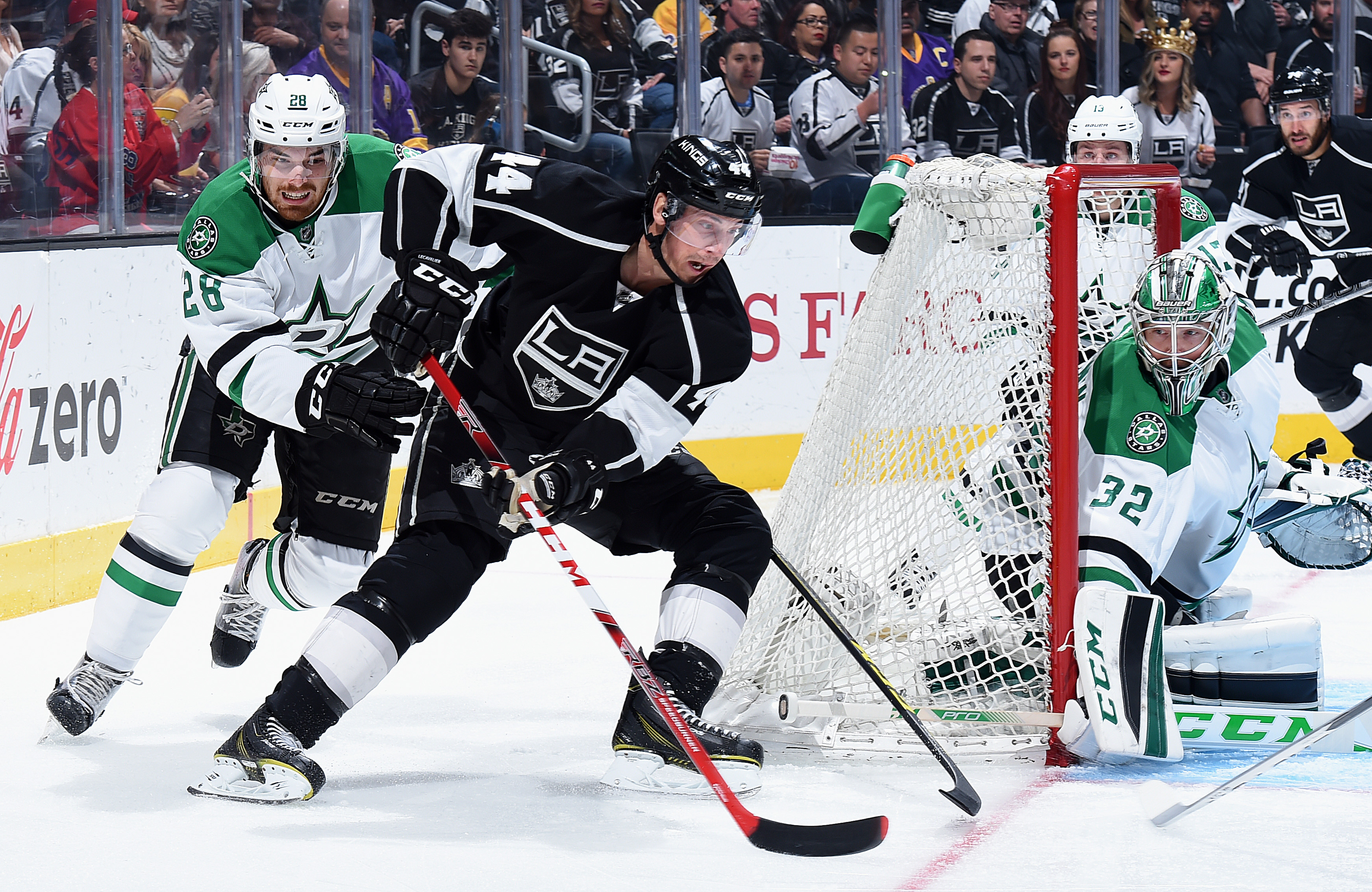 ROSTER DECISIONS / CHALLENGES OF A SALARY CAP TEAM
Related to the defensive challenges, the Kings weren't able to add significant upgrades because of decisions in the past that had turned sour and the limited options available to a team that spends to the salary cap and lacked a surplus of assets to deal as part of the cost to influence an extended run. Dean Lombardi and his staff have more often than not swung and connected, but there were some misses and errors that haunted the 2015-16 team personnel-wise. Unwilling to use a compliance buyout on Mike Richards' contract under the expectation that the diminishing returns from the two-time Stanley Cup winner could be halted, Lombardi, one year later, moved to terminate the center's contract following an arrest at the U.S.-Canada border. (Richards, subsequently, was hit with a criminal charge.) When the dust cleared, Los Angeles was stuck with a $3.12-million cap hit for 2015-16 due to a buyout settlement and cap recapture penalties, followed by seven-figure cap hits through 2020 and six-figure cap hits through 2032. Dustin Brown, signed through 2022 at a $5.875-million cap hit, has seen his time on ice drop three minutes and 20 seconds from the season prior to which he signed his extension, while his shooting percentage and goal output have plummeted. There are still other intangible and leadership characteristics exuded by the accomplished Brown, but for the percentage of the space occupied by his cap hit, strained by the 10-million annually that will now be afforded to Anze Kopitar and the excess reserved for Milan Lucic as the two sides look to come to an agreement, the team is simply not getting enough in return for the handsome amount paid to the rugged veteran. Martin Jones, exchanged with Boston as part of the price to land Lucic, helped eliminate the Kings during a playoff series in which he was the better goaltender, though he wasn't tested quite as dangerously as Jonathan Quick was.
"I definitely think that this team is capable of doing a lot more damage moving forward in the playoffs, and I think it's still a championship caliber team, and it's a team that I definitely want to be a part of moving forward," Lucic said.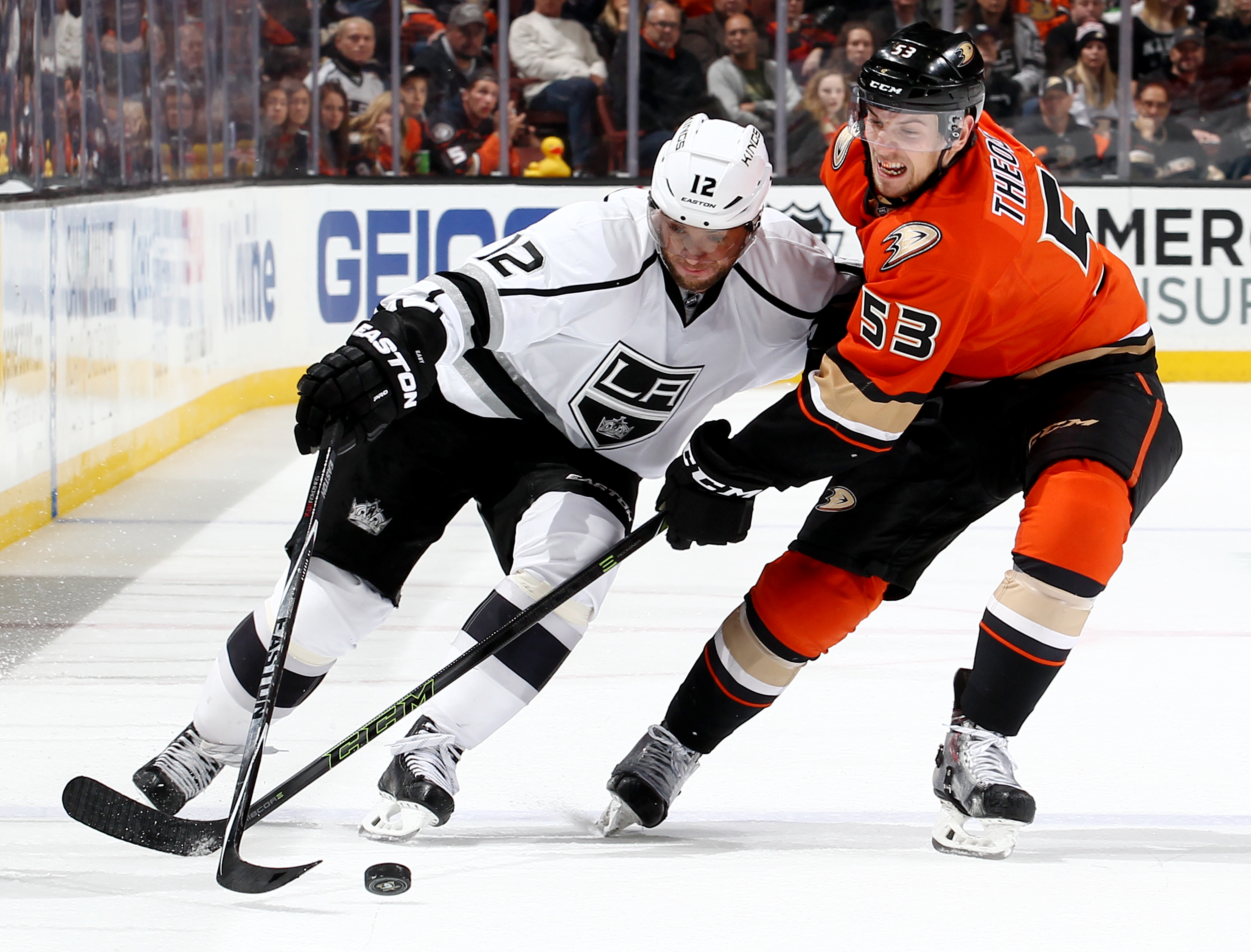 UNTIMELY INJURIES
Though the team was able to weather the absence of Dwight King, who broke his foot blocking a shot in training camp, the team faced challenges in replacing Marian Gaborik and did not win games to the same degree as they did with the skilled winger, who had four goals and five points in the six-plus games leading up to his knee sprain. Alec Martinez's absence from all but 11:43 of the first round playoff series due to a groin injury was a significant blow to a team that already had questions about its defensive depth.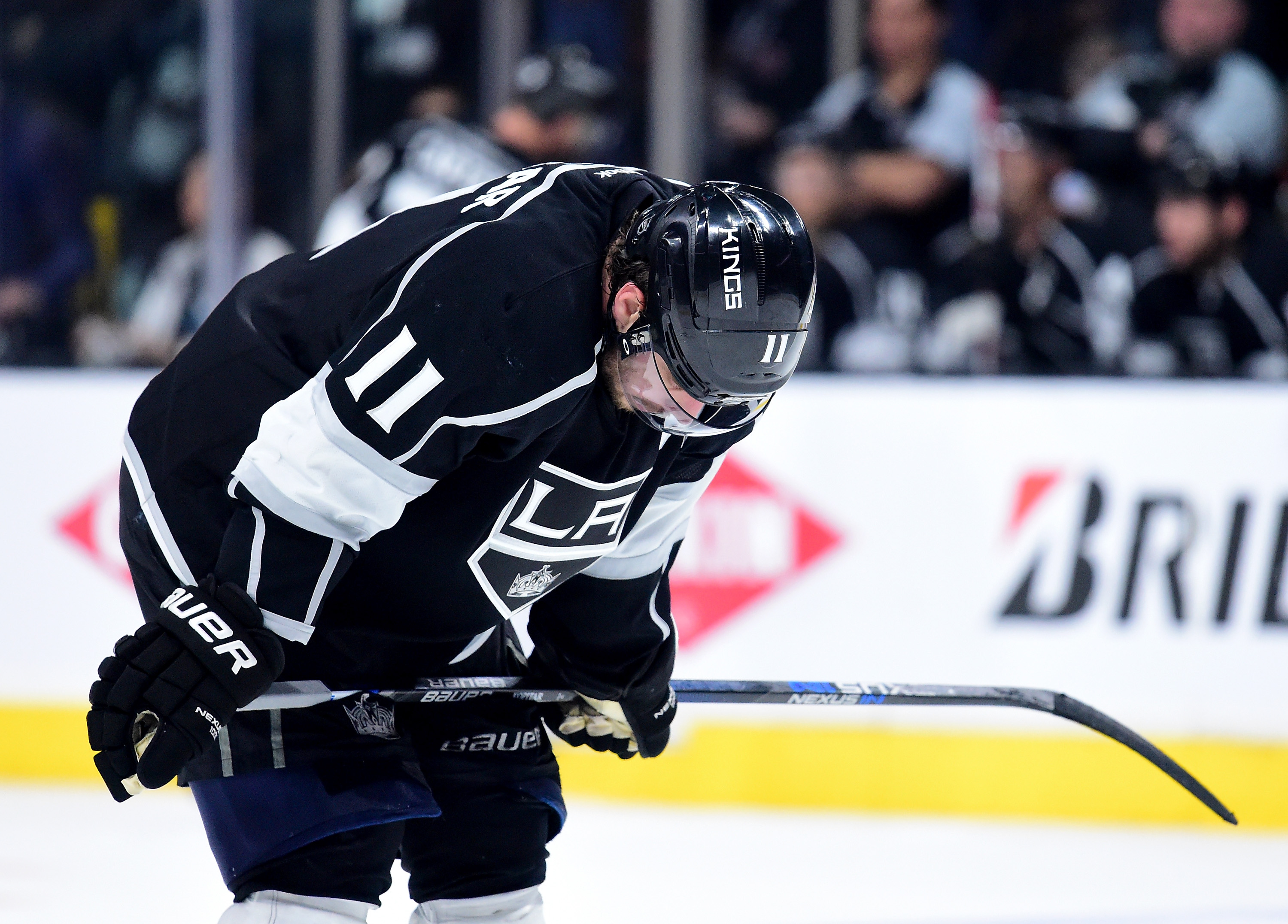 PARITY
As noted above, excellent teams lose in the first round every single year. The Kings may have had flaws in certain areas, and their lukewarm late-season play and blown lead in the regular season's final game may have placed them in a position where the likelihood of a first round loss increased, but the results from the first two weeks of playoff hockey indicate that Los Angeles isn't alone. The Blackhawks, last year's defending champions, lost in the first round. The Ducks, another popular pick to emerge from the West at the outset of the season and contend for a Stanley Cup, have been pushed to the brink by the fourth place team from the Central Division. In the East, the Atlantic Division champion Panthers were felled by a Wild Card team, while the Presidents' Trophy-winning Capitals sweated out a first round series against a Flyers team that entered the playoffs with a negative goal differential. This isn't basketball; far more series are toss-ups than realized.
"My buddies call me, they're like, 'Who are you picking for this?' 'I don't know. I don't know the answer.' It's tough," Vincent Lecavalier said. "Every team is so good in the West. Not that they're not in the East, but I feel the parity in the West [is stronger]."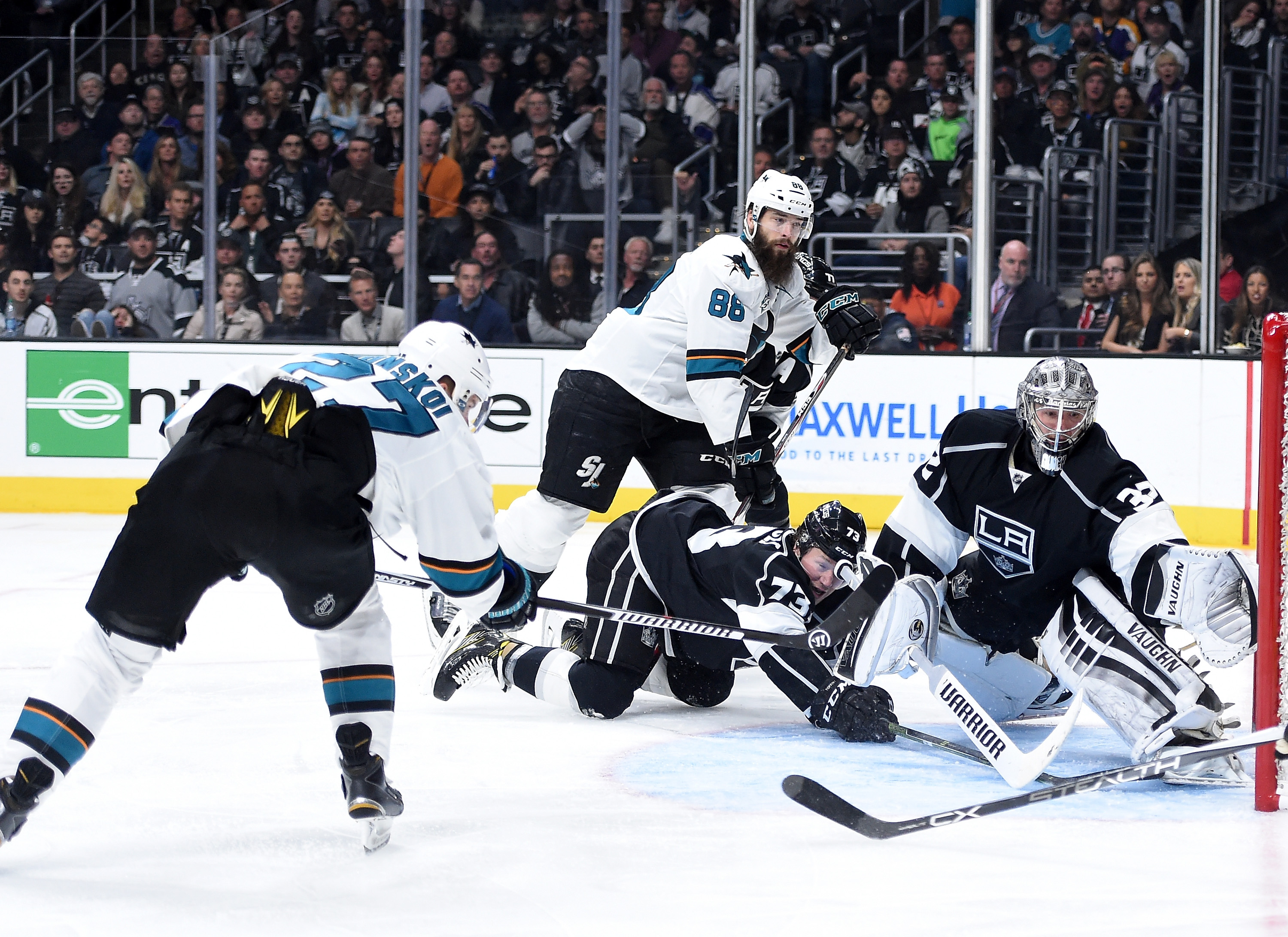 GOALTENDING, TOP PLAYERS COULD NOT MASK FLAWS
In the 2013 Stanley Cup Playoffs, Los Angeles did not have Willie Mitchell, nor did they have an experienced Jake Muzzin. Keaton Ellerby appeared in five games in the playoffs, which is to say that a loose set of circumstances surrounding the defensive applies somewhat to both 2013 and 2016. There are so many different variables personnel-wise, but in that postseason, the Kings held their opponents to two goals or less in 13 of 18 games as Jonathan Quick posted a 1.86 goals-against average and .934 save percentage with three shutouts.
That didn't pair well with diminishing returns from top players. Anze Kopitar ultimately posted four points in five games and scored a big power play goal in Game 3 to go along with his comeback-catalyzing shin pad goal in Game 5, but Jeff Carter, Tyler Toffoli and Drew Doughty all posted minus-five ratings while combining for two goals and two assists in five games. Milan Lucic didn't score, nor did Marian Gaborik, who made his return from injury in Game 2.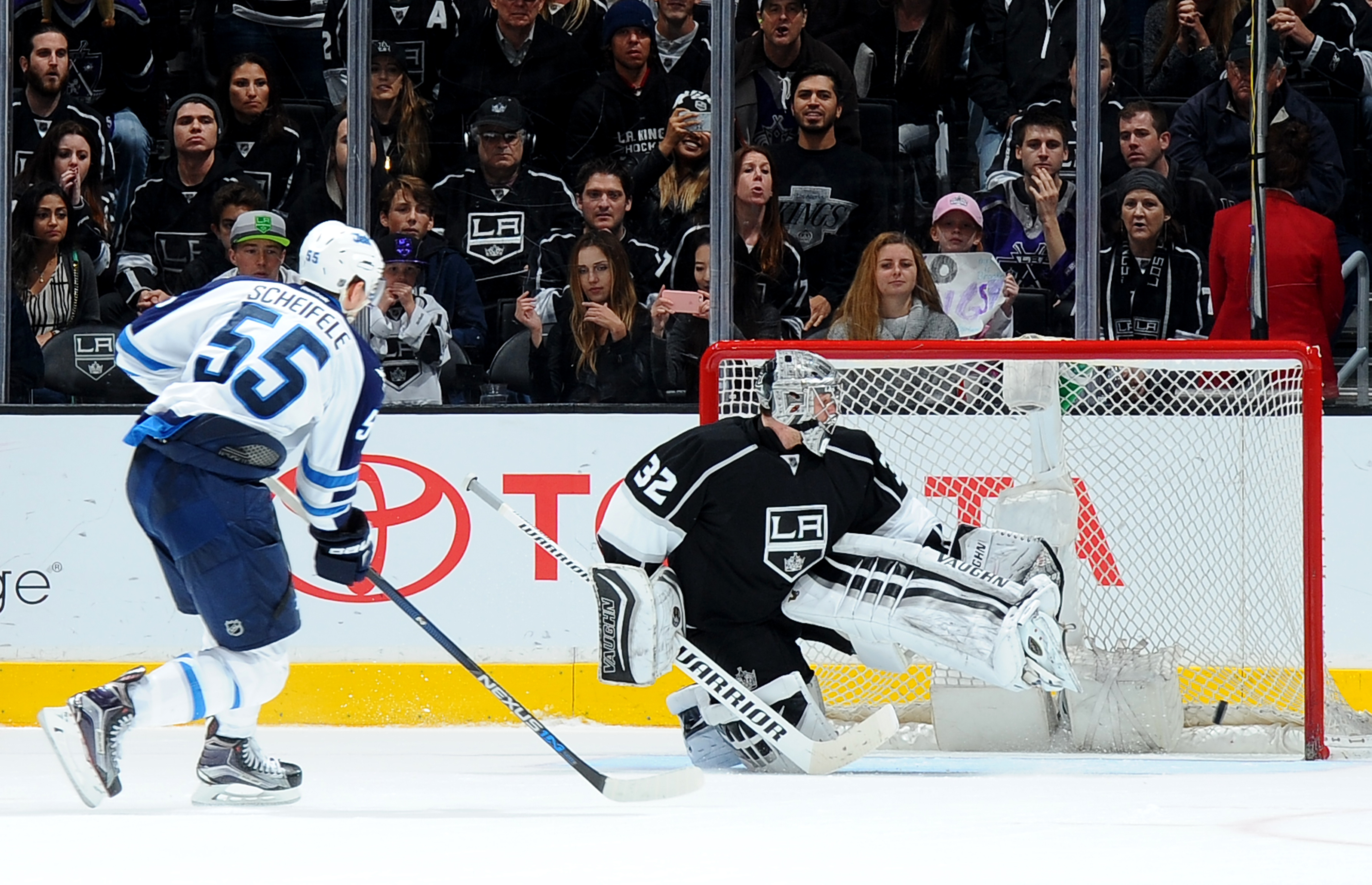 INABILITY TO CLOSE OUT GAMES
Any team can list a number of disappointing losses and a generally equally long list of come-from-behind wins, but several of those defeats stick out and seem out of place when compared side-by-side with the lockdown success the team had experienced during its Stanley Cup runs. Looming large are the zero points gained in losses to San Jose, Colorado, Ottawa and Dallas when Los Angeles ceded third period leads, while the regular season finale that saw a 3-0 second period lead devolve into a 4-3 shootout defeat to a middling Winnipeg team set up a Kings-Sharks first round series as the Ducks claimed the Pacific Division and a match-up against a very good Predators team that presented different challenges to those presented by a uniquely motivated San Jose team.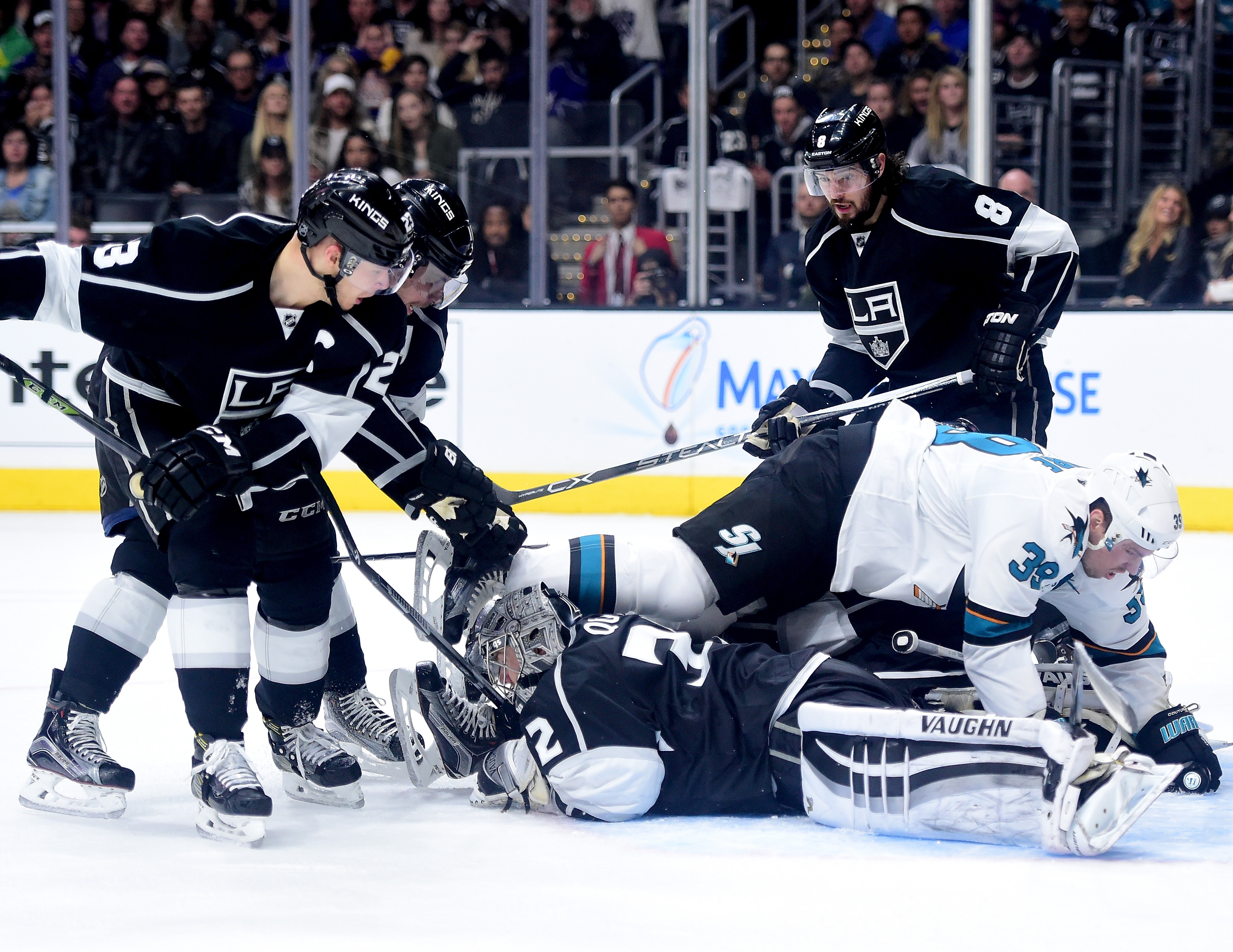 THEIR OWN HUBRIS / KINGS-SHARKS HISTORY
During the 2014 Stanley Cup Final, Drew Doughty said of the Kings' first round comeback that year, "Once we won that first game in the San Jose series, we kind of had a feeling we were going to come back and win that series, and you could see it in their eyes and their team and their captains and leaders that they were worried about us coming back, so we don't want to give these guys any life." That's a supremely confident thing to say, and it's also something that potentially carries repercussions. Hockey is an extremely emotional sport, and those comments, as well as those after the Kings' Game 3 win from Doughty, such as, "You know they're thinking a little bit about it now, so we're right where we want to be" may have seemed innocuous leaving Doughty's mouth, but they were referenced after the series by Logan Couture, who indicated that such disrespect afforded San Jose extra satisfaction.
"Just looking back at that [San Jose] series, and I said it after the game, they wanted it more than we did, and they played with more desperation and hunger, and they played like a team that had something to prove," Milan Lucic said. "That carried them to winning the series. Even though the last game was six-three, every other game before that was a one-goal game. Even though we were in it, we had our opportunities to win Game 1, Game 2 and Game 4, and even Game 5, they were able to create that bounce and make it count."
OFFICIATING AND DISCIPLINE
The Kings logged the eighth most shorthanded time on ice per game during the regular season, so it's not as if those 21 shorthanded situations in five playoff games came completely out of left field. But several decisions made by the officials in the first round – as well as in the late-season Dallas game, which had an impact on seeding – left any impartial observer scratching their head at how the series was called. Though it's tough to single out a turning point when one team wins four of five games, a pivotal moment in the series was when both referees failed to see that the other was calling a penalty in Game 2, which led to a borderline Tyler Toffoli rough on a forecheck get followed up by a more legitimate Milan Lucic charge (or, perhaps, interference) that gave the visitors a five-on-three when one penalty in that situation, as per the way playoff series are often arbitrated, would have likely sufficed. Los Angeles was again assessed an extended five-on-three kill when a borderline Dustin Brown goaltender interference call was made in Game 5, whereas they did not receive any benefit from the officials late in the third period in Game 4, when Brown was clearly tripped by Martin Jones while striding towards a loose puck behind the attacking net. The Sharks may have deserved the greater share of the power plays by virtue of their speed and the high-quality chances they were able to create in the offensive end – and also probably deserved that waved-off goal in Game 1 – but the Kings received little benefit from a series that was called as tightly as it was at certain moments.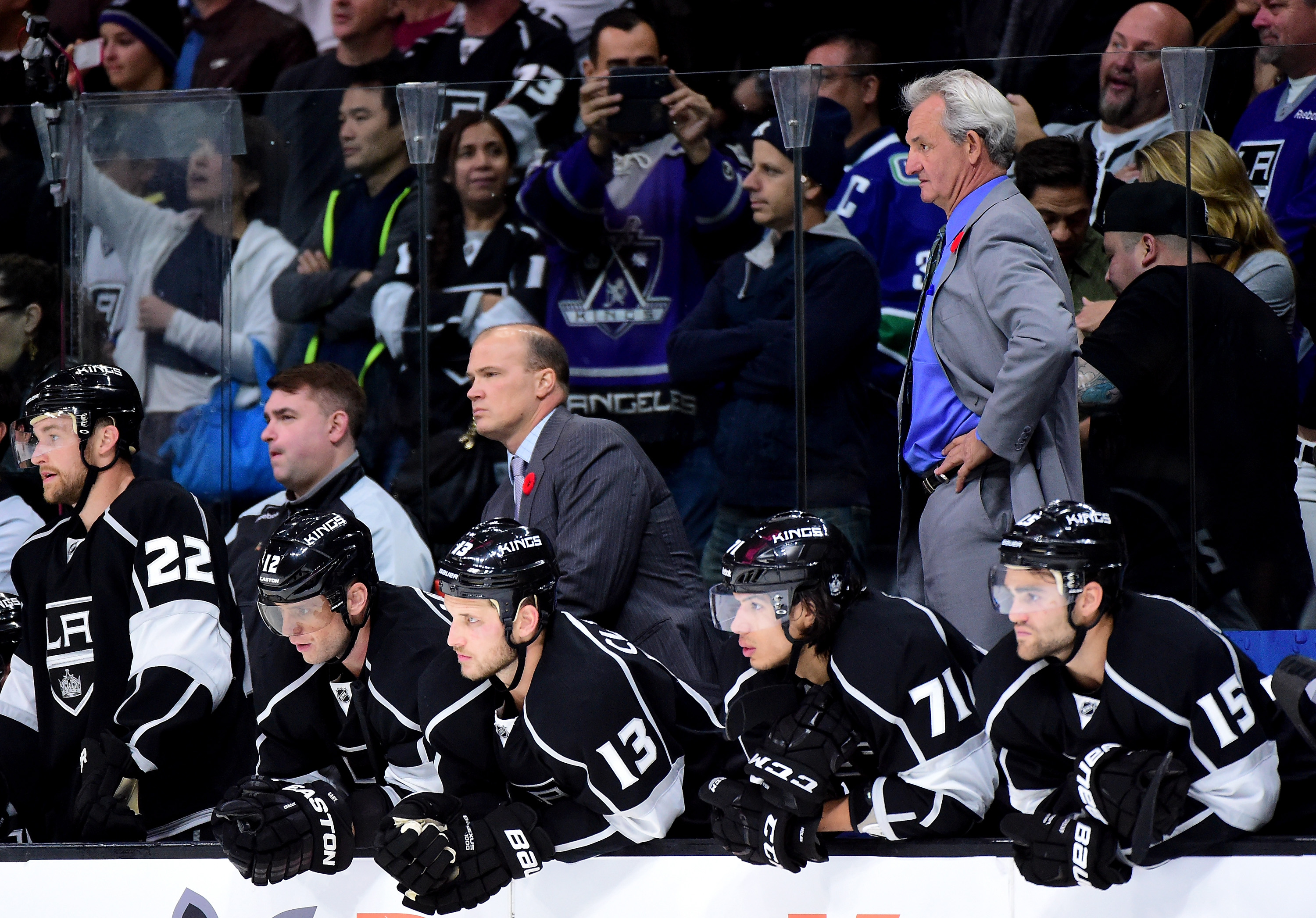 COACHING / FOOT OFF THE GAS PEDAL
The goal, as Darryl Sutter stated from the first day of training camp to the day the team clinched a berth, was to be a playoff team. After Los Angeles clinched, they won four of 11 games and allowed three goals or more eight times before falling in the first round. "I think that there were some injuries, and there were some guys that we were trying to pull back a little bit to give them this time to be ready," Darryl Sutter said of the team's pre-playoffs, post-clinching approach.
It's not to say whether this was the right or wrong approach, but as the late season stretch of so-so play was compounded by injuries, the Kings were never able to pull out of their late season malaise and lost to Winnipeg in a game they led by three goals on the final day of the regular season. To be fair, the Kings play with excellent structure, control possession to a greater degree than any other team and, according to War-on-Ice, tied with Pittsburgh for the best five-on-five scoring chance plus-minus in the league, so in the macro sense, there were no real issues with coaching over an 82-game view. Once in the playoffs, there were decisions that could be questioned – as there are with all teams – over where players were slotted and who they aligned with. While the team allowed very little in five-on-five play through the first four games of the series, the penalty kill had a rough stretch, despite a five-for-five performance in a Game 3 win (and that, too, is partially tied to unavailable personnel on the back end). Really, any team that loses in the playoffs faces similar questions over where any why players are deployed, but there is the immediate-seeming drop-off in play following the week leading up to the team clinching a spot and events that unfolded over the month that followed. Switch-flipping is probably not a real thing that happens.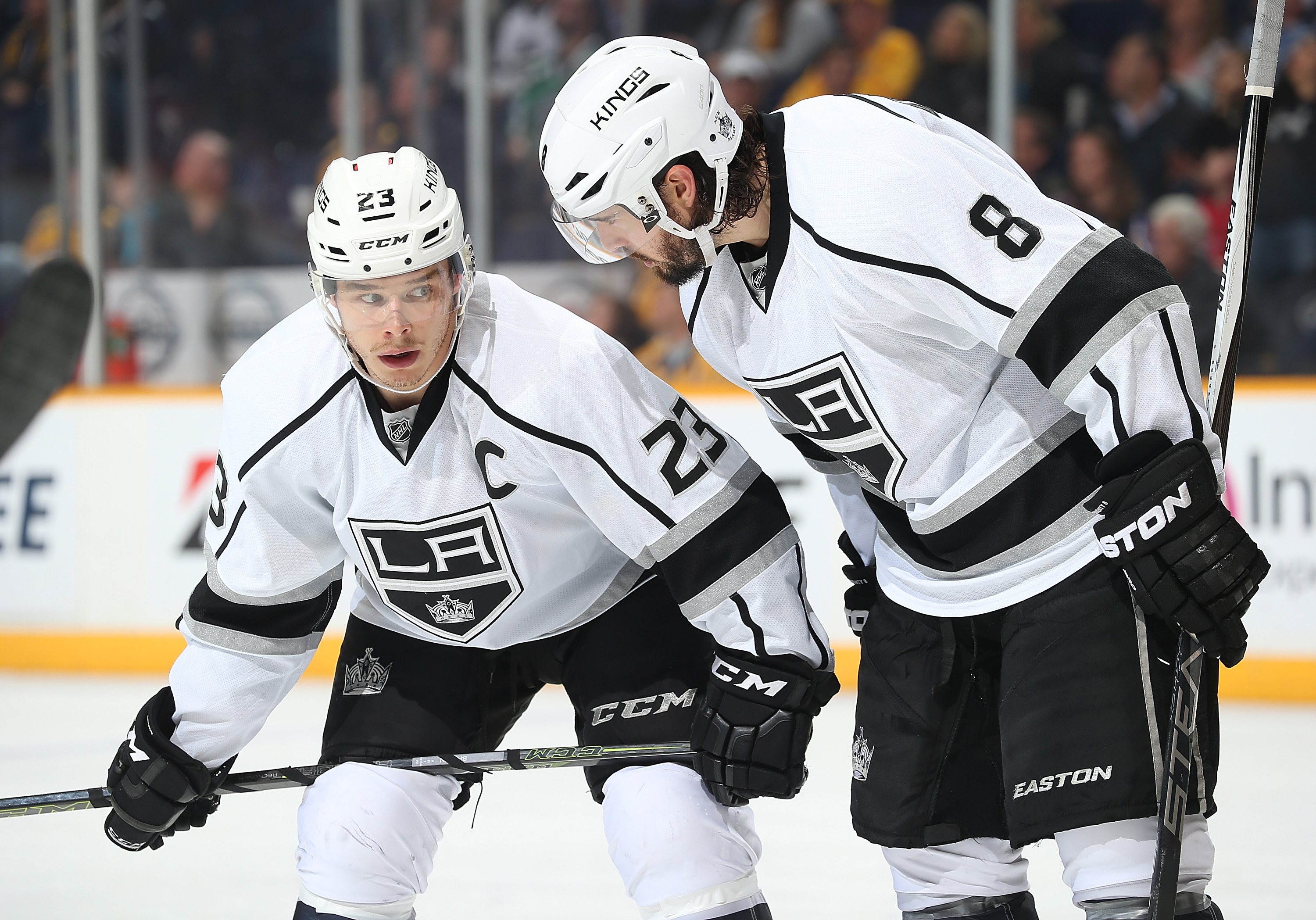 And again, this isn't to say that the team is in any type of a dire situation, but rather that there was a missed opportunity in the midst of the team's championship window. Even if Jonathan Quick didn't replicate some of the gaudy postseason numbers posted earlier in his career, that trifecta of Quick-Doughty-Kopitar remains a core that virtually all general managers in the league would salivate over. And though there are questions about the depth of the defense, there are still quality pieces coming in at-or-under value that can be built around, namely in Jake Muzzin and Alec Martinez, and even Drew Doughty's $7-million cap hit provides excellent value. There are questions that remain about how some fat can be trimmed from the roster while allotting funds to re-sign players such as Milan Lucic, Brayden McNabb, and, come July 1, Tyler Toffoli, but the core is there, the structure is there, and championship experience is still embedded in the innate aspects of this team's ethos. But there were variables that worked against the Kings this season – some by the club's own design, some by outside chance – that together served in concert to limit this team's playoff run to only five games.