Good morning from Ontario, where the Reign took the ice shortly before 10 a.m. for their first practice since splitting Games 1 and 2 on the road last weekend in San Jose. Game 3 is Thursday at 7 p.m. at Citizens Business Bank Arena.
–Center Andrew Crescenzi did not practice after missing most of Game 2 on Saturday due to an injury suffered while finishing a check in the first period. "He is still injured and there's been slight improvement, so we're optimistic but I would say probably unlikely [for Game 3] just due to the nature of the injury," head coach Mike Stothers said. "Today's Monday but I'm going to say as it stands right now, positively not sure [for Thursday]." Stothers kept the injury as undisclosed, but there's no hiding that Crescenzi's early exit caused shuffling and didn't help in the 3-2 loss. "That hurt. We missed Cres," Stothers said. "And then we changed things around. Luckily we didn't take a lot of penalties because that's one of his specialties for us. Just changed things, but that's playoffs, that's the way it works."
Ryan Horvat also did not practice and Stothers revealed that the fourth-liner suffered an injury in Game 1. Horvat missed seven games in late-March/early-April due to an undisclosed ailment, and as Stothers didn't give much info on Horvat, he did admit that "if you can believe it, it's something totally different. Totally off-the-wall different. If it was the other one then I might be able to … say how long [Horvat would be out]." Joel Lowry played in Horvat's place in Game 2, as he has from time to time all season so this update came as newsworthy.
Also missing from practice was veteran center Brett Sutter, who was given an maintenance day.
In the absence of the three forwards, rookies Mike Amadio, Spencer Watson and Sam Herr skated with the regulars. Sutter popped out of the tunnel near the team's workout room to watch a bit of the end of practice.
Amadio on the right in green: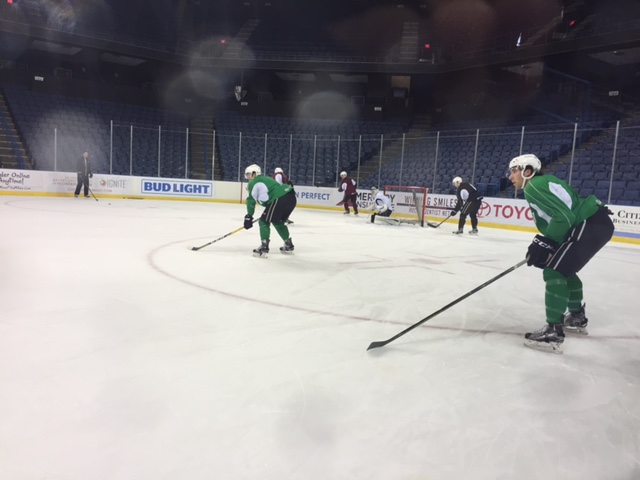 –Tons of emphasis during practice was put on making the defensemen more active in the offensive zone and getting traffic, traffic, traffic in front of the goaltenders for the forwards. No surprise there, as the Reign heavily outshot San Jose by a 36-15 margin but only had two goals on goalie Aaron Dell to show for it in their Game 2 defeat. Nearly every drill had the theme of three forwards in front.
"We focused on that a lot today in our drills," Stothers. "Dell's a good goalie. It's a good matchup between the teams. [Reign goalie Peter] Budaj, Dell. Dell, Budaj. If you're going to get some pucks by him, you've got to get in front of him. You've got to make him work to see around you, you've got to make him track the pucks, you've got to make him follow the pucks. You've got to make him corral them, cover them, control the rebounds, so today might have been a little over-exaggerated with some of the drills we did, but I think the message was pretty clear to our guys what we want them to do."
Yes, loud and clear.
"He's played well," Nic Dowd said of Dell. "Obviously even talking to [Budaj], any goalie's going to have a harder time when they can't see the puck. Most guys are positional these days but as you can tell with MacDermid's last two goals, guys did a good job of getting to the front of the net and making it hard to see and to have to work to see around guys and that's when you have a good chance of pucks finding the back of the net. I think it's critical at every level."
Paul Bissonnette on that same topic: "Last game I thought we did OK, not good enough, we just need to get a little more traffic and stick to our game plan. We outshot them 2-1 and we just need to get to the traffic areas a bit more and capitalize. Execution wasn't perfect so there's some things we are addressing. It's kind of nice to have three days of skating before the game to kind of work on those things and I think we're excited and we're ready for the opportunity."
–Nelson Emerson, Glen Murray and Sean O'Donnell, members of the Kings' development staff, were present to watch practice and then ran the rookies through a separate practice afterwards. New additions to that rookie group were defenseman Alex Lintuniemi (ECHL, Manchester Monarchs), defenseman Chaz Reddekopp (WHL, Victoria Royals) and forward Austin Wagner (WHL, Regina Pats) whose playoffs runs for their respective teams just ended.
More on those rookies later and more player quotes coming today as well.