Bus Texts with Stothers continues during the postseason as we catch up with Reign head coach Mike Stothers from the road to get his assessment of the game. Here's what he had to say after Saturday's loss in San Jose as the Reign return home with their first round series tied.
Barracuda 3, Reign 2
The Reign were left chasing after giving up two goals in the second period and could never fully recover as San Jose goalie Aaron Dell made 34 saves to Peter Budaj's 12 to help his team even the series. Ryan Carpenter (on a deflection) and Bryan Lerg (a power drive to the net) scored in the middle frame after a scoreless first period. The battle-tested Reign scored early in the third period on a blast from Kurtis MacDermid to cut San Jose's lead in half, but Nikolay Goldobin put it back at 2 on a goal midway through the final period. Jonny Brodzinski scored with 35 seconds left in the game with Budaj pulled, but San Jose held on to finish out the win. Reign center Andrew Crescenzi was injured in the first period and did not return.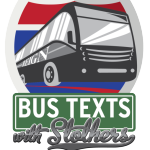 BUS TEXTS WITH STOTHERS
ORI: What did the team need to do better to beat Dell tonight? Were you happy with the amount of chances you had?
Stothers: Needed more traffic and to make his life a little more miserable. Confusion in front of him would be good. Amount of shots mean nothing. Need better quality.
ORI: Can you provide any kind of update on Crescenzi and how he was hurt?
Stothers: Injured early in the game finishing a check. Tried to play thru it but was unable. Should know more when we return home.
ORI: Thanks for that. What's the message afterwards — know you really didn't want the split — is glass half full or what's the overall feeling coming back home 1-1?
Stothers: We started the playoffs with the first two games on the road, against a team that has played us well all season long. Knew it was going to be a long, hard fought series. Nothing has changed, we have a lot of work to do. Better to be going home tied at one game apiece than down two.