It's the first postseason edition of Bus Texts with Stothers, as we catch up with Reign head coach Mike Stothers from the road to get his assessment of the game. Here's what he had to say after Friday's Game 1 win in San Jose.
Reign 2, Barracuda 1
Jonny Brodzinski scored with 4:03 left in regulation and the Reign won Game 1 of their best-of-5 first round series against San Jose on the road Friday night. Defenseman Kurtis MacDermid gave the Reign a 1-0 lead after a clean faceoff win by Nic Dowd allowed him to connect on a slap shot from the point at 9:53 of the second period. The Barracuda tied the game as Nikita Jevpalovs fooled Reign defenseman Kevin Raine on a 2-on-1 and kept the puck to beat goalie Peter Budaj at 6:17 of the third period. That left the door open for Brodzinski's heroics as the rookie capitalized on a feed to the slot from the corner by Brett Sutter. Budaj finished with 29 saves and Aaron Dell countered with 35 for the Barracuda. The Reign also finished a perfect 4-for-4 on the penalty kill.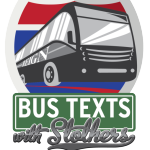 BUS TEXTS WITH STOTHERS
ORI: Overall thoughts and what were you most pleased with?
Stothers: Good start. Both teams played a good playoff game. Really happy to see young guys contribute with Dermy's goal, Brods' game winner and Kempe's best game in a while. We are going to need that from them as well as others. We looked poised with and without the puck.
ORI: Strong penalty kill too, which has been the story all year. How does having Dowd back help with that and help with spreading out the talent on all the lines?
Stothers: I really liked the play of all our lines tonight. Dowd, Mersch and Backs have great chemistry together. Sutter was a strong veteran presence between Kempe and Brods. Newbs moved his feet well tonight and that's a heavy line with Augs and Cres. The line that goes out fourth gave us some quality minutes and played hard as well. D moved,and distributed the puck efficiently. Budaj was Budaj. Now that that is out of the way it's back to work immediately.
ORI: What's the key for tomorrow and do you have any word on if Kevin Gravel will be back? [Note: Gravel was on recall with the Los Angeles Kings, whose season ended in a 6-3 loss to San Jose on Friday].
Stothers: Push each other to be better. Still waiting on official word on Gravel.