So there are a few ways to look at the events of Game 4, which served as a somewhat accurate representation of the series to date. On one hand, San Jose scored three power play goals, and Los Angeles isn't ceding a ton in five-on-five play. There were missed assignments on the penalty kill, plus one flukish deflection for the third goal, but in terms of the even strength run of play, it has been somewhat balanced. The Kings out-attempted the Sharks 52-42 in five-on-five on Wednesday night, and overall in the series, the shot attempts in five-on-five situations favor L.A. 180-166. But, on the other hand, Los Angeles just doesn't have a consistent offensive push, and while the two goals scored in the third period came from getting traffic to the front of the net, they were also on shots from the point. The Kings have been a high-volume shot team, as many top possession teams are, but too many of those attempts in this series are coming from the blue line. Of the 180 five-on-five shot attempts in the series, 78 were generated by defensemen (43.3%), while of San Jose's 166 shot attempts, 49 have come from defensemen (29.5%). While they've also benefited from a power play that sprung back to life with three goals after a 0-5 performance in Game 3, they're also tilting the ice at even strength. Jonathan Quick and the team's defensive coverage have been very good at even strength, so that five-on-five possession hasn't translated into scoring, but despite L.A.'s two-nothing scoring advantage in five-on-five play on Wednesday, there hasn't been a sustained offensive push as the Sharks' 1-2-2 up-ice pressure has sullied up the Kings' breakouts and transition, and once they're in the offensive zone, there just haven't been enough quality opportunities coming off the sticks of scoring threats. Though Los Angeles holds the even strength possession advantage, San Jose still holds a comfortable scoring chance advantage in five-on-five at 90-75, with high danger scoring chances favoring the Sharks, 47-38. That's not a good balance when considering the Sharks' five power play goals through four games.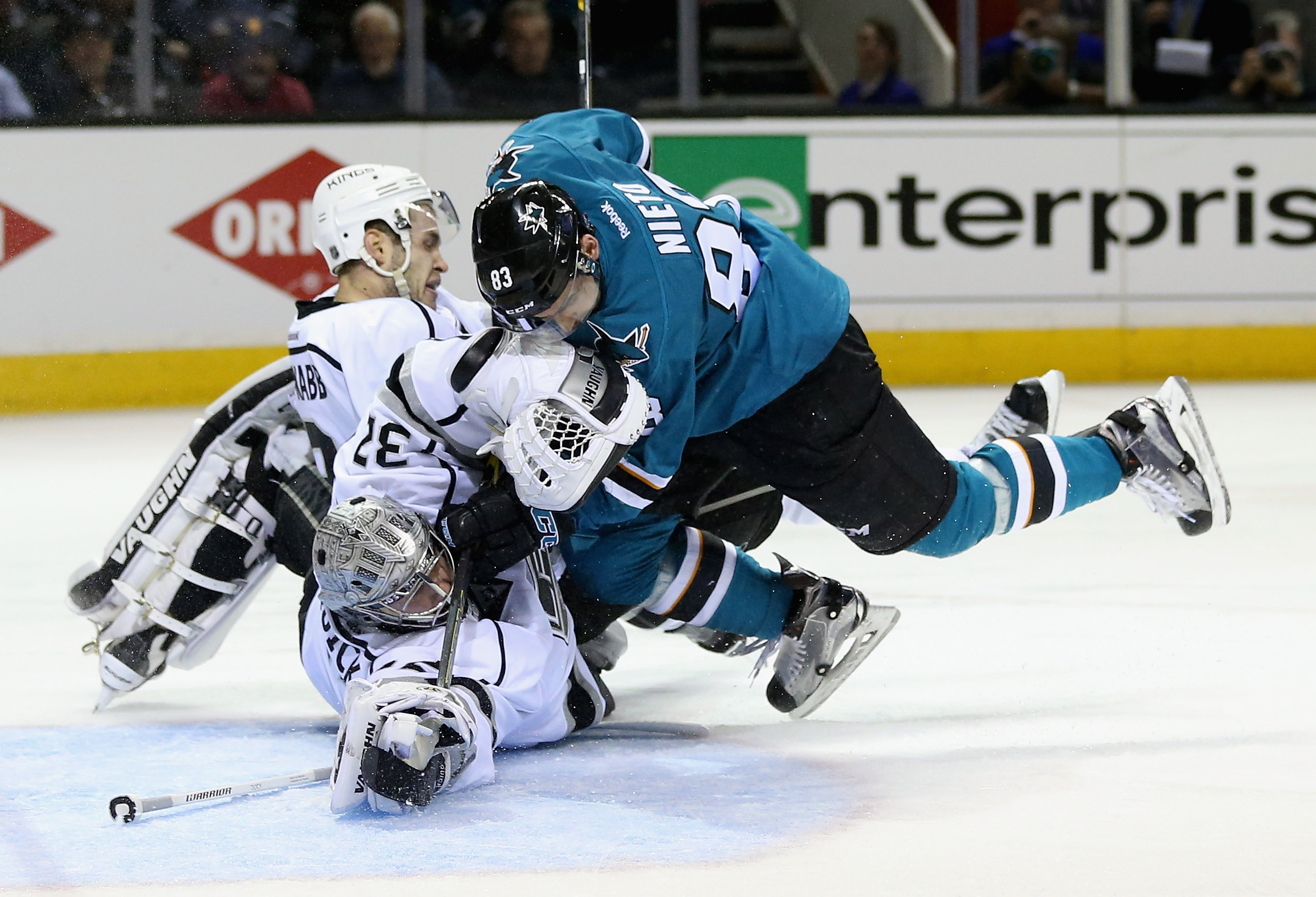 And as it was for the first two games of the series, and in parts of the third, the Kings' top players have been outplayed, whether at even strength, on special teams, or both, by the Sharks' top players. Brent Burns and Joe Pavelski scored impressive power play goals on Wednesday, with Pavelski's coming as he forced his way into the center of a Doughty-Muzzin-Carter triangle and snapped a Joe Thornton feed from behind the net past Quick. Few bang-bang skilled plays have been generated by Los Angeles, and in the comparison of top players, there's a major divide. Both Anze Kopitar and Jeff Carter have one even strength point in four games, while Tyler Toffoli and Drew Doughty have been held scoreless throughout the series, with Toffoli, the regular season plus-minus leader, a minus-four, and Doughty a minus-three. And to report so heavily on what the Kings aren't doing well is disingenuous; the Sharks have been executing their game plan effectively and by virtue of denying L.A.'s time in space with the puck, they've limited their most skilled players. Until the third period, when the Kings had more of a netfront presence, there were again few second and third chances around the net, and limited high-grade opportunities. In the second period, other than Brayden McNabb's blocked shot from the high slot, I'm not sure if Los Angeles generated one high quality scoring chance, and that's a credit to San Jose's play in all three zones.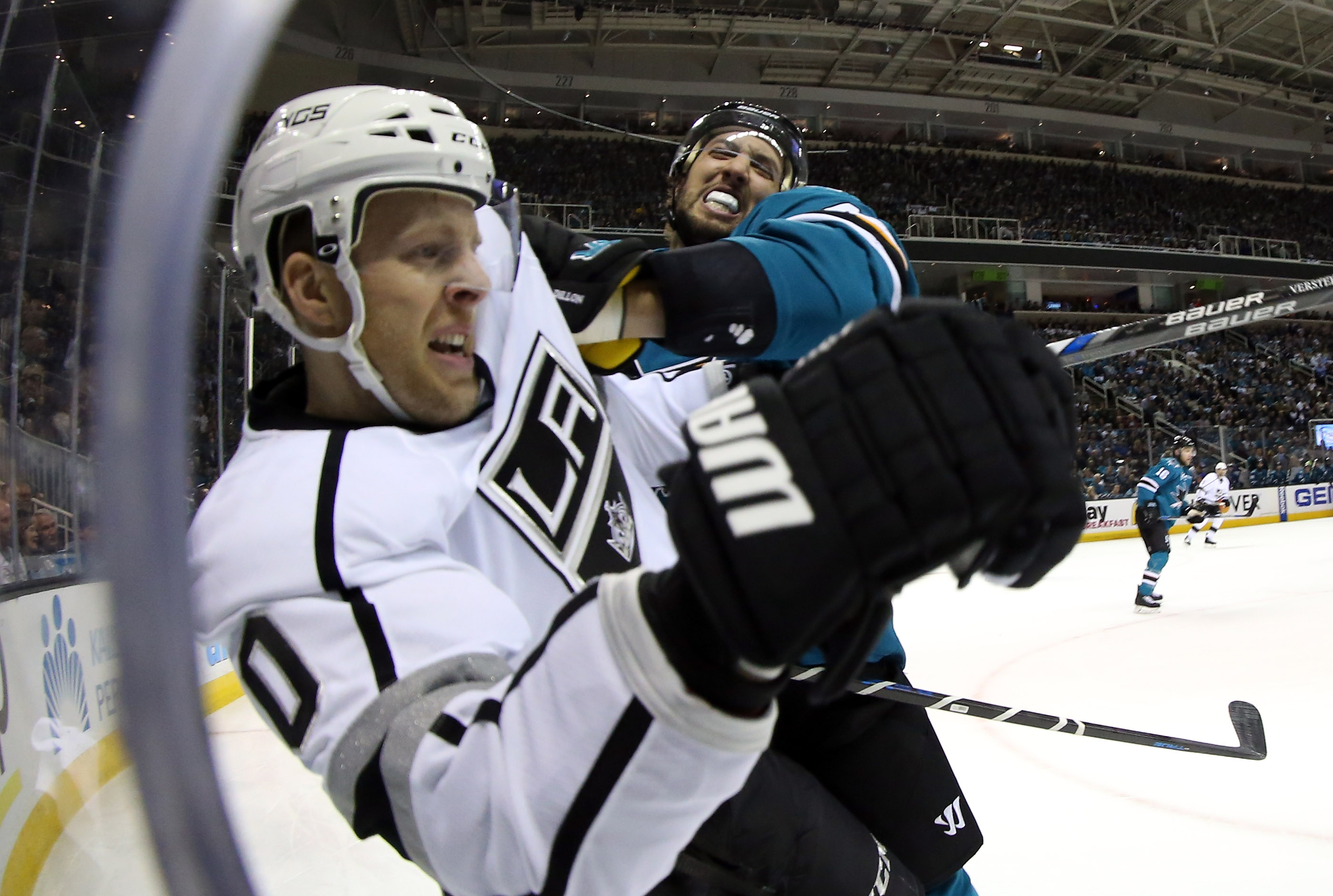 There will obviously be parallels drawn between the 2014 series and this current series, but any connections are loose and aligned more with spiritual and anecdotal similarities, not with those based on tactics or personnel. The Kings simply don't have the horses on the back end right now. It's a significant difference from a defense that two years ago featured pairings of Muzzin-Doughty, Regehr-Voynov, Mitchell-Martinez (or Martinez-Greene). Rob Scuderi has admirably stepped into a difficult situation but is by no means a dynamic player along the lines of those who would otherwise average nearly 20 minutes of ice time. He played 22:38 on Wednesday. Compare the ice time discrepancy logged between Los Angeles' most frequently used defenseman (Doughty / 30:33 TOI/GP) and its least (McBain / 10:32), and San Jose's discrepancy between Burns (22:44) and Dillon (15:19). Alec Martinez, who would've been an asset in puck advancement and removing some of the advantage the Sharks have had in denying clean exits and entries, has played 11 minutes and 43 seconds in this series. Without him, the range in minutes on the back end is too wide. "I don't think you'll go very long in a series, whether it's whoever you're talking about, with guys that are only playing five-to-10 minutes," Darryl Sutter said after Wednesday's morning skate. "You might be able to stretch a series out, but you won't win it." Without the horses, Los Angeles' void on the back end is pronounced heading into a do-or-die Game 5 this Friday at Staples Center.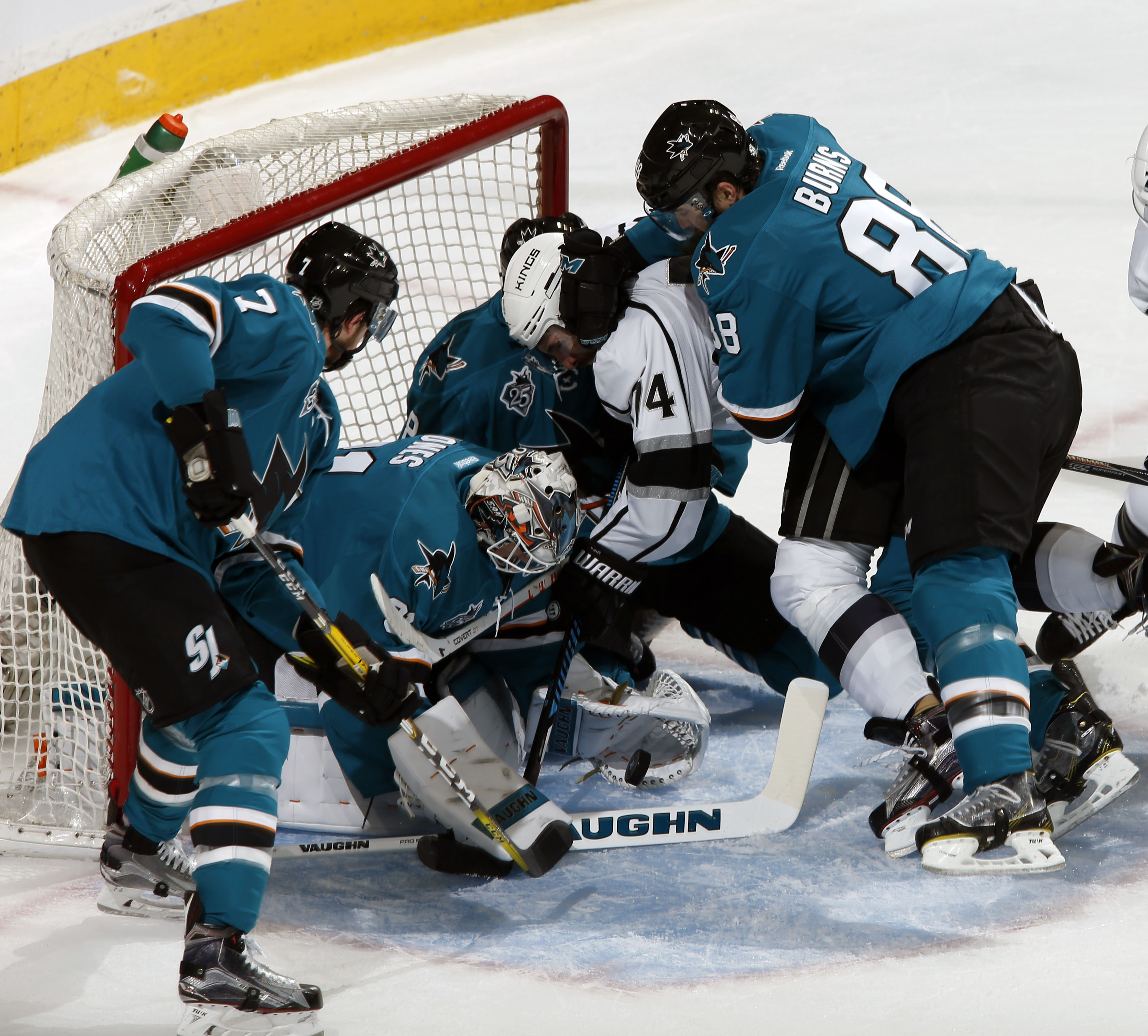 -advanced stats via War-on-Ice