As expected and previously reported on LA Kings Insider, Kings prospects Michael Amadio and Spencer Watson have joined the Reign.
Both forwards were recently signed to three-year, entry-level deals by the Kings and practiced with the Reign this week.
The 19-year-old Amadio concluded his Ontario Hockey League season with North Bay last week when the Battalion were swept in the second round of the playoffs by Barrie. Amadio reached the 50-goal plateau in 68 regular season games (50 goals, 48 assists) and added 12 goals, 6 assists for 18 points and a minus-3 rating in 11 playoff games. He was selected in the third round of the 2014 NHL draft by the Kings at 90th overall.
Watson, who will turn 20 next week on April 25, also saw his playoff run cut short when his Kingston Frontenacs were swept in the second round by Niagara.
Watson led the Frontenacs in goals (43), assists (46), points (89) and power play goals (15) in 64 regular season games. His plus-minus of plus-31 was second on the team. In nine playoff games Watson had 3 goals and 14 assists (17 points). The 5-foot-10, 170-pounder was selected by the Kings in the 7th round (209th overall) in the 2014 draft.
Michael Amadio, on his first impressions:
The guys have been great ever since me and Spencer got here yesterday. It's been a little bit different obviously but it's a good learning experience for me.
Amadio, on being the captain for the Battalion:
It was definitely a bigger role for me this year, leadership role, I wasn't used to that. It was something I took seriously obviously and it's something that going forward I'll never forget. [Reporter: Mike Futa said when you became the captain, you became yourself. What did he mean by that?] I think I was just always a quieter guy, but as the leadership role I was obligated to speak out and help the younger guys improve their game and take them under my wing and show them the way. I think in that sense I had to be a leader and be able to talk to the younger guys and show them the ropes.
Amadio, on pace in practice and how it compares to the OHL:
It's a step above, obviously. I'm not used to that. Yesterday's practice was a little eye-opener for me, but I think out there today I felt a little more comfortable.
Amadio, on any aspects of his game that need to improve:
I think every area, obviously. I don't think there's one spot I can pick on, I think everything needs to be improved to make the next level.
Amadio, on how his goal production increased this season and what changed:
Over the summer I worked a lot on my shot. I think with my confidence, I think that came. I never wanted to shoot the puck, I was looking for the pass but my coaches always have been telling me to shoot the puck, shoot the puck and you never know you get a lucky bounce. I think that was the biggest thing for me this year, I was shooting a lot more.
Amadio, on what NHL player he models his play after:
Probably a guy like Sidney Crosby, obviously, he's the best player. But on the Kings I try to model my game after Kopitar, obviously, he's the No. 1 center, he plays the game 200 feet, so I try to model my game after him.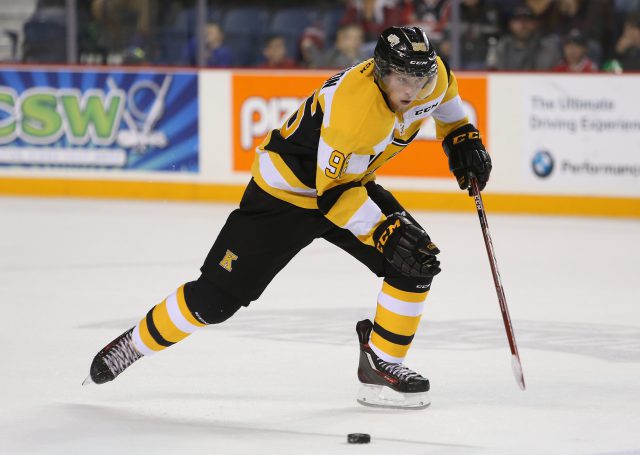 Spencer Watson, on his first impressions:
It's been a really great experience for the two days I've been here now. I came in here expecting that I'd learn kind of what it's like to be in the AHL and pro hockey and for the most part I've learned a lot in these two days. It's really exciting to be here and get to know how everything works around here. [Reporter: You said you learned a lot, what kinds of things are you taking away so far?] Just every little thing, preparation, time you have to put in on and off the rink. Just little things like that, always take care of your body whether it's working out to keep strong or out there pushing the pace and skating hard. There's lots of things that I've picked up on just in these first two days and I'm excited to continue.
Watson, on what NHL player he models his game after:
I've heard players like Jeff Skinner. Guys like that with a lot of skill and they have that knack to make plays and score. I think that'd be one guy that I've heard a lot and I think really kind of fits me. That or Joe Pavelski, anyone like that, really. I've noticed my game kind of follows their trend.