The Kings held an optional skate at the SAP Center on Tuesday as a handful of skaters, both goaltenders and John Stevens, Davis Payne and Bill Ranford took the ice shortly before 1:00 p.m. Because the practice was optional, no lines were run, and the practice was mostly devoted to getting shots on the goaltenders and tips and second chances from close range. In other words, it was a standard optional practice that you see dozens of times a season. Alec Martinez was not among the players who had skated; as noted yesterday, no stall had been erected for him in the Los Angeles dressing room.
Whereas fans at yesterday's game received teal shirts adorned with the Sharks' logo, on Wednesday they'll receive rally towels. Workers were placing the towels upon every seat in the building during the team's practice.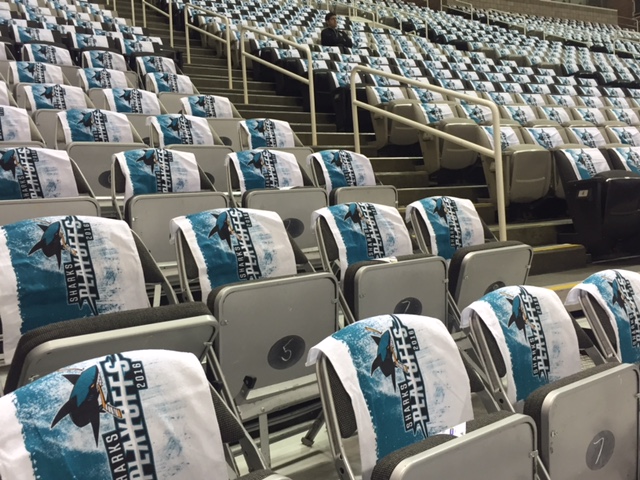 More to come shortly from Rob Scuderi and Luke Schenn, but first, here are some Darryl Sutter words of wisdom from this afternoon.
On where Jonathan Quick's Game 3 performance ranks amongst his all-time games:
Normal. [Reporter: That's a compliment.] Yeah. I mean, there's a reason this team has played a lot of playoff games in the last five years. He's a big reason.

On whether Game 3 was Los Angeles' most emotionally involved game:
I thought the best game we played was Game 2 by a significant margin. [Reporter: But as far as the emotion of it, being engaged, the after-the-whistle stuff, just that investment.] It's not good to be engaged after the whistle, because that's when the guys with the stop signs get involved. It's not good. You go whistle-to-whistle.
On whether he was nervous heading into overtime:
No, I just remind our players that there's no shootouts and it's not three-on-three.
On big players stepping up with big games:
I thought Kopi and Drew and Jonathan were really good players for us last night. I think that's probably why we won. As I said, I think as a team we were much better in Game 2, but those three guys were much better in Game 3.
On Marian Gaborik "finding his stride":
Gabby is a really well-conditioned guy. Even with the time off, he worked really hard, so he was ready to jump right back in.
On Tanner Pearson's evolution as a player and his hockey sense:
He's got good hockey sense. He's scored big goals for us this year during the season. He had, what, two or three three-on-three goals for us this year. Hey, we count on him a lot. You know how much he plays for us in four-on-four, penalty killing, power play. He plays a lot for us.
On whether Rob Scuderi is the same player as he was three years ago:
Yep.
On moving Trevor Lewis back to center, and doing so in recent playoff runs:
Yeah, you know, we were able to move him around lots. I think in the playoffs he's pretty flexible in terms of you can put him wherever you want. I know the last playoffs we were in he played a lot of center because we had moved Jeff to wing then in the playoffs. Lewie can go in there, and our fourth line, Lewie was probably an 11 or 12-minute guy last night, something like that. I don't think our fourth line played as a line [other than] maybe four or five shifts.
On whether he was "holding [his] breath" when Milan Lucic took his third period penalty:
I'm not holding my breath. It's not a penalty that is advisable.
On blocking shots and getting strong penalty killing performances:
You know what? These two teams are closely checked tight, and if you look at it, it's a power play series. Our power play's scored what now, every game. Got a shorthanded goal, and their power play really only shows up as one in Game 1, but really it's two. Drew was just stepping out of the box. They scored two that game, and one in Game 2, the five-on-three goal. So it's been power plays.
On Joe Thornton's line scoring early goals two games in a row:
One shift's not going to beat you. It's really clear. If one shift beats you, then you're really not emotionally invested. Hey, they're good players. Kopi scored right after that on the power play. I'm sure they're saying, 'that one shift's not going to beat us, fellas.' Good players score big goals.