The Kings very much have their hands full this series, not that you didn't know that already. In three previous postseason meetings, they lost in six games and won twice in seven games against their upstate rivals, and while personnel changes year-to-year, the Sharks still have a similar core that's now supplemented with better complementary pieces, and a much better defensive mix. Thursday's Game 1 loss wasn't about a lack of effort or desire or any of those intangibles; no, the compete levels and energy were pretty much breaking the charts when the game opened and was mostly sustained throughout, as anyone would expect from playoff hockey. Los Angeles fell in Game 1 because they took early penalties, couldn't protect two leads, couldn't contain Joe Pavelski, who maintained his two-points-a-game pace established in the regular season, frequently missed the net when pushing for a tying goal, and struggled to contain San Jose's top forwards down low. Even though the game was tied at three after two, the ice was tilted in the defensive end, and the Kings had been an opportunistic bunch that benefited from three caroms that led to two goals. For much of the game, the better chances took place in the L.A. zone and in close proximity to Jonathan Quick.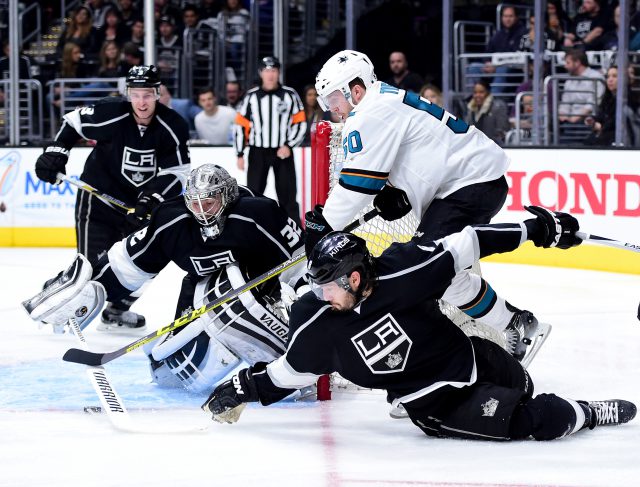 If Alec Martinez has to miss any amount of time after leaving yesterday's game, Los Angeles is in trouble. The Kings, as has been stated here somewhere between 10 and 10,000 times over the last 12 months or so, have never fully recovered from losing Slava Voynov after last season's domestic violence case and self-deportation, and because they've been atop their competitive cycle (meaning they've traded out assets and haven't been selecting players as high as they had in the middle-to-late stages of last decade), they don't have as many chips to be able to exchange for players who could've been brought in to help shore up a blue line that entered the season as a downgrade from previous incarnations. After to-be Norris finalist Drew Doughty, Martinez had been the team's most consistent defenseman this season as he admirably continued his absorption of a wider variety of roles, and in a game in which the Kings were getting pressed back in their own zone, had he been fully healthy, his skating and puckmoving ability would have been an boon, especially in a second period in which he had limited shifts and a third period in which he didn't play at all. Los Angeles was scrambling in the defensive zone for much of the night. San Jose, which brings bodies down low and has excellent size alongside Pavelski in Tomas Hertl and Joe Thornton, efficiently laid out its forecheck, which led to extended periods of zone time. Though the Kings held two different leads in the game, they only led for 4:02 of game time. Their momentum was blunted by key shifts after goals (see: Pavelski's first goal and Hertl's goal 30 seconds after Trevor Lewis') and at the start of periods (see: Pavelski's second goal).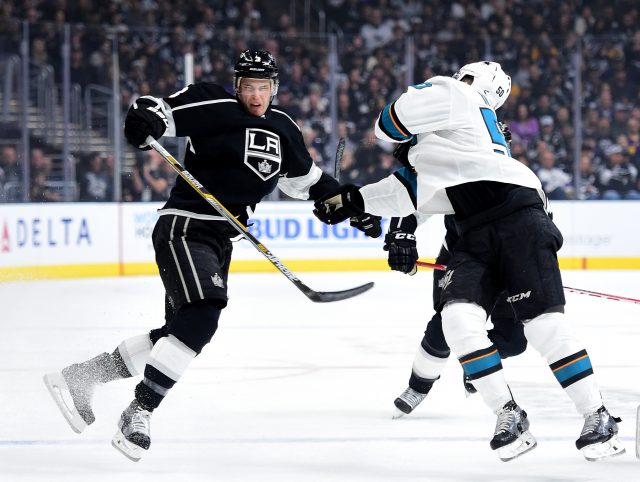 There were several encouraging spots in Thursday's game despite the loss. Brayden McNabb's game was inconsistent in the second half of the season, but he remained out of the penalty box in his first career playoff game and despite one or two soft passes remained poised and worked well in concert with Drew Doughty, a duo that served as the team's top possession-driving pair. Andy Andreoff was also playing in his first playoff game and had a good deflection in front of Martin Jones in the third period, which he followed up with a rebound attempt that resulted in Jones extending his right pad to make his biggest save of the night. He very well could've earned a game-tying assist on a puck he slid through the low slot and right onto the stick of Kyle Clifford, who snapped the puck with the heel of his stick wide of the target. The possession charts may not show it – he was a minus-six in 5×5 Corsi events – but Rob Scuderi had his stick on pucks all night and generated several key clears on the penalty kill by soft chips to free pucks for his teammates. And, despite San Jose's early power play goal, Los Angeles still won the special teams battle, 2-1. It's the five-on-five play and defensive zone exits that will need to be sturdied as the Kings will look to even the series with a huge game at Staples Center on Saturday.