The Kings have assigned center Nic Dowd and defenseman Kevin Gravel to AHL-Ontario, the team announced on Tuesday.
Dowd, 25, earned his first NHL call-up on March 22, making his NHL debut that night against the Minnesota Wild. In five games with the Kings, the Huntsville, Ala., native had 0 points, two penalty minutes and logged a +1 rating while winning 52.9% of his faceoffs over an average of 10:34 minutes of ice time.
These moves do not represent any attempts to clear roster space or alleviate salary cap concerns in advance of potential returns by Alec Martinez, Marian Gaborik or Matt Greene because there are no salary cap constraints in the postseason, and there are no roster limit caps after the trading deadline.
Prior to joining the Kings, Dowd was a first lline staple for Ontario, playing in all 57 Reign games to that point. Dowd, a seventh round pick by the Kings in 2009, remains second on the Reign in points with 13 goals and 34 assists for 47 points despite missing nine AHL games while with Los Angeles.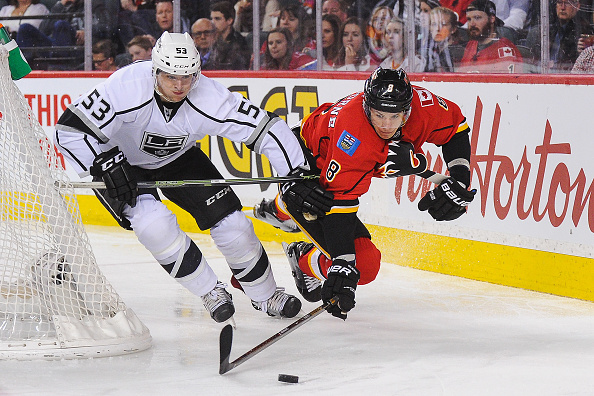 The 6-foot-4, 24-year-old Gravel was serving his second call-up with the Kings after making his NHL debut earlier in the season on Feb. 2 against the New York Islanders. Recalled during this stint to step in with Alec Martinez nursing an undisclosed, day-to-day injury, Gravel appeared in one game in this current stint, logging 13:52 of ice time against Calgary on April 5. With the Reign he's a top-four blue liner who typically plays alongside Derek Forbort.
With Dowd and Gravel's return, the Reign will welcome two of their best players back into the lineup with two games left in the regular season to be played on Friday and Saturday in San Diego before the Calder Cup Playoffs begin the following week. Surely it's a relief for Reign head coach Mike Stothers, who jokingly answered a question about rookies performing well over the weekend with, "I'd be more excited if it was Dowd and Gravel. … I don't ask when they're coming back, I don't ask. I'm a realist, too. It would be nice but I understand the situation."