It's time for another edition of Bus Texts with Stothers, as we catch up with head coach Mike Stothers on the I-5 to get his assessment of the game on the bus ride back to Ontario. Here's what he had to say after Wednesday's win in Stockton that clinched the Pacific Division for Ontario.
Reign 4, Heat 1
Ontario secured its first Pacific Division AHL title, using a four-goal second period to break open the game. Michael Mersch and Nick Ebert connected on power play goals in the first 5:16 of the second period and Derek Forbort and Sam Herr scored 38 seconds apart later in the frame as the Reign took a 4-1 lead into the third period. Outshot 23-3 in tilted third period, the Reign relied heavily on goalie Peter Budaj who made a season-high 46 saves in posting his league-high 39th win.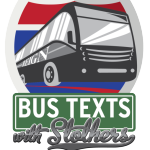 BUS TEXTS WITH STOTHERS
ORI: Congrats. I don't think you need me to tell you you guys won the Pacific. What's the feeling like after winning the division on your own, rather than clinching it like you did a playoff spot by another team losing?
Stothers: Yes we were aware of it going into the game as it was posted numerous times on social media.
ORI: Good feeling afterwards though to get that done?
Stothers: I think I made my feelings known about how we should achieve our goals…we don't ever want to enter by gently tapping on the door…you grab it by the handle and rip it off the hinges. So yes this is a much better feeling that when we secured a playoff spot.
ORI: Nice analogy. With that in mind, how do you feel like the team is rounding out its game heading into the playoffs as far as the hinges concern.
Stothers: This group has made significant strides all season long, and I am proud of their efforts, but this is just the beginning. In order to reach the ultimate goal we still need to shore up our attention to detail. The little things that other teams can't do, or won't do, we need to do every time. Consistency and focus needs to improve. We have to rely on each other to prepare and play the right way. That responsibility must be shared by all, not just a few.
ORI: How close is LoVerde? Think we see him back Friday?
Stothers: That is something we are all hoping for. We certainly have missed him both on, and off, the ice. I think he might be going a little stir crazy? Not from the injury so much but with the amount of time he had has to spend with Biss. The healing process is always quicker once injured guys realize they have to spend 24/7 listening to Biss.