I have returned from my own hockey hiatus and am ready to dive back into Reign hockey.
But first, a little rundown of USA Hockey Nationals in Minnesota where my women's team, the Anaheim Lady Ducks, was competing for a fifth time. (No jokes about the name! A lot of us grew up playing for the prestigious SoCal program).
It was a blessing to be back in the State of Hockey, the state where I went to college and a state I'm quite fond of for obvious reasons. But, for the first time, we didn't medal. Even more disappointing, we couldn't defend our women's division title, going 0-3 in a tough pool (two one-goal games, the other a one-goal game until an ENG). Two of those three teams went on to play in the championship game. But, real life gets in the way sometimes and weeks before it was time to go, our roster plummeted to just nine skaters. Three of our players couldn't partake: 1. Concussion, 2. Pregnancy (imagine that!) and 3. Police officer who could not get the time off work. No excuses of course, but it's ironic how things like this change as you get older. Can't win 'em all.
One of the highlights of the trip though was paying a visit to Jonny Brodzinski's father Mike's hockey shop, Hockey Central, located steps from where the tournament was being played. The proud pop has pictures of his sons and their jerseys hanging everywhere at the front of the store. It was very, very Minnesota if you've been in the hockey culture out there. (Jonny's dad does a fine skate sharpening as well). Here are a few photos:
Jonny's draft year jersey hanging in the rafters at Hockey Central: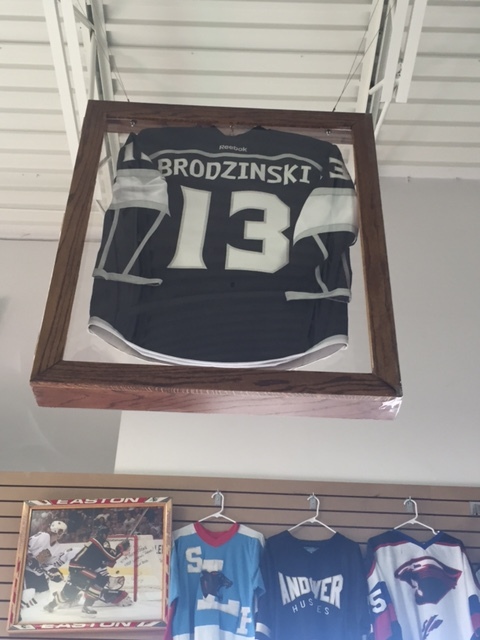 That's a little Jonny on the right in his Blaine jersey: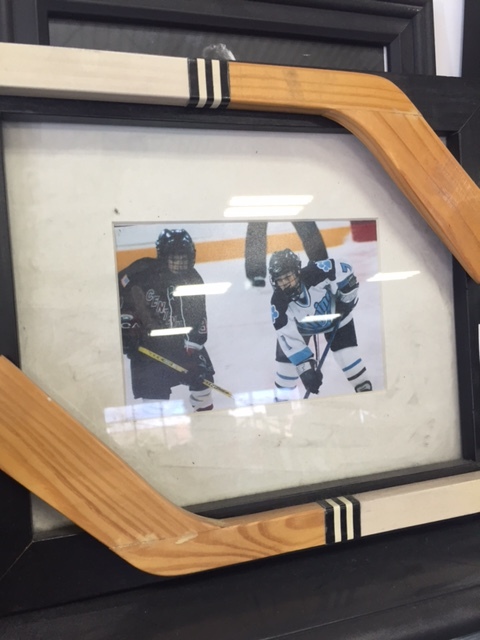 Shooting camp coming up!: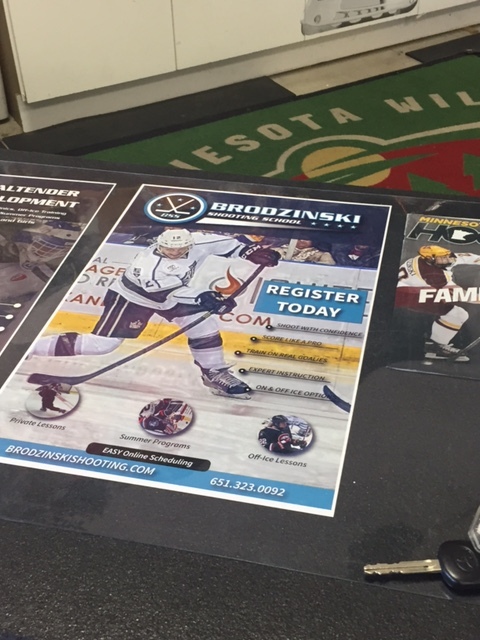 At the host rink I got the chance to meet Jonny's mother, Kathy, who works in the arena office at Schwan's Super Rink. It's an 8-sheet facility (yes, EIGHT) and the same place where I played my first ice hockey tournament when I was just 16. According to Wikipedia, it's the largest ice hockey complex in the world.
I did my best Kris Versteeg impression late in our second game, sticking out my right foot to block a shot, busting it pretty good (I'll save you the disturbing pics). I limped around the ice in our third game and certainly should not have played, but no one's going to tell that to a hockey player. In four years of college hockey I had one shoulder injury and now I'm coming back to California in a walking boot. Figures …
Now, let's get back to the Reign and catch up on some games and some news …
Wednesday, March 30: Barracuda 3, Reign 1
In the battle of the Brodzinski brothers, the edge went to the one in teal. Reign forward Jonny Brodzinski was facing his brother Michael, a defenseman who just went pro out of the University of Minnesota, for the first time in an AHL game. Goalie Peter Budaj was pulled midway through the second period after San Jose built a 3-0 lead. Michael Houser was perfect in relief, stopping all 8 shots he faced. Kris Newbury scored the lone Ontario goal, his first after going scoreless in 20 straight contests. Despite outshooting San Jose 36-20, including 19 shots on goalie Aaron Dell in the third, the Reign lost their second game in a row. Rookie forward Matt Schmalz also made his pro debut, registering one shot on goal.
Friday, April 1: Heat 3, Reign 2
Stockton scored each period and despite an opening goal by Michael Mersch, the Reign fell for a third straight game. Justin Auger's shorthanded goal at 11:55 of the third period after stealing the puck inside the Stockton blue line made it 3-2 but the Reign couldn't find the equalizer. Ontario went a perfect 7-for-7 on the penalty kill but also 0-for-4 on the power play in a penalty-filled game.
Saturday, April 2: Reign 2, Heat 0
Goalie Peter Budaj registered his AHL-leading ninth shutout to get the Reign back on track. After two scoreless periods of play, Brett Sutter and Kris Newbury notched with 8th goals of the season. For a second straight game, Michael Mersch had 7 shots on goal.
Gravel called up to Kings
For the second time this season, defenseman Kevin Gravel was called up to the Kings on Sunday. This, according to LA Kings Insider Jon Rosen, was due to some "bang-ups" on the Kings' blue line, which was later learned Alec Martinez was day-to-day. Gravel was a healthy scratch in Monday's 3-2 loss to Vancouver. Center Nic Dowd also remains up with the Kings, but has been a healthy scratch for the last two games.
Reign bring on forward Herr
Forward Sam Herr out of Notre Dame was added to the Reign on an amateur tryout agreement last Friday. The 23-year-old just wrapped up his collegiate career for the Fighting Irish where he had 36 goals and 28 assists in 132 games. This season he was named the best defensive forward in the Hockey East.
Backman earns civic award
Forward Sean Backman was named the Reign's IOA/American Specialty AHL Man of the Year award winner for his contributions to the Ontario community. Backman, the team's leading scorer with 54 points (21 goals, 33 assists), becomes one of the 30 finalists for the Yanick Dupre Memorial Award for AHL Man of the Year.
Looking ahead
The Reign face Stockton on the road on Wednesday at 7 p.m. and return back to Ontario for their last regular season home game on Friday against Bakersfield, also at 7 p.m. If the playoffs started today, the Reign would face Central Division crossover Charlotte.