Los Angeles Kings (46-27-5) vs Vancouver Canucks (29-36-13)
Monday, April 4, 2016, 7:00 p.m. PT
Rogers Arena, Vancouver, BC
Referees: #34 Brad Meier, #31 Trevor Hanson
Linesmen: #79 Kiel Murchison, #58 Ryan Gibbons
FOX Sports West, KABC 790 AM, I Heart Radio
Los Angeles Projected Starting Goaltender – Jonathan Quick
2015-16: 65 GP (65 GS) / 39-22-4 record / 2.21 GAA / .919 Sv% / 5 SHO
Career vs Vancouver: 30 (30) / 15-13-2 / 1.62 / .939 / 3
Last Game vs Vancouver: 3/7/16 / 60 MP / 21-22 shots / 5-1 W
2015-16, Away: 28 (28) / 16-10-2 / 2.18 / .928 / 3
Vancouver Projected Starting Goaltender – Ryan Miller
2015-16: 49 GP (49 GS) / 16-23-9 record / 2.63 GAA / .917 Sv% / 1 SHO
Career vs Los Angeles: 12 (11) / 6-4-1 / 2.53 / .924 / 2
Last Game vs Los Angeles: 3/7/16 / 58 MP / 24-28 shots / 1-5 L
2015-16, Home: 25 (25) / 8-13-4 / 2.46 / .922 / 0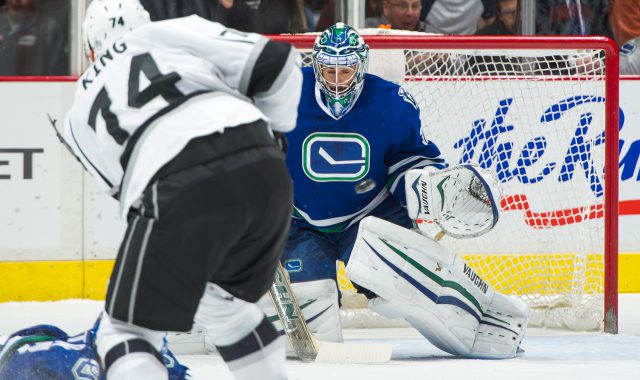 2015-16 Los Angeles Leaders
Total Points: Anze Kopitar (25-45=70)
Goals: Tyler Toffoli (29-26=55)
Assists: Anze Kopitar (25-45=70)
Plus/Minus: Tyler Toffoli (+33; 29-26=55)
Penalty Minutes: Brayden McNabb (90; 2-11=13)
Time On Ice: Drew Doughty (27:59; 14-35=49)
Corsi-For Percentage: Nick Shore (60.9%; 3-7=10)
2015-16 Vancouver Leaders
Total Points: Daniel Sedin (28-32=60)
Goals: Daniel Sedin (28-32=60)
Assists: Henrik Sedin (11-42=53)
Plus/Minus: Jannik Hansen (+17; 20-16=36)
Penalty Minutes: Derek Dorsett (160; 4-8=12)
Time On Ice: Alex Edler (24:27; 6-14=20)*
Corsi-For Percentage: Jake Virtanen (51.2%; 7-6=13)
*On injured reserve; active leader is Chris Tanev (21:53; 4-13=17)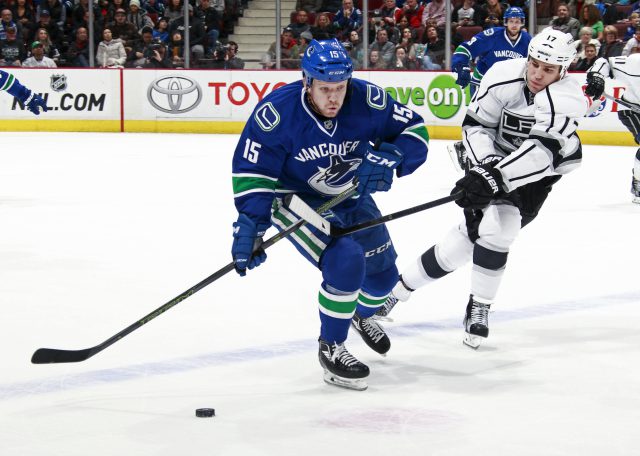 Rankings and Statistics
Goals/Game: LAK – t-13 / 2.71; VAN – 29 / 2.24
Goals Against/Game: LAK – t-2 / 2.32; VAN – 21 / 2.83
Power Play: LAK – 8 / 20.7%; VAN – 27 / 16.0%
Penalty Kill: LAK – t-15 / 81.2%; VAN – 10 / 82.2%
Shots/Game: LAK – 3 / 32.0; VAN – t-27 / 28.3
Shots Against/Game: LAK – 5 / 27.6; VAN – 28 / 32.1
Faceoffs: LAK – 13 / 50.3%; VAN – 30 / 45.2%
Save Percentage: LAK – t-8 / .916; VAN – 15 / .912
Corsi-for Percentage: LAK – 1 / 56.1% / VAN – 26 / 47.2%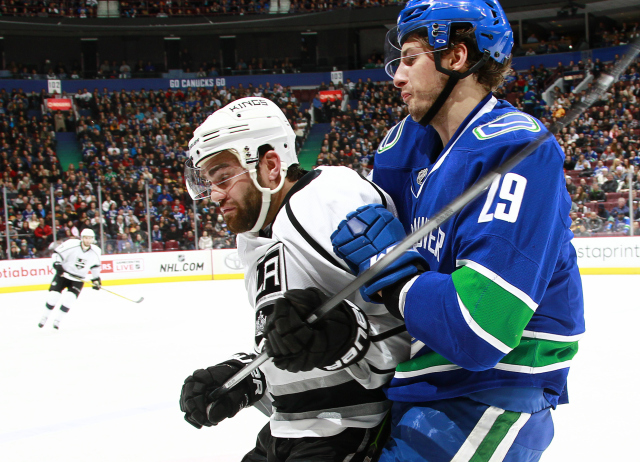 Los Angeles Projected Lines
Tanner Pearson – Anze Kopitar – Kris Versteeg
Milan Lucic – Jeff Carter – Tyler Toffoli
Dwight King – Vincent Lecavalier – Dustin Brown
Kyle Clifford – Trevor Lewis – Andy Andreoff
Brayden McNabb – Drew Doughty
Jake Muzzin – Luke Schenn
Rob Scuderi – Jamie McBain
Jonathan Quick
Jhonas Enroth
Notes and milestones: Los Angeles is 105-98-36 all-time against Vancouver, a record that includes an away mark of 41-59-18. The Kings are 7-3-1 in their last 11 games against the Canucks and with a record of 3-1-0 this season have clinched a victory in the season series for the third consecutive year. … Los Angeles is 26-18-2 against the Western Conference and 16-10-0 against the Pacific Division. … In the race for the Jennings Trophy, Washington leads with 182 goals allowed (in 78 games played). Following the Capitals are the Kings (183 GA / 78 GP), Ducks (185 GA / 78 GP) and Lightning (186 GA / 78 GP). … Los Angeles is 2-5-0 in its last seven games, having been outscored 23-17. … Anze Kopitar and Tyler Toffoli are tied for the league lead with +33 ratings. With 29 goals, Toffoli is one goal from becoming the first King with 30 goals in a season since Kopitar scored 34 in 2009-10. … In 33 games since January 24, Drew Doughty has seven goals, 25 points and a +12 rating. By playing his 603rd career game tonight, he will move within one game of Jay Wells (604 GP) for fourth place in club history amongst defensemen. … Jeff Carter has eight points (5-3=8) in the last five games. … With 39 wins, Jonathan Quick is one win from surpassing his career-high and the Kings' record of wins in a single season by a goaltender. … With his 34 assists, Milan Lucic is one assist shy of his career-high of 35 (twice; last: 2013-14). … With 31 assists, Jake Muzzin is one assist from surpassing his career-high, set in 2014-15. … Darryl Sutter will coach his 1,200th NHL game tonight, becoming the 15th coach in NHL history to do so.
Vancouver Projected Lines
Daniel Sedin – Henrik Sedin – Jannik Hansen
Derek Dorsett – Bo Horvat – Emerson Etem
Jared McCann – Markus Granlund – Jake Virtanen
Andrey Pedan – Brendan Gaunce – Alex Burrows
Dan Hamhuis – Chris Tanev
Ben Hutton – Nikita Tryamkin
Matt Bartkowski – Alex Biega
Ryan Miller
Jacob Markstrom
Notes and milestones: Vancouver is expected to be without Sven Baertschi (lower body), Chris Higgins (lower body), Linden Vey (upper body), Alex Edler (leg), Brandon Sutter (jaw) and Luca Sbisa (upper-body). … Jannik Hansen has set a career-high with 20 goals, while his 18.3% shooting percentage ranks sixth in the league. … Dan Hamhuis was the Canucks' Masterton Trophy nominee. Since its inception in 1968, no Canucks player has been awarded the trophy. … Defenseman Ben Hutton ranks sixth amongst league rookies with a time on ice average of 19:45. He is tied for ninth amongst rookies with 22 assists. … Derek Dorsett ranks second in the league with 160 penalty minutes. … Vancouver has had nine different players make NHL debuts this season (McCann, Virtanen, Hutton, Gaunce, Shinkaruk, Grenier, Pedan, Friesen and Tryamkin). The last season in which eight or more players debuted for the Canucks was 1999-00. … The Canucks are 24-2-3 when holding their opponent to two or fewer goals.