Los Angeles Kings (44-24-5) at Winnipeg Jets (30-37-6)
Thursday, March 24, 2016, 5 p.m. PT
MTS Centre, Winnipeg, MB
Referees: #34 Brad Meier, #25 Marc Joannette
Linesmen: #56 Mark Wheler, #94 Bryan Pancich
FOX Sports West, KABC 790 AM, I Heart Radio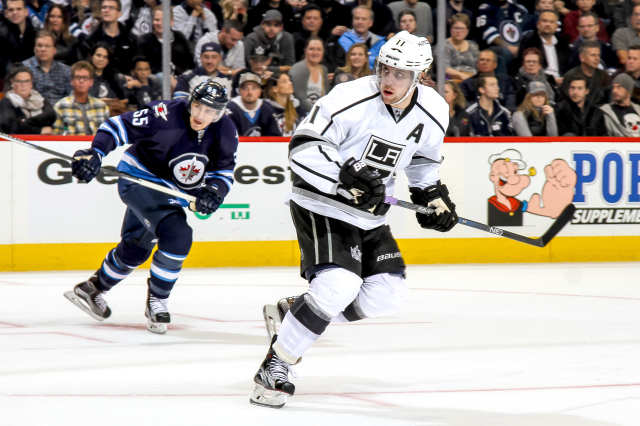 Los Angeles Projected Starting Goaltender – Jonathan Quick
2015-16: 60 GP (60 GS) / 37-19-4 record / 2.16 GAA / .920 Sv% / 4 SHO
Career vs Winnipeg: 9 (9) / 4-3-1 / 3.19 / .882 / 0
Last Game vs Winnipeg: 10/27/15 / 60 MP / 24-25 shots / 4-1 W
2015-16, Away: 26 (26) / 16-8-2 / 2.07 / .932 / 3
Winnipeg Projected Starting Goaltender – Ondrej Pavelec
2015-16: 27 GP (25 GS) / 9-13-2 record / 2.79 GAA / .904 Sv% / 1 SHO
Career vs Los Angeles: 6 (5) / 2-3-0 / 2.44 / .933 / 1
Last Game vs Los Angeles: 10/27/15 / 59 MP / 28-30 shots / 4-1 L
2015-16, Home: 15 (15) / 5-8-1 / 2.56 / .915 / 1
2015-16 Los Angeles Leaders
Total Points: Anze Kopitar (24-43=67)
Goals: Tyler Toffoli (27-22=49)
Assists: Anze Kopitar (24-43=67)
Plus/Minus: Anze Kopitar (+32; 24-43=67)
Penalty Minutes: Brayden McNabb (86; 2-7=9)
Time On Ice: Drew Doughty (28:11; 14-33=47)
Corsi-For Percentage: Nick Shore (61.0%; 3-7=10)
2015-16 Winnipeg Leaders
Total Points: Blake Wheeler (19-45=64)
Goals: Mark Scheifele (24-23=47)
Assists: Blake Wheeler (19-45=64)
Plus/Minus: Mark Scheifele (+13, 24-23=47)
Penalty Minutes: Dustin Byfuglien (99; 16-28=44)
Time On Ice: Dustin Byfuglien (24:57; 16-28=44)
Corsi-For Percentage: Paul Postma (57.2%; 1-0=1)
Rankings and Statistics
Goals/Game: LAK – 14 / 2.70; WPG – t-23 / 2.52
Goals Against/Game: LAK – 1 / 2.26; WPG – 26 / 2.92
Power Play: LAK – 9 / 20.5%; WPG – 29 / 14.6%
Penalty Kill: LAK – 14 / 81.3%; WPG – 25 / 78.5%
Shots/Game: LAK – 3 / 32.1; WPG – 15 / 29.9
Shots Against/Game: LAK – 4 / 27.6; WPG – 14 / 29.7
Faceoffs: LAK – t-12 / 50.3%; WPG – 28 / 47.3%
Save Percentage: LAK – t-7 / .918; WPG – t-26 / .902
Corsi-for Percentage: LAK – 1 / 56.0% / WPG – t-7 / 52.0%
Los Angeles Projected Lines
Milan Lucic – Anze Kopitar – Jeff Carter
Tanner Pearson – Nic Dowd – Tyler Toffoli
Dwight King – Nick Shore – Dustin Brown
Kyle Clifford – Trevor Lewis – Andy Andreoff
Brayden McNabb – Drew Doughty
Jake Muzzin – Alec Martinez
Rob Scuderi – Luke Schenn
Jonathan Quick
Jhonas Enroth
Notes and milestones: Los Angeles is 12-4-5 all-time against the Winnipeg franchise, a record that includes an away mark of 5-4-2. The Kings have lost all five games that have gone to overtime or a shootout against the Jets and Thrashers. Los Angeles and Winnipeg are meeting for the second time and will conclude the season series in the 82nd game of the season, April 9 at Staples Center. The Kings are 1-0-0 thus far, having won 4-1 at the MTS Centre on October 27. … Los Angeles is 24-15-2 against the Western Conference and 10-6-2 against the Central Division. … Anze Kopitar has 15 points (6-9=15) in the last 12 games. His +32 rating leads the league. … Tyler Toffoli's +30 rating ranks third in the league. He has three goals in the last six games. … Drew Doughty's 47 points represents the second-highest haul of his career. His career-high is 59 points (16-43=59), set in 2009-10. In 28 games since January 24, he has seven goals, 23 points and a +10 rating. With 314 points (80-234=314), he is one point behind Steve Duchesne for second place all-time amongst Kings defensemen. … Jonathan Quick's .882 career save percentage against Atlanta and Winnipeg is his lowest save percentage against any NHL team.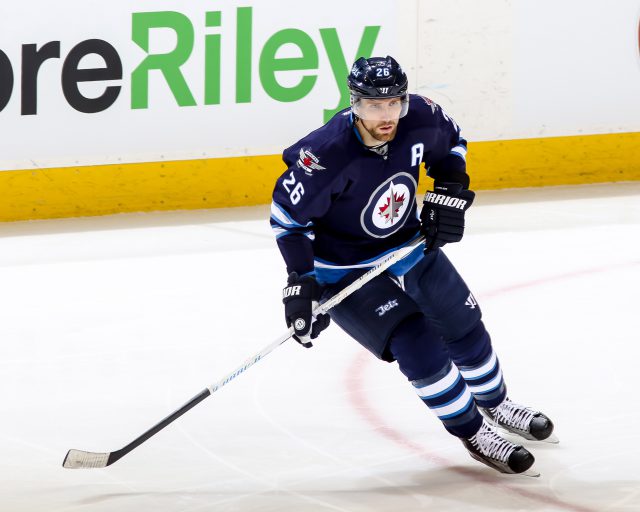 Winnipeg Projected Lines
Nikolaj Ehlers – Mark Scheifele – Blake Wheeler
Joel Armia – Alexander Burmistrov – Drew Stafford
Chris Thorburn – Adam Lowry – Matt Halischuk
Nic Petan – Andrew Copp – Marko Dano
Ben Chiarot – Dustin Byfuglien
Mark Stuart – Jacob Trouba
Julian Melchiori – Paul Postma
Ondrej Pavelec
Michael Hutchinson
Notes and milestones: Winnipeg is expected to be without Tyler Myers (knee surgery), Toby Enstrom (lowe-body), Mathieu Perreault (upper-body), JC Lipon (upper-body), Anthony Peluso (upper-body), Bryan Little (upper-body) and Grant Clitsome (upper-body). … The Jets' 304 minor penalties are the second most in the NHL. … Winnipeg set a season high for shots in a game with 49 in a 2-0 win over Vancouver on Tuesday. … Jets assistant coach Charlie Huddy played for the Kings from 1991-95. … Winnipeg is 1-26-3 when trailing after two periods. … The Jets have outshot their opponents 2186-2171 but have been out-scored 213-184.