The conclusion of the Kings' 2005-06 season – not exactly a zenith of Los Angeles hockey – resulted in widespread organizational restructuring in which the dismissal of all-time franchise wins leader Andy Murray preceded the eventual hiring of General Manager Dean Lombardi, who would go on to steer the team towards Stanley Cups in 2012 and 2014.
A Cup was far from the front of Kings fans' minds when the team, which was four points up on second place Dallas on January 6 and with a five-point playoff cushion on March 8, won only 15 of its final 39 games and finished the year with a thud, going 7-12-0 over the final 19 games. The result was a 10th place finish in the conference; amassing the fourth-most man-games lost to injury didn't help.
When the team fired Murray 10 years and one day ago, it hired John Torchetti as his replacement. In his second interim head coaching position – he also had head coaching experience with Florida in 2003-04 – Torchetti was placed in a challenging spot as he was tasked with battling for a playoff spot and maintaining morale late in a season in which the team was plummeting through the standings. He won his first game, a 6-4 comeback win over the Nashville Predators, but then lost seven of the next 11. One month after Lombardi's late-April introduction, Los Angeles hired Marc Crawford as its head coach, and Torchetti accepted a position with the QMJHL's Moncton Wildcats the following season. He would go on to win a Stanley Cup as a Chicago Blackhawks assistant coach in 2009-10.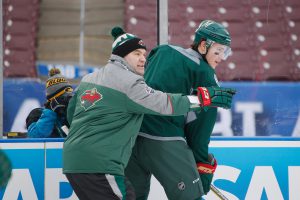 On February 13, Torchetti was introduced as Minnesota's interim head coach after the dismissal of Mike Yeo, and on Tuesday night he'll continue to try to steer his Wild towards a playoff berth when the Kings make their only Xcel Energy Center visit of the regular season.
"It's different," Torchetti said when asked to compare his interim position in Los Angeles with his interim position with Minnesota. "Different chemistry, different lineup, the guys that we had. We had a lot of injuries, too. We lost some guys down at the end there – Sopes, I think it was Miller and Roenick at the end, and he was playing well. It was actually Brownie's first year, so it tells you how long ago that was. It was fun to see him as a rookie and then where he's at now. But this one's just a little bit different."
While Brown was a rookie, and young players such as Michael Cammalleri and Alexander Frolov finished fourth and fifth in team scoring, the Kings were still a veteran-heavy team that relied on the services of those such as Craig Conroy, Pavol Demitra and Luc Robitaille up front, and Mattias Norstrom, Aaron Miller and Lubomir Visnovsky on the back end.
"Veterans are always key," Torchetti said of joining a team mid-season. "I think that the little adjustments in building confidence in goal scorers [are important]. I'm not happy that I haven't gotten Vanek to play at the level that I think he can play yet, and when you can get players like that to play to their full potential, it just makes your team greater. It's a little bit easier when you have a player like a Pominville, a Vanek, a Parise and them to get them back on kilter because they've done it before, and with younger guys it's a little bit different because they haven't shown that potential consistently year-to-year, but with the veterans it's easier and they do understand that, and they understand that they have to buy in and keep working on the little things to be better."
Speaking of Minnesota forwards, State of Hockey native Mark Parrish was among those brought in by the Kings late in the 2005-06 season to try and right a team that was not playing its best hockey in early March. He finished with five goals and eight points in 19 games.
"Enjoyed him," Torchetti said. "He was one of them, and he bought in right away on the two-way parts of the game, and he's a natural goal scorer. He finds those little spots, and he did a good job on the power play for us. We had Pavol Demitra at that time, rest his soul. He was another one coming off a concussion and scored a big goal for us against Calgary in a shootout to get us close. We were close down the end, so it was a lot of fun in L.A."