For Leilah Kelsey, there are still the startling, cacophonous reminders in daily life in which a bursting balloon or a car backfiring instantly revives the terrible and unforgettable sounds associated with her survival of the December 2 San Bernardino terrorist attack that claimed 14 lives and wounded over 20 others, including many of her close friends and colleagues.
So when came the jarring sound of a puck hitting the glass Friday at Toyota Sports Center, there was the challenge in sublimating the natural association.
"People don't understand that a puck hitting the glass, it sounds like a gunshot, so it's a painful reminder," Kelsey said.
She was at Toyota Sports Center as a guest of the Kings organization on a day in which survivors and their families and families of victims skated with players and met with coaches and members of the team's staff following practice. Among those on hand were Trevor Lewis, Luke Schenn, Tyler Toffoli, Milan Lucic, Darryl Sutter, and Kings alumni Matt Johnson and Kyle Calder.
As she recuperates from and processes an unimaginably traumatic event, she was asked whether gestures such as the Kings' are therapeutic and beneficial.
"It is therapeutic," Kelsey said. "It's a chance for all of us to get together and to see each other and to talk and to have a little bit of fun. Even though the event is still right there in our heads and right there in front of us, it's something fun to do. It takes it away for a little bit."
"It's still really difficult. We're 15 weeks out. It's still just really difficult. People are healing physically, but mentally it's still really, really hard, and then the families that lost someone, they're still adapting to that, and it just seems like this happened yesterday, but we're 15 weeks out."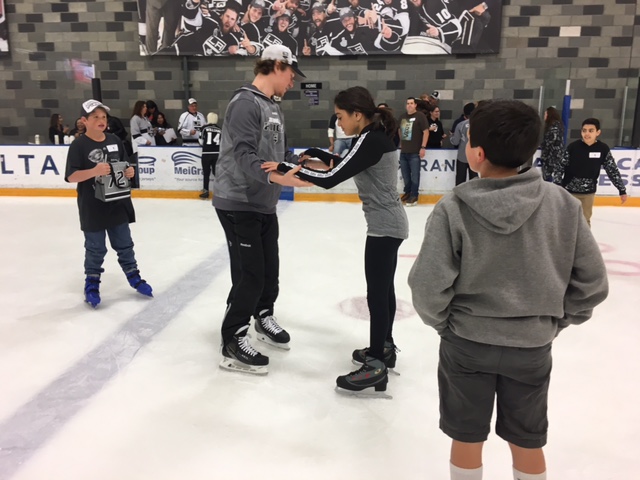 San Bernardino City Council Member Benito Barrios understood the importance of that camaraderie.
"I think it's tremendous for them because it helps in that healing process. Although the pain may never, ever subside, this definitely helps their spirits in being united as one experiencing that tragedy together," he said.
"The biggest thing is that the families of the victims come together and they share and they grieve together, and at the same time, have good times together, because they've inherited a lot larger of a family now, and they are a group that will probably for the next generation be together, and it's great that the LA Kings can host an event like today just to take a few hours for them to come in and watch a practice, for them to get on the ice, have lunch."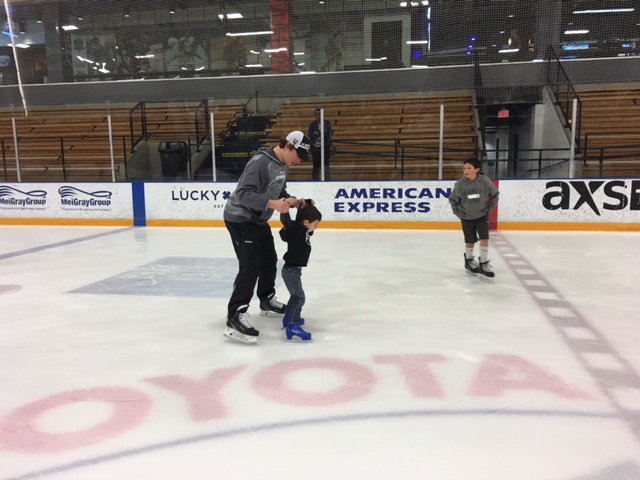 Kelsey's goal is to ultimately make it back to Staples Center for the playoffs; the longtime fan who also attends Ontario Reign games was unable to make it through a full game recently as there are still too many reminders – based partly on the noises and sounds at a hockey rink as well as the number of strangers inhabiting a closed-in space – that incite reactions from her body that would have seemed so foreign prior to December 2.
"I tried to go a couple weeks ago, and it was a little bit OK, but as soon as I left, I broke down and cried and then didn't get out of bed the next day. I can honestly say that, because it was hard," she said. "But I want to be able to go to the game and really enjoy the game and not think about the sounds and the people and everything, but just really enjoy the game."
Bonds have been forged in the terrorist attack's aftermath, and with the help of each other, and hopefully through additional support from the Kings and those who have similarly offered assistance, there will be the attempts to forge forward with the resumption of the lifestyle and some semblance of normalcy that they had been accustomed to before the attack.
"We are a lot closer, the whole group," she said. "There are people, especially people that we've lost, to meet their families that we didn't know before that we know them now, and now when we see each other, it's hugs and everyone talks on a regular basis. It's a camaraderie that only we understand."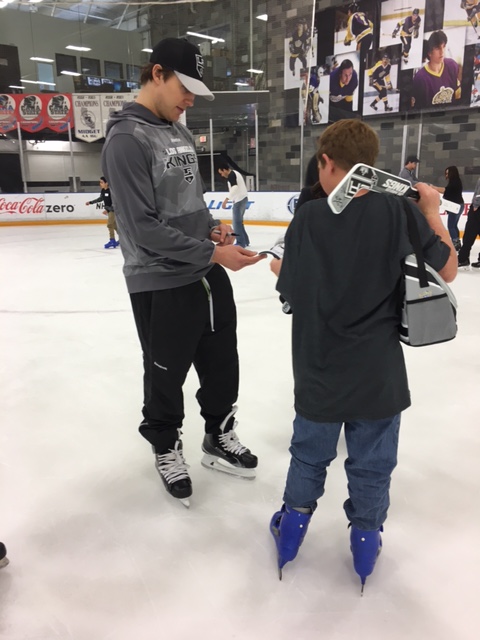 #LAKings players hosted families affected by the San Bernardino tragedy today thanks to help from @LAKingsCare pic.twitter.com/tMF7LZHjW8

— LA Kings (@LAKings) March 18, 2016