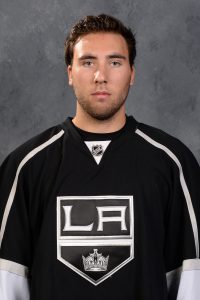 The Los Angeles Kings announced on Sunday that they have signed North Bay Battalion captain Michael Amadio to a three-year, entry-level contract.
Amadio, 19, was a third round draft pick, 90th overall, at the 2014 NHL draft. Known for his responsible play, the two-way center broke out offensively with a North Bay team that ended the weekend with a record of 32-23-6-4. Amadio, who has 94 points in 65 games, ranks ninth in Ontario Hockey League scoring, while his 48 goals are the fourth most in the league. His previous high in goals scored entering this year was 24.
Amadio scored a franchise-record five goals in a 6-5 loss to Kingston on Saturday, February 13, and in a 9-2 loss to Niagara this past Saturday established a new single-season North Bay/Brampton franchise record when he scored his 48th goal.
That accomplishment contained some high praise from within his organization.
Battalion Head Coach Stan Butler praised the LA Kings organization, namely LA Kings Director of Hockey Operations Mike Futa for taking a chance on the Battalion scoring star who passed Wojtek Wolski for the all-time single season scoring record.

"Mike Futa is looking pretty good right now as he's a pretty shrewd third round pick because at the time he had taken him, he had only 12 goals that year and a lot of guys thought that's pretty early for him," said Butler last Wednesday.

Butler noted earlier this month that it was only a matter of time before Amadio signed.
"I think if they re-did the draft for 19-year-olds, then Mike Amadio would be a top 20 pick," added Butler.
Because Amadio is now under contract, he'll be eligible to play for AHL-Ontario at the conclusion of his junior season. The Battalion are currently in third place in the Eastern Conference and will take part in the OHL postseason after their regular season concludes on Sunday, March 20.
In addition to goals, the 6-foot-1, 190-pound Sault Ste. Marie, Ont. native also leads North Bay in points (94; ninth league-wide), plus/minus (+25), power-play goals (nine) and shorthanded goals (seven; third league-wide), and ranks tied for first in assists (46).
Further scouting reports on Amadio will be shared when available.
North Bay Battalion top franchise single-season goalscorers:
Mike Amadio – 48 (2015-16)*
Wojtek Wolski – 47 (2005-06)
Cody Hodgson – 43 (2008-09)
Raffi Torres – 43 (1999-00)
Evgeny Grachev – 40 (2008-09)
Cody Hodgson – 40 (2007-08)