Several abbreviated thoughts on the Kings' 5-1 win over the Vancouver Canucks Monday night:
–Dos a cero es dos a cero as they say en fútbol, but last night's 5-1 Kings win didn't exactly represent any sort of high point of precision or consistent and heavy attack from the home team. This was expected, I guess; trap games do exist. And while the coaching staff has placed the extra focus on divisional games, it's still natural for the players, who have both mental and corporal gas tanks, to experience lulls in their performance, especially during a game situated directly between a highly charged outing against Anaheim and a visit from NHL-leading Washington. They'll be better on Wednesday against the Caps, as this team has generally tended to rise to the occasion against other top teams in the league, the earlier 4-2 home loss to the Ducks notwithstanding. In the end, it was a win against an understaffed divisional team that wasn't quite as lopsided as the score suggested. Park and ride.
-Ryan Miller was not very good in this game. He was fine early, when he robbed Jeff Carter during one of the *winger's* nine shots on goal, but two pucks went through him and were among those he should be relied upon to get fully in front of. After stopping all 15 pucks in his prior meeting with Los Angeles this season, and by stopping the first 15 on Monday, maybe this was just the market balancing itself out. Speaking of Carter, last night's game was a vintage performance for the player who had entered with two goals in the previous 21 games as he generated good looks off the rush as well as off cycles and sturdy work around the goalmouth. Credit Darryl Sutter for making what we'd assume to be a temporary move of Carter from center to wing to alleviate some pressure and reduce some of his checking and center-ice responsibilities, as the coach alluded to after the game.
-The penalty kill had a bounce-back performance against a team that had entered the game red hot with the man advantage. Vancouver didn't generate a ton with opportunities to earn a better result on Monday, and in nine and a half minutes of power play time produced only one high-quality chance, according to War-on-Ice. Jonathan Quick, the Kings' best penalty killer, was better than his counterpart at the opposite end of the ice, especially over the later stages of the second period and early moments in the third.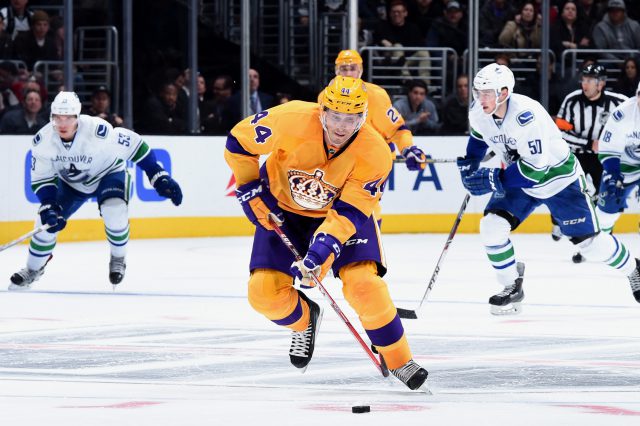 -Linden Vey was among Vancouver's best skaters, and admirably handled 1C duties; good for him. Unsigned and due to become a RFA, the former Kings prospect should use Monday night's game as a demo reel to link back up with the Canucks on a new contract. His assist to Dan Hamhuis followed some not-very-crisp L.A. breakout attempts during four-on-four play (and Tyler Toffoli also failed to contain an activating Dan Hamhuis in open ice). In five-on-five play when Anze Kopitar and Vey were both on the ice, the Kings had two shot attempts for and three against, and while that wouldn't happen consistently (and isn't a worthy sample size), credit the ex-King for rising to the challenge on a night in which Vancouver dealt with a myriad of injuries to key players.
-Drew Doughty was so, so good – like, Norris Trophy-good from the broadcasting booth eye test – and when he was on the ice alongside Jake Muzzin or Brayden McNabb in five-on-five play, the Kings produced nine shot attempts for and yielded only one. He was also fine alongside Rob Scuderi as Los Angeles totaled 13 shot attempts for and 12 against in a fairly even game that was ultimately decided by the Kings' superior goaltending.