Some notes from today's 10 a.m., one-hour practice at CBBA as the Reign prep for another road trip to Texas.
–A day after a mini-game-filled practice on Wednesday, Thursday's theme was full system work with more of a back-to-business feel. There was lots of communication from head coach Mike Stothers to the group, which has one more day of practice before traveling Saturday to take on Pacific Division cellar-dweller San Antonio on Sunday. The team will stay in Texas early next week as they face San Antonio again on Wednesday.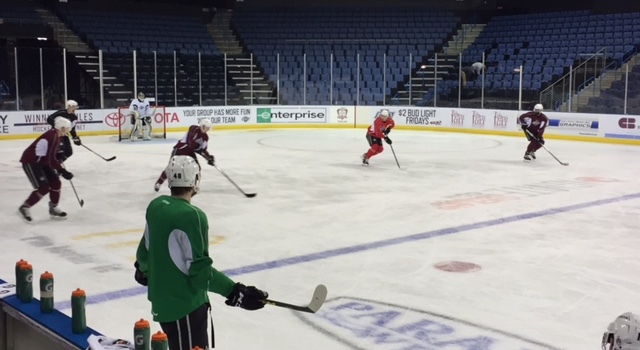 –Defensemen Nick Ebert and Vincent LoVerde were back on the ice a day after not practicing, although both were in red no-contact jerseys. Rest assured, Stothers did say both would travel and the red was just a precaution for the day.
–Goalie Peter Budaj, fresh off signing a one-year extension with the Kings on Wednesday, was given a maintenance day. Budaj was not in the arena and therefore was not available to comment on the deal. "It's certainly well-deserved," Stothers said of Budaj's extension. "You go back to training camp, he comes in and there were no guarantees of anything. So, through hard work and perseverance and his play has certainly warranted the organization recognizing it and doing something. It's not a position where we're overly deep. A guy like Budes' experience is invaluable. The old saying is you can never have too many goalies. You can never have too many good goalies. We don't really have anything that's walking right out of junior or walking right out of college to say is going to be the next guy. I think it's a good insurance policy. Good teammate, works hard and his year this year has been terrific, so why not?" Taran Kozun, with the Reign until Michael Houser's conditioning assignment ends in Manchester, and goaltending coach Dusty Imoo manned the nets.
–Defenseman Kevin Gravel, fresh off his call-up with the Kings, is back and paired with usual partner Derek Forbort. While he was with the Kings, that spot next to Forbort was reserved for Christian Ehrhoff, who has since been traded to the Chicago Blackhawks.
–Last weekend against Texas and due to the additions of Maxim Kitsyn and Matt Leitner from Manchester, Stothers opted to move Andrew Crescenzi out of his usual center position and to the wing. It was an interesting move considering Stothers' recent praise of the third-line center for providing stability and consistency through the middle. If Thursday's practice is any indication that center role could be taken by new addition Brett Sutter, but that's still up in the air. "I'm not convinced which way we're going to go," Stothers said. "Brett's made it clear he doesn't have a preference (from center or left), he just wants to play. For today's practice it was easier for Brett to get used to what we were doing systems-wise, breakouts and stuff like that as a centerman and get Cres some reps as a winger. It just gives us a little bit of creativity." As far as Leitner and Kitsyn go, one of them, or maybe both could stick depending on if Michael Mersch earns another call-up to the Kings. "That's going to be up to them," Stothers said of the new forwards as to which one makes Ontario a permanent home. It's a return to Ontario for Kitsyn, who played with the ECHL version here last year. "I'm familiar with everything here, but especially to jump to a higher league, I'm pretty excited about it," Kitsyn said. Kitsyn, a 2010 draft pick by the Kings, said now as a fourth-liner he's focusing on trying not to do too much as he gets adjusted to the AHL pace.
–Forward Adrian Kempe (upper body injury) did not skate in full team drills, but took the ice shortly before 11 a.m. to skate with assistant coach Chris Hajt. Kempe did timed skating drills, emulating shifts, with no puck work. Forward Paul Bissonnette (mid-range injury) did not participate in practice as expected as there is no timetable for his return.