A few notes from Wednesday's 10 a.m. practice at CBBA. An injured Adrian Kempe was back on the ice and some familiar faces are back in Michael Mersch and Kevin Gravel and a new one's in Ontario, like recently-acquired Brett Sutter.
–Due to the longer-than-usual week of practice, the head coach Mike Stothers is able to vary up the Reign's work a bit and Wednesday's practice did not feature forwards in colored line-combo jerseys but instead all players donned either back or white and different types of mini-games (some of young players vs. old) were run throughout the first hour's worth of work. The day wrapped up with a good bag skate and Sutter leading the team in stretches at center ice. "It was good," center Nic Dowd said. "Stuttsy does a really good job of knowing when to do that … Play some games and have a little fun."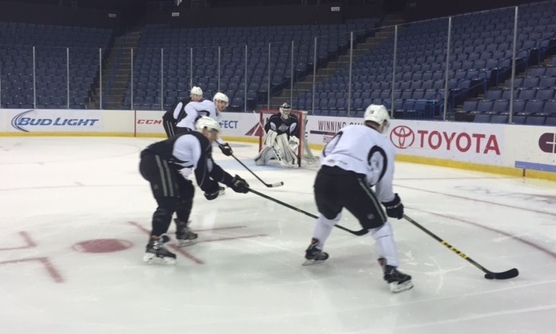 –If you're looking for more on Darryl Sutter's son Brett and what he thinks about joining the Reign and what Stothers thinks about having him, go here.
–Forward Adrian Kempe (upper body injury) skated for the first time since being injured in a collision with teammate Derek Forbort on Feb. 19 against Texas. Kempe took the ice shortly after 11:20 a.m. when the full team had finished its work and was limited to skating only. Stothers said he does not expect Kempe to make the trip for this Sunday's game in San Antonio. "We've still got a ways to go but at least now he can skate," Stothers said. "Can't handle the puck, can't stickhandle, can't shoot. … If we can get his legs going on the ice that's a step closer to being ready to go." Kempe was the ice for about 30 minutes before calling it a day. "Not good," Kempe said with a smile when asked about how his legs felt afterward. "Almost two weeks now since I've been on the ice. It's always tough when you haven't been on for a while and come back, doesn't matter how hard you train in the gym or anything. It's always a different thing when you get on the ice. It was hard but I was glad to be out there, I've been waiting for that for a while now. I'm glad to be back on the ice again." Kempe wasn't too interested in chatting about the trade deadline, but when asked he did talk a little bit about having to be prepared for the chance of being moved. Ultimately, "I'm glad I'm still here," he said.
–Among those absent were forward Paul Bissonnette and defensemen Nick Ebert and Vincent LoVerde. The outlook is not good for the veteran Bissonnette. Stothers said the veteran started to make progress but had a setback recently in trying to return from a "mid-range" ailment and there's no timetable for his return. Ebert, who recently missed time with an upper-body injury, was given the day off to rest that injury but is expected to skate Thursday. LoVerde was seen working out, but was given a maintenance day by Stothers. Thursday will be a maintenance day for Budaj.
–Goalie Michael Houser was on the ice Wednesday but is headed down for a conditioning assignment with ECHL-Manchester. In turn, Taran Kozun, acquired by the Monarchs from the Utah Grizzlies on Tuesday, was on the ice with Ontario on Wednesday as well and will be with the team until Houser returns. "Just get him some game activity, which is good for him," Stothers said of Houser. "He's worked hard so he deserves [to play]." Houser has just four starts with the Reign, three of those coming when Peter Budaj was an emergency call-up with the Kings.
–The NHL trade deadline has come and gone, and now the Reign are without Scott Sabourin and Valentin Zykov due to trades. Alternate captain Dowd talked about how their departure possibly effects the locker room: "This is only my second time going through this, so obviously it's still new to me but Sabby's a well-liked guy. He's been a well-liked guy in the organization for three years. He's one of my close friends, I saw him … at least a couple times a week after practice. Obviously vocal in the room, some would say he'd never stop talking. But that was good, obviously he's going to be really missed but I'm happy, I think everyone is, with the opportunity that he's going to get. Same with Z, a little quieter but obviously a talented player, same with Scott. I think they will both we well-received where they go and good luck to them." So, with that, can any anxiety come to a halt? "It is kind of a scary time leading up to that time, cut-off date," Dowd said. "No one wants to necessarily see their name pop up on Twitter, something like that without knowing and stuff. With social media nowadays everything is so quick, people know before you might know. I think it causes a little anxiety but at the same time I've heard Newbs say before, 'there's nothing you can do about it,' and you've just got to take it in stride.
–A smaller group of players took the ice early and ran through skating and edge work drills with development coach James Richmond. Among those players were Dowd, Mersch and Gravel.