In 20 games with the Kings, Luke Schenn has weathered the transition from the Eastern Conference to the West and appears to be fitting in quite well with his new teammates. He's occupying a top-four spot at the moment and has posted the same production – two goals and five points – as he totaled over 29 games with Philadelphia. He's a plus-two in Los Angeles, which is pretty much what one would expect from a defenseman with a limited sample size who takes care of his own end on a team that has a plus-21 goal differential overall.
Though he hasn't played for any earth-scorching teams prior to joining the Kings, Schenn has mostly been a water-treading defenseman from purely a possession standpoint. He's not going to drive play into the attacking end, but he's going to be competitive and physical in his own end and should be expected – a few anomalous years at the end of his Philadelphia tenure notwithstanding – to start a slightly greater degree of shifts in the defensive zone than the average defender.
"He's no different than having a Robyn or those [more physical] types, the very same," Darryl Sutter said after Wednesday's practice. "Those guys can fit in with our team, the game that we play, and they can fit in with our defensemen."
And that's why Schenn's 44.1% Corsi-for percentage alongside Alec Martinez or -10.1% CF%Rel is mostly irrelevant. It's also why Robyn Regehr's possession rates weren't of great concern. Los Angeles has other players whose responsibility is to drive play, and they do so. With Schenn, and previously with Regehr, the Kings remained the top possession team in the league, even as the whole "stay-at-home defenseman" ideal is being washed over by a modern wave of balanced, hybrid-style blue liners who are effective in many facets beyond those of more specialized "offensive" or "defensive" roles.
Thus far, Schenn has played just over 142 minutes of even strength hockey alongside his most frequent partner, Alec Martinez. The two were good in Tuesday's win over Calgary, and Schenn was named the game's first star for a performance that also included a goal from the right hash marks, which was aided by a Vincent Lecavalier screen.
"No matter who you play with, I think you've always got to adjust on the fly," said Schenn, who has also appeared in just over 80 total minutes with Christian Ehrhoff and 31 minutes with Jake Muzzin, his next most frequent partners after Martinez.
"I think a lot of shifts have come with Marty lately, and I think we've been getting pretty comfortable reading off one another and communicating and figuring out where each other are. But throughout the course of the game, it seems like the partners get switched around. You bounce around from shift to shift, whether it's penalty kill or after a power play, sometimes me and Nabber will get out there and Muzz or whomever. Whoever it is, everyone's a great defenseman on this team. Everyone's got some experience, and guys can all make plays, so I'm comfortable with anyone."
Luke Schenn, on the Kings channeling shots towards the perimeter against Calgary:
At one point I noticed – it might have been halfway through the second – we didn't give them a ton of shots at all, and then it seemed like they got a few more towards the end. Obviously you want to keep shots to the outside and let Quickie see it and clear the front of the net, and the ones we did give up, he was there to bail us out. Obviously you're going to give up the odd chance, you're going to make the odd mistake, and Quickie's there to bail us out. But all in all, I think we played all right. Last night probably wasn't our best, it wasn't our worst, but it was nice to come back home and get more confidence on home ice and establish, like I said, a little confidence going into a huge home stand here.
Schenn, on what the Kings did well to limit Calgary's top line at even strength:
They're tricky to play against. They're not like a lot of top lines where they come at you. Obviously they're a little bit smaller. They love plays off the rush and possession, and in the neutral zone, if they don't like what they see, they'll circle all the way back, and as a defenseman, you've got to get up-ice and get your gap again. A lot of teams are straightforward, make plays, and try to come at you with speed. These guys aren't afraid to circle back and almost slow the game down at times, it seems like. It's a little bit different that way, and it's interesting playing against them. They're all smaller guys and quick guys, so you've got to play them a little bit different than, let's say, if you're playing top guys on St. Louis or something like that.
Schenn, on whether strength in goal allows defensemen to forget mistakes quicker:
Like I said, mistakes happen, especially as a defenseman. You're going to once in a while make a mistake, and if you've got a goalie out there that's going to back you up, most of the time it gives you that extra confidence to try and make the right play, and if you make a mistake, know that he's going to bail you out. That's why he's one of the best, if not the best. It definitely helps, especially as a defenseman, to know your goalie's back there for you and is going to cover up for whatever mistake you make.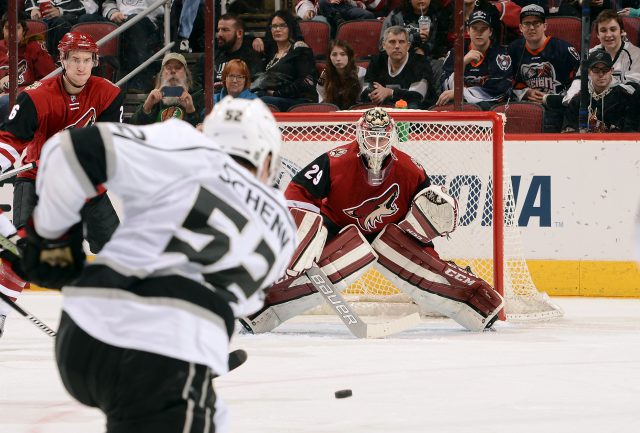 -advanced stats via War-on-Ice, Stats.HockeyAnalysis.com