Good afternoon from Music City, where the Kings will conclude their seven-game, 13-day road trip at Bridgestone Arena tonight against the Nashville Predators (5:00 p.m. PT / FOX Sports West / KABC 790 / I Heart Radio).
The Kings took the ice at 11:30 a.m. local time and aligned as such:
Lucic-Carter-Toffoli
Clifford-Lecavalier-Lewis
King-Shore-Brown
Pearson-Andreoff-Mersch
Muzzin-Doughty
Martinez-Schenn
McNabb-McBain
Gravel
-Neither Anze Kopitar (lower-body) nor Jordan Nolan (undisclosed) skated, so you shouldn't expect them to play. The Nolan news was somewhat of a surprise, though I received a confirmation from hockey operations that he was "dinged up" and would be out tonight. It's nothing that's considered particularly serious; think of it as a maintenance day.
-Michael Mersch, who has one goal and three points in 15 games, will play his first NHL game since January 11. "It was great to be able to grasp the systems while I was up here, the little things that they do up here, and go and implement them in my game down there," he said of the adjustments he made between the NHL and AHL levels. "I worked on a few things and tweaked a few things myself, kind of without anyone telling me what to do. You're kind of teaching yourself a little bit, too."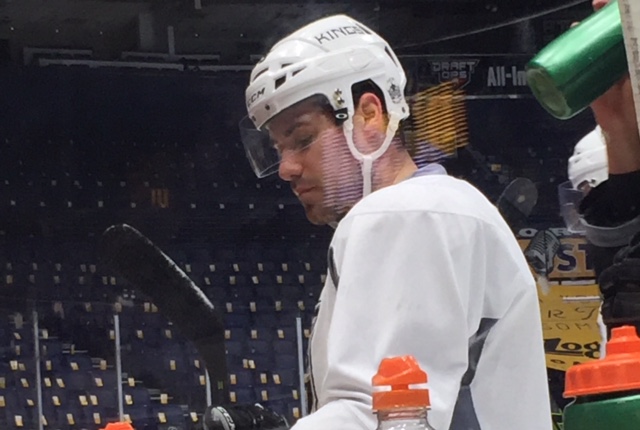 -The Predators held an optional morning skate; here's how they aligned yesterday:
Optional Predators skate. Lines from Thursday:
Jarnkrok-Johansen-Neal
Forsberg-Ribeiro-Smith
Wilson-Fisher-Arvidsson
Salomaki-Gaustad-Watson

— Adam Vingan (@AdamVingan) February 20, 2016
Expect Pekka Rinne to get the nod tonight; he's 10-6-2 with a 2.87 goals-against average and a .890 save percentage with a shutout in 18 career games against Los Angeles. "Pekka's an unbelievable goalie, and he's tough to get by when he's seeing pucks, so we need to get bodies in front and deflections and whatnot," Drew Doughty said.
-Quotes and a preview to come. Enjoy your Saturday, Insiders…