It's interesting. Generally when there is an evaporation of a wide divisional lead – not that Darryl Sutter shows signs of outright concern, as he's continually stated that the team's goal is to "make the playoffs," not "win the division" – it's because the team on top plays poorly while the teams below play exceedingly well. Los Angeles, though, other than a few bad periods over the past month against Ottawa, Colorado and the New York Islanders, and for moments of a questionably officiated and special teams-driven first period last night, hasn't played poorly. This isn't the same as recent Januaries where their systems and team-wide play weren't quite working in concert. There have been some discipline and injury issues, and as of late some goal scoring challenges – their last even strength goal came in the second period against the Rangers one week ago today – but the effort and systems play has for the most part stuck with them, even as San Jose and Anaheim have scorched the earth with their advancements this month. Outside of what went on elsewhere, how could you look at last night's game and be particularly disappointed with an overtime loss? The Kings lost Anze Kopitar after the first period, entered the third period trailing in a difficult road building against a top team, and killed off 1:54 of a five-on-three to force OT as they steadily improved as the game progressed. Los Angeles earned a really good point on Thursday night. Unfortunately for the sake of the divisional race, Anaheim and San Jose earned two really good points.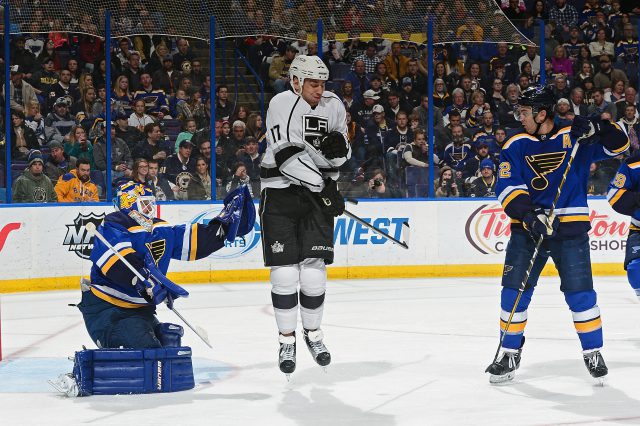 The Kings really only utilized three lines and two defensive pairings, and that raises a concern about the periphery of the current roster. Brayden McNabb played 10:07 and is not trending well after making strong advancements early this season. Jamie McBain played 7:52 and afforded Scottie Upshall a wide open lane towards the front of the net in the first period, leading to a[n] [iffy] Jonathan Quick tripping minor and a Blues power play goal. Despite losing Kopitar after 20 minutes, Andy Andreoff, a center, logged only 6:30 of ice time. There will be a few trades around the league leading up to the February 29 deadline, even if salary cap uncertainties may be cooling the market as teams that would otherwise be inclined to make a move would now be standing pat. McNabb is still a fine defenseman with ample room to grow, and this recent stretch is simply a seasonal nadir and not representative of where he's headed and what he's capable of. But there are areas on the roster that could stand to be reinforced, and the challenge is that the Kings don't have first, third or sixth round draft picks this year, and will have to retain as many inexpensive assets as they have as star and established players on their roster become more expensive in the coming years.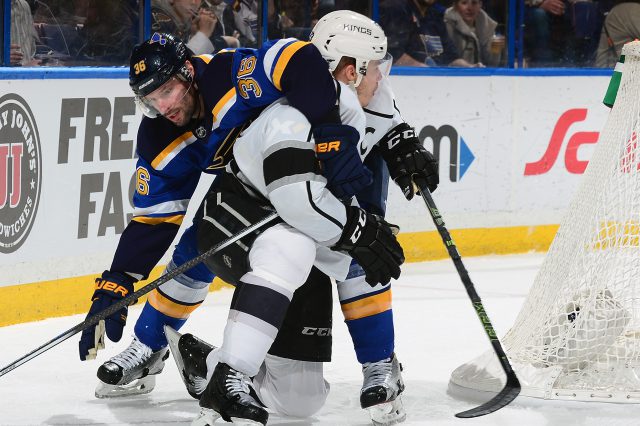 Los Angeles has found dents in the armor of the top penalty killing units. They went 2-for-4 against Anaheim over two games, 3-for-3 against Boston, and in the third period last night received a big goal from Tyler Toffoli off a clean Jeff Carter zone entry against St. Louis, which entered the night leading the league in PK% after having killed off 18 power plays in a row. Should Kopitar miss any number of games (he's day-to-day and has been remarkably resilient to injury in his career), both Toffoli, who established a new career-high in goals last night, and Carter, will be counted on to spur the offense. The team could also stand to receive depth offensive contributions, which they haven't received in five-on-five play since Kyle Clifford's goal in Brooklyn.