Some notes from today's 11:15 a.m. skate from the freezing confines of Center Ice in Ontario. A quick day's work the day after breaking a three-game skid.
–It was a welcomed sight to see Adrian Kempe on the ice after missing Wednesday's morning skate and 6-1 win over Stockton due to illness. "I feel better today," Kempe said. "I woke up pretty good yesterday and came to the rink and my head hurt and my stomach started to feel bad so I guess it was better for me to get a rest day yesterday and I feel good today." Kempe wasn't grouped in a line color, but head coach Mike Stothers said he expects him to play Friday against Texas. "He practiced and he made it through without having to leave. Says he feels better," Stothers said. "So I would assume, we always tell our guys to assume they're playing and be ready to play and if they're healthy enough to play that helps in the decision. It's good to see him back on the ice." Kempe was one of the last forwards off the ice Thursday and said he feels prepared for tomorrow after using the rest day Wednesday to sleep mostly. Wednesday's game was the first Kempe had missed all season in exception to games missed while playing at the World Junior Championship with Sweden.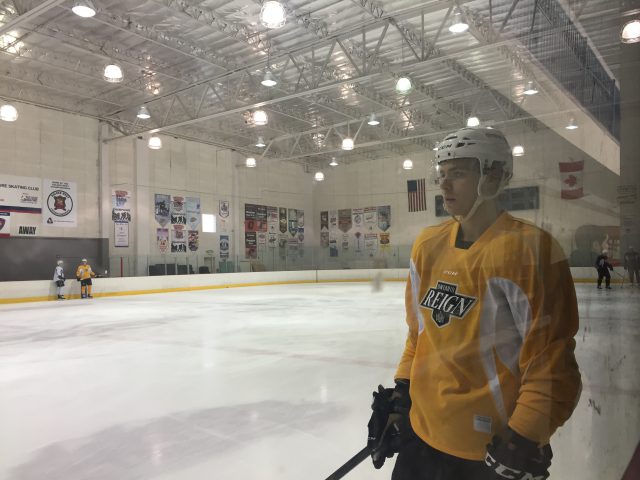 –All players participated in practice except for goalie Peter Budaj, who was given a rest day after flying in on Wednesday after his stint with the Kings and starting against the Heat just hours later. Instead, goaltending coach Dusty Imoo donned the pads and led the team in stretches at one point. Doug Carr, who was brought in to back up Michael Houser while Budaj was with the Kings, has been released by the Reign.
–Lines and D pairings were the same as they were in Wednesday's win:
Michael Mersch – Nic Dowd – Jonny Brodzinski
Justin Auger – Kris Newbury – Sean Backman
Jordan Samuels-Thomas – Andrew Crescenzi – Valentin Zykov
Paul Bissonnette – Ryan Horvat – Scott Sabourin
Adrian Kempe – Joel Lowry
Vincent LoVerde – Kurtis MacDermid
Derek Forbort – Christian Ehrhoff
Jeff Schultz – Nick Ebert
Zach Leslie – Kevin Raine
–Defenseman Nick Ebert played for the first time on Wednesday after sitting out the previous 16 games with an upper-body injury. He got the "looked good," grade from Stothers on Thursday. "My body felt good," Ebert said about his first game back. "I think when you get that much time, 6-7 weeks off, your body gets to recoup. I felt strong, I think just the mental side that's going to take a couple games to get fully back into that 100 percent hockey here. I'm just going to take it step by step and game by game."
–Defenseman Christian Ehrhoff now has three games under his belt with the Reign. His attitude has been praised by Stothers in what could be perceived as a difficult circumstance for Ehrhoff, who was placed on waivers by the Kings and assigned to the Reign after clearing waivers last week. "I just try to be positive. Try to be a good influence on the younger players that are here," said Ehrhoff, who admitted that last week's back-to-back was a little tough. "I try to give 100 percent every time, try to be good in practice. For me, personally, just having fun out there and playing a lot and getting my game going." The AHL does not count time on ice, but Ehrhoff's minutes have certainly escalated with the Reign in comparison to the Kings. He's getting power play time and his offensive skill has been noticeable in both recent games against Stockton, but he said he's not trying to do too much differently. "I just try to play my game and I want to be defensively responsible and not try to force anything offensively or try to create offense by taking any gambles," said Ehrhoff, who's been paired with Derek Forbort. "I just want to play my game and when there's an opportunity I'll try to do something offensively too."
–The Reign (29-13-3-1, .674 winning percentage) face high-powered Texas (31-18-3-3, .618) on Friday night. Texas defeated San Diego 6-3 on Wednesday and is second in the Pacific behind Ontario. "A little guarded, that's what I told them today," Stothers said when asked if the Reign are confident after posting six goals of their own Wednesday. "One game doesn't make a streak. We don't make a habit out of scoring six goals. We don't want to get into that end-to-end stuff with Texas, that's the wrong team to try and do it. They put up another six last night. That's what they do, they score. We don't want to play that kind of game against them."
–The team skated in full drills for the first 35 minutes and then broke off into groups for skill work. It was a quick, spirited practice the day after a big win.