Los Angeles Kings (33-19-3) at Washington Capitals (40-10-4)
Tuesday, February 16, 2016, 4:00 p.m. PT
Verizon Center, Washington, DC
Referees: #16 Brian Pochmara, #6 Francis Charron
Linesmen: #77 Tim Nowak, #95 Jonny Murray
FOX Sports West, KABC 790 AM, I Heart Radio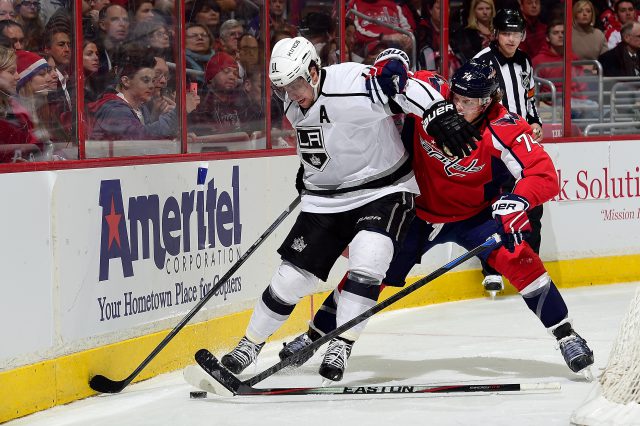 Los Angeles Projected Starting Goaltender – Jonathan Quick
2015-16: 44 GP (44 GS) / 28-14-2 record / 2.23 GAA / .918 Sv% / 3 SHO
Career vs Washington: 6 (6) / 5-1-0 / 2.44 / .915 / 0
Last Game vs Washington: 2/14/15 / 60 MP / 27-28 shots / 3-1 W
2015-16, Away: 19 (19) / 14-4-1 / 2.06 / .932 / 2
Washington Projected Starting Goaltender: Philipp Grubauer
2015-16: 13 GP (9 GS) / 5-4-1 record / 2.24 GAA / .919 Sv% / 0 SHO
Career vs Los Angeles: First appearance
Last Game vs Los Angeles: First appearance
2015-16, Home: 6 (4) / 2-2-1 / 2.26 / .915 / 0
2015-16 Los Angeles Leaders
Total Points: Anze Kopitar (16-34=50)
Goals: Tyler Toffoli (23-19=42)
Assists: Anze Kopitar (16-34=50)
Plus/Minus: Tyler Toffoli (+26; 23-19=42)
Penalty Minutes: Milan Lucic (66; 14-22=36)
Time On Ice: Drew Doughty (28:01; 11-24=35)
Corsi-For Percentage: Nick Shore (61.5%; 3-5=8)
2015-16 Washington Leaders
Total Points: Evgeny Kuznetsov (15-41=56)
Goals: Alex Ovechkin (35-14=49)
Assists: Evgeny Kuznetsov (15-41=56)
Plus/Minus: Evgeny Kuznetsov (+25; 15-41=56)
Penalty Minutes: Tom Wilson (115; 5-13=18)
Time On Ice: Matt Niskanen (24:42; 3-20=23)
Corsi-For Percentage: Dmitry Orlov (54.6%; 5-15=20)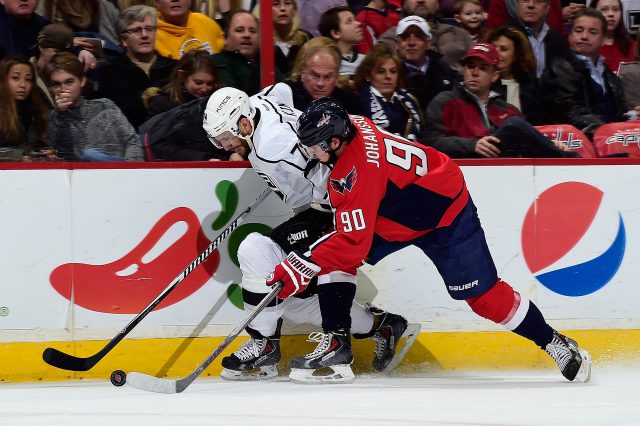 Rankings and Statistics
Goals/Game: LAK – 9 / 2.75; WSH – 1 / 3.30
Goals Against/Game: LAK – 6 / 2.35; WSH – 2 / 2.30
Power Play: LAK – 2 / 23.1%; WSH – 1 / 24.4%
Penalty Kill: LAK – 10 / 81.6%; WSH – 5 / 83.7%
Shots/Game: LAK – 3 / 32.4; WSH – t-10 / 30.4
Shots Against/Game: LAK – 6 / 27.9; WSH – 10 / 29.0
Faceoffs: LAK – 16 / 50.0%; WSH – 19 / 49.8%
Save Percentage: LAK – 9 / .916; WSH – 5 / .921
Corsi-For Percentage: LAK – 1 / 56.4%; WSH – 16 / 50.4%
Los Angeles Projected Lines
Milan Lucic – Anze Kopitar – Dustin Brown
Dwight King – Jeff Carter – Tyler Toffoli
Tanner Pearson – Vincent Lecavalier – Trevor Lewis
Kyle Clifford – Nick Shore – Jordan Nolan
Brayden McNabb – Drew Doughty
Jake Muzzin – Alec Martinez
Kevin Gravel – Luke Schenn
Jonathan Quick
Jhonas Enroth
Notes and milestones: Los Angeles is 56-33-15 all-time against Washington, a record that includes a road mark of 24-19-8. The Kings are 7-1-2 in their last 10 road games in the series, dating back to April 4, 1998, and 9-2-1 in the last 11 games overall against the Capitals. Goal scorers in the 3-2 loss on April 4, 1998 included Steve McKenna, Garry Galley, Peter Bondra, Steve Konowalchuk and Esa Tikkanen. The teams will conclude the season series March 9 at Staples Center. … Los Angeles is 15-8-2 against the Eastern Conference and 8-4-0 against the Metropolitan Division. … Over the last 14 games the Kings have scored 45 goals (3.21 G/GP) and have allowed 41 (2.92). They have been held to one goal or less only three times in the last 23 games. … Los Angeles has 14 goals in its last 40 power play opportunities (35.0%). … Dustin Brown has eight points (4-4=8) in the last nine games. With 464 career points (215-249=464), he is two points behind Charlie Simmer (466 points) for 10th place overall on the team's all-time list. … Drew Doughty ranks third in the league with a TOI average of 28:01. … Anze Kopitar, who ranks second in the NHL among forwards with a TOI average of 21:02 and is tied for fourth with a _23 rating, is also tied for second in NHL scoring since November 20 with 43 points (11-32=43) and second with 32 assists. … Jonathan Quick is tied for third in the NHL with 28 wins. … Tyler Toffoli leads the league with a +26 rating. He has equaled a career-high with 23 goals. … With 297 career goals, Jeff Carter is three goals from 300 in his career. … Trevor Lewis is expected to play his 398th career game tonight.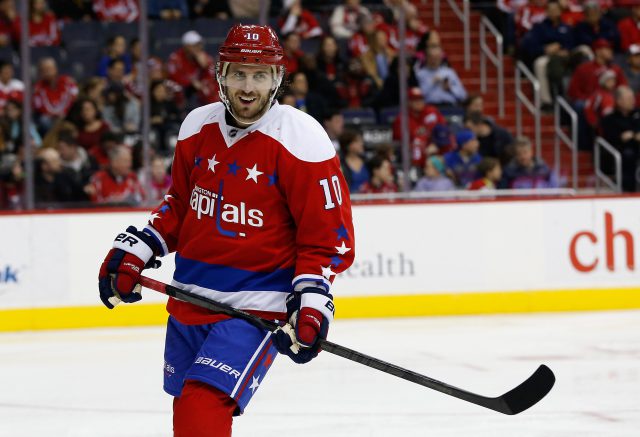 Washington Projected Lines
Alex Ovechkin – Nicklas Backstrom – T.J. Oshie
Andre Burakovsky – Evgeny Kuznetsov – Justin Williams
Jason Chimera – Marcus Johansson – Tom Wilson
Brooks Laich – Mike Richards – Michael Latta
Matt Niskanen – Karl Alzner
Nate Schmidt – John Carlson
Brooks Orpik – Dmitry Orlov
Philipp Grubauer
Braden Holtby
Notes and milestones: Lines via NHL.com Washington correspondent Katie Brown … Brooks Orpik is expected to return to the lineup after a 40-game absence due to a lower-body injury. … The Capitals are 14-1-1 in their last 16 games at Verizon Center and have out-scored their opponents 61-34 during that span. Washington's 40-10-4 start is the best in franchise history, while the Capitals' 40 wins are tied with the 1995-96 and 2007-08 Red Wings as the most victories through 54 games in league history. … Washington is 10-3-2 against the Western Conference and 5-1-1 against the Pacific Division. … The Capitals are 31-0-1 when leading with 10 minutes remaining in the third period. … Evgeny Kuznetsov has 19 points in his last 13 games (2-17=19) and leads the league in primary assists (33), assists per 60 minutes (2.60) and multi-assist games (12). He ranks second in points per 60 minutes (3.55) and plus minus (+25), and ranks third in assists (41). … Alex Ovechkin has goals in four straight games (six total). He has recorded three-game goal streaks five times this season. The Moscow native has nine goals in his last nine games and leads the NHL with 35 goals. On February 7, he became the third player in NHL history to score 30 or more goals in each of his first 11 seasons in the league, joining Mike Gartner (first 15 seasons) and Wayne Gretzky (first 13 seasons). He is the only NHL player to score 30 or more goals every season since 2005-06. Ovechkin has 11 points (5-6=11) in 11 career games against the Kings. … Nicklas Backstrom has 21 points in his last 18 games (7-14=21). … Andre Burakovsky has 15 points (7-8=15) in his last 13 games. … In 427 regular season games with Los Angeles between 2008-15, Justin Williams totaled 103 goals, 163 assists and 266 points. In all, he played 500 regular season and postseason games with the club. … In 257 regular season games with Los Angeles between 2011-15, Mike Richards totaled 133 points (46-87=133). Both players won the 2012 and 2014 Stanley Cups with the Kings, with Williams also earning the 2014 Conn Smythe Trophy.