If you're thinking that Mike Richards was feeling awkward leading into his first game against the Los Angeles Kings, who cited a "material breach of the requirements of his Standard Player's Contract" when terminating his contract last June, he didn't come off that way 24 hours in advance of Tuesday night's Kings-Capitals game at the Verizon Center (4:00 p.m. PT / FOX Sports West / KABC 790 / I Heart Radio).
You're probably aware of the details. He was detained at the US-Canada border late last spring, charged with the possession of a controlled substance, and, following the termination of his contract, came to a settlement with the club over the money remaining in early October. His legal process is still ongoing. Richards signed with the Capitals in early January and is looking for his first point after 11 games with his new club in which he's averaged 12 minutes per game.
"I didn't expect to come in here and just light the lamp every game, but I also expected to probably contribute a little bit more," he said. "I mean, it's frustrating to not have the success, but I think in the last three, four games I've been getting a lot more chances and making a lot more plays. It'll come eventually, and hopefully sooner than later, but I'd be lying to you if I said it wasn't a little frustrating."
He said he "didn't make anything" of Dean Lombardi's correspondence with the LA Times, in which the Kings General Manager described the center's "destructive spiral" as "the most traumatic episode of my career."
"People that know me know that I'm not out to make headlines or anything," Richards said. "I couldn't care less."
But on the ice with the Kings, he did make headlines collectively with a group with which he won the 2012 and 2014 Stanley Cup Finals. Carrying over the success he had with the Philadelphia Flyers in winner-take-all games – remember that he was a member of the Flyers team that erased a three-nothing series deficit to defeat Milan Lucic and the Boston Bruins in the first round in 2010 – Richards, like Justin Williams, is 7-0 all-time in Game 7s
"It's hard to put into words how awesome of an environment [a Game 7] is," Richards said. "Whether you're on the road, at home, from pretty much five o'clock on the night before to game time, it's definitely exciting."
And even though there was a drop-off in his play with Los Angeles by the time the 2014 Stanley Cup Playoffs opened, he was still an integral part of the team's pulse and efforts in their series-clinching win at San Jose, in which he took a team-high eight shots on goal, and the series-clinching win in Anaheim, in which he had a goal, an assist, and was named the game's first star.
But it was back in the 2012 first round series against the Vancouver Canucks in which his catalyzation of a Kings team was the most pronouonced as he drove the club to a pair of wins at Rogers Arena en route to a five-game series win in which he was among the most impactful players at both ends of the ice. His fall from grace over the past year – he was ultimately waived by Los Angeles and assigned to Manchester in January, 2015, prior to his legal troubles – has partially obscured his role in the team's ascendance to the NHL throne.
"I just remember throughout the season [in 2012], every time we needed to have a big game, that we always stepped up and played that big game," he said. "Even though we were an eight seed playing against a one-seed, I think you could just feel the confidence in the dressing room. We were confident. We played well down the stretch. We might've had some hurdles throughout the season, but we were definitely a confident team going into the playoffs."
"We had good players, but when you have a lot of new guys that are thrown together, it takes you some time to get consistency, and I think as was somewhat the case as when I was with Philly, you kind of just peak at the right time. When you play that well down that stretch, you go into the playoffs with all sorts of confidence. You saw Ottawa do it last year. I really think that's one of the biggest advantages when you finish the year really well and you go into the playoffs playing well, because the team has all sorts of confidence, and that's what we had."
Darryl Sutter has reiterated his support for Richards, and is loath to answer any questions that hint at the center's off-ice struggles.
"He can play for me any day, and he's a big reason why this team won two championships, and I know deep down he'll be trying to win another one," he said when Richards signed with Washington.
Now settled with the Capitals – he said "it's home now" after having made the transition from a hotel into less temporary digs – he has become more comfortable with his new team. Unfortunately his black lab, Arnold, is still north of the border with his parents, but the welcoming presence of a team that leads the NHL with a 40-10-4 has surely aided the transition.
"It's similar," Richards said, comparing Washington's dressing room to Los Angeles'. "Even though we play different styles, I think we have a lot of same body types with big guys that play the game hard, and off the ice, it's very similar with guys who just like being around each other. It's a fun group. Whether we're in the gym working out or on the plane, I think everyone enjoys being at the rink and being around each other. When you have a group like that, it's easy to come to the rink and play hard for each other. I think that might get overlooked when you're putting together a team or when you see championship teams, you talk to anybody and that's what they have. It's the people that go to the rink, that love being together, and like I said before, when you do that, you play so much harder for each other."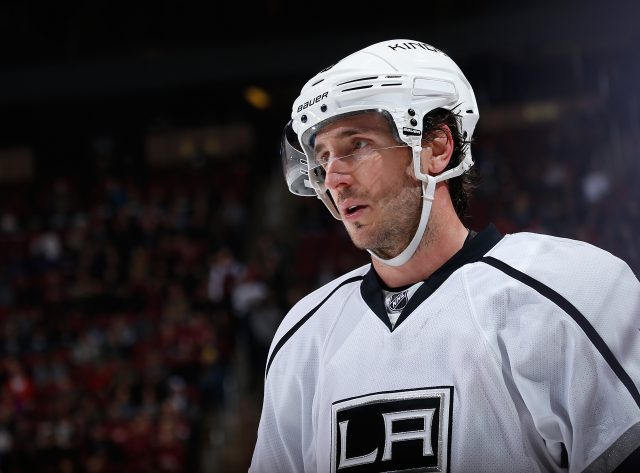 Mike Richards, on how his and Justin Williams' Stanley Cups help Washington's room:
I don't know. We have more guys. Brooks Orpik's won it. I think just any time you can have some experience, even like Backy and Ovi, they've played a lot of playoff games, so there's a lot of playoff experience in here. I mean, Justin's won at every level. They don't call him Mr. Game 7 for no reason. He's just a guy that loves big game opportunity, and whenever it seems like you need a big game, he's always the guy who steps up. I think he takes great pride in that, to be honest with you. He loves that moment, and he takes pride in doing well in those scenarios.
Justin Williams, on what he spoke to Mike Richards about prior to his arrival:
Wel, I think he wanted to know the same things I wanted to know when I came here. Is it a good city to live in? How's the dressing room? Are the guys good? How's the team and [inaudible]. Those are the things you ask, those are the things you want to know usually as a hockey player, seeing where you're going to fit in.
Williams, on the differences between Washington's and Los Angeles' systems:
I think it's radically different, the system aspect of it. This is more of a go, go, go, up-tempo, get the puck, get it off your stick quick, and L.A.'s kind of very methodical, puck possession, D-to-D, using centers, low wingers. It's kind of contrasting styles. But I feel any situation, any game that we're put in, we can adapt to that. Whether we adapt to them or they adapt to us, I don't feel it matters. We can win a lot of games either way.