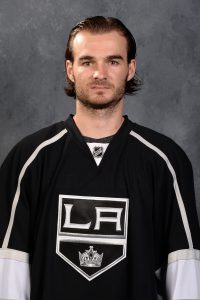 It was late last night when I received the news, so I held off on posting until this morning, but a hockey operations source told LA Kings Insider that Ontario Reign goaltender Peter Budaj will be recalled today. This is, of course, a move influenced by the injury sustained by Jonathan Quick when Jimmy Hayes slid into him in the waning moments of Tuesday's 9-2 win over the Boston Bruins.
Quick was held out of practice on Wednesday as two members of the club's hockey operations and head coach Darryl Sutter indicated his injury was day-to-day – Sutter said there was even a chance he'd be able to practice on Wednesday – so no grave concern was projected over the degree to which he is injured. See: "Day-to-day."
Budaj has had an exceptionally strong season for the Ontario Reign and was one of three players to represent the team at the AHL All-Star Game. Bouncing back from a campaign in which he was winless in 15 decisions with St. John's, Budaj is 26-9-3 and leads the league with a 1.58 goals-against average, a .935 save percentage and eight shutouts. He has been a workhorse, having played a league-high 38 games and started 19 games in a row and at one point started 19 games in a row.
There is no word on any corresponding move at this point. From my understanding of the CBA, the Kings would not be able to use an emergency call-up on Budaj, because the team has more cap space than the league-minimum salary and the team did not play its previous game with fewer than 20 players. More stipulations of Provision 50.10(e) can be found here. Keep in mind that once Christian Ehrhoff's status is resolved – it should be learned shortly whether he has been claimed off waivers – defenseman Kevin Gravel's recall is expected to be announced, and he would take the vacant spot left by Ehrhoff's departure.
In 296 career games with Colorado and Montreal between 2005-14, the 33-year-old Budaj is 124-107-36 with a 2.76 goals-against average, a .903 save percentage and 11 shutouts. He appeared in the 2006 and 2014 Winter Olympics with Slovakia.