Good morning, Insiders, and good morning, New York.
Sometimes you arrive in New York, open your blinds and there's a wall directly in front of the window, and sometimes you open up to a panoramic view of the New York Harbor and the Statue of Liberty.
Hey, it may be Jersey City, but whatever. This was a beautiful view at sunset last night: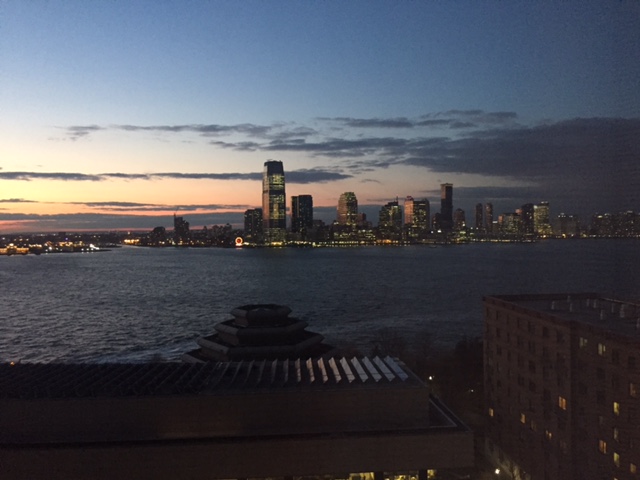 The Kings have recently had several successful trips to the Tri-State area. If we're talking regular season, they're 6-0 since a 2-1 overtime loss to the Islanders at Nassau Coliseum on February 11, 2012. Along with the Nashville Predators in 2006 and the Anaheim Ducks in 2008, the Kings in 2013 and 2015 are among the only teams to have swept the three-game, mid-season New York / New Jersey swing. Having a 3-2 record in the playoffs against New York-area teams isn't the worst thing in the world, either.
OK, too much hockey talk for a Good Morning post. It was a short hop down from Boston yesterday afternoon, and in our descent, the Manhattan skyline was clearly pronounced beyond the Newark-area industrial sites.
It's cold in New York, and getting colder. The high on Saturday is expected to be 19 degrees, with strong wind gusts, and today we'll see partly cloudy to overcast skies with a high of 30. I'm disappointed that I won't be able to share a BEHOLD post from Barclays Center, but we're not heading to Brooklyn for the morning skate – the team will conduct meetings and hold off-ice workouts at the team hotel – and I'll join NHL Live for an Arena Cam hit in addition to preparing for the broadcast once we arrive at the arena this evening. Also, this marks the start of the Fathers' Trip, which the team holds every other year. Two years ago, the dads were treated to an Anze Kopitar overtime goal in Vancouver, followed by a well-played 3-2 shootout loss in San Jose where the Kings and Sharks combined for 80 shots.
There's plenty to come on a Thursday in the city, Insiders. Stay tuned…