Darryl Sutter thought too much was made of the narrative that the last five days were good for the team's detail but, hey, the Kings came off a 4-2 loss to the Ducks last Thursday, spent two long days on the ice reinforcing their systems, followed by some quick special teams work on Monday, and returned to action with a dominating victory over the Bruins in which their power play was three-for-three against the fourth-ranked penalty killing unit in the league. In the win, they did something that no team had done to the Bruins for over 50 years: They poured 57 shots on goal and were in attack mode from the opening drop of the puck, when Anze Kopitar and Milan Lucic generated high-quality chances from close to the net, to the final siren, when they looked up and saw that the score read 9-2. Teams rarely jump on a team for a full 60 minutes, and Boston had its moments in the first period, but Los Angeles surged past the home team with two late first period strikes, followed by additional goals in bunches during their second four-goal second period outburst in as many weeks. How hot is this power play? Even when one or two skaters who wouldn't necessarily be candidates for the B-unit were on the ice, Luke Schenn offered a blistering right point shot that beat Jonas Gustavsson clean inside the far post. The Kings have averaged 3.45 goals per game over their last 11.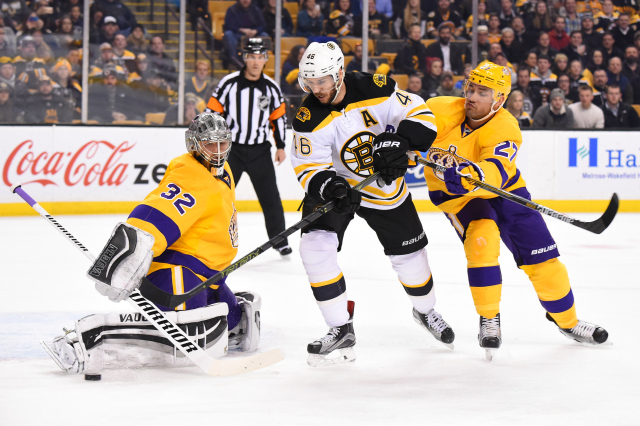 Some of the scuttlebutt leading into Tuesday's game was that the Bruins had been challenged by some of the heavier teams this season, which is in contrast to their style of play when Milan Lucic was an intimidating and emotional influence on some of their recent teams. Forgive any superficialities, but any evolution to becoming a sleeker, more skilled and faster team is still ongoing, and Boston had been outscored a combined 14-4 by Anaheim, Winnipeg and St. Louis this season, three of the teams who often have the "heavy" label applied to them. The Kings, who have earned that label themselves, opted for a grinding line of Kyle Clifford, Andy Andreoff and Jordan Nolan, and the three were highly effective in not just setting any sort of a tone, but in working with offensive zone time and wearing down the Bruins defenders in their most effective performance of the season. Jordan Nolan, one of three players who did not record a point, played a sound puck possession game and was among the most effective players in the lineup, while Andy Andreoff, in his return to center, made the most of Kevan Miller's up-the-middle turnover in what was a night to forget for the Santa Clarita native and former LA Junior King. All players were on board for Tuesday's win, the role players especially so, and it will be interesting to see Boston open up a six-game road trip tomorrow against those grinding, physical Jets tomorrow.
It's a bit misdirected to pinpoint individual performances in such a resounding team-wide win, but Dustin Brown now has a modest, three-game point streak and four goals and seven points in the last six games. His third period marker raised his shooting percentage to 5.5, and while it doesn't appear he'll hit his 12.7% rate when he scored 18 goals in 46 games in 2012-13, he can certainly replicate that 7-8% range that he reached in 2012-13. The most effective line of the evening, though, if you had to pick one, was the King-Carter-Toffoli line, and for Jeff Carter, who has a reputation for scoring goals in bunches – for whatever it's worth – it will be interesting to see if his greasy, goal line goal that deflected off Miller's stick and past Rask on an attempted pass will open any sort of floodgates after he had entered the game with two goals in his previous 19 games. He deservedly earned the game's second star on Tuesday.