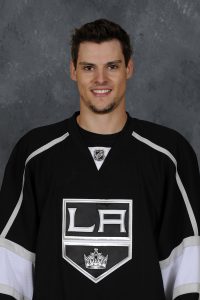 With the Kings on the verge of calling up Kevin Gravel from AHL-Ontario, Lindsay Czarnecki and I checked in with Reign Head Coach Mike Stothers and Kings Senior Advisor/Development Coach Mike O'Connell to get a sense of the player's development both at St. Cloud and within the team's system. Keep in mind that Gravel – originally a fifth round draft pick in 2010 – signed an AHL contract with Manchester, not an entry-level contract with Los Angeles prior to the 2014-15 season, partly because of the developmental level Gravel was at in the summer of 2014, and partly because the Kings were mindful of nearing their limit of 50 professional contracts. Continuing the work he had already established with the Kings' developmental staff, Gravel responded with a very encouraging 2014-15 season that culminated with integral contributions in the Monarchs' Calder Cup run.
A poised defenseman, Gravel's strengths are in the defensive end of the ice.
"[I'm] very happy for Gravs – it's an exciting recall for him, and us. His teammates and the coaching staff are thrilled for him," Stothers told Reign Insider Lindsay Czarnecki via text. "He plays a quiet, efficient, reliable game. His positioning and mobility are good, and he has a great stick. He makes plays, and the bigger the game, the better he plays. [He's a] very coachable individual."
The call-up hasn't been made official – because there has been no finalization of the status of Christian Ehrhoff, who was placed on waivers Wednesday, the Kings aren't able yet to technically add him to the roster – but Gravel is expected to join the team while it is in New York. The Kings play in Brooklyn against the New York Islanders on Thursday, followed by a game against the New York Rangers on Friday and the New Jersey Devils on Sunday.
More on Gravel: Auger, Dowd, Gravel making strides in second year | Signed to AHL deal, Gravel ready to further pro career
Mike O'Connell, on Kevin Gravel's development:
He's become a complete American League defenseman now. Just as every young player who comes in, he had some certain deficiencies, and he's cleaned a lot of those up, and basically his experience and his attention to detail has really got him this, and his work – he's worked hard at this – he'll be fine.
O'Connell, on Gravel's skill set:
He moves the puck very well, he looks to make the play, always looks to make a play, and that's really where his game has really developed, as opposed to basically being a one-option player, he's really grown his game that way. His prior to receiving the puck, his assessment of where danger is, and then making the right play after making those assessments, and it looks like he's making all of those prior to when he gets the puck now.
O'Connell, on Gravel's emergence last season:
Well huge, huge. I mean he played four years at St. Cloud, and you know, after two or three years there, you stay at the same level and you don't probably get the growth that you'd hope to. Basically, to put it in school-wise, it would be like taking Algebra 3 three times, you know the third time it's a little stale and you should be good at it. So, his first year, his time spent in the American League was to get acquainted, acclimated to that next level and he's done that very well.