-Good morning to you from Toyota Sports Center in advance of today's Tip-A-King festivities. Hopefully by the time the players arrive at Discovery Cube they'll have caught their breath after another extended, detail-oriented practice. Following yesterday's 70-minute skate, today's practice was roughly 50 minutes in length in an effort to continue to drive home systems play during a four-day break in the schedule. The team is off Sunday and will practice early Monday morning before boarding the flight to Boston.
-There was more of a transition focus in today's skate, according to Brayden McNabb. "I don't think we were very good last game neutral zone-wise, so it's something we need to clean up and get back on track for this road trip," he said. There was a good pace to practice, which featured some bumping and drills that contained a battle element. There was also some four-on-four work as the team looked to recreate game situations.
"You look at where we're at in the last few games, we've kind of been up and down and haven't been where we want to be, so to have these days to work on things and get back on track, i think it's definitely going to benefit us," McNabb said.
-As for the alignment, in five on five rushes the team rotated through lines and pairings in groups. Extras rotating through lines and pairings included Christian Ehrhoff, Andy Andreoff and Tanner Pearson. I spoke with Darryl Sutter about Pearson yesterday and should have a story up near the outset of the upcoming trip.
-Several players continued to break in their Forum Blue and gold equipment in advance of Tuesday's game in Boston, in which the team will wear gold alternate jerseys. Here's the mask Jhonas Enroth wears when the Kings sport their vintage colors: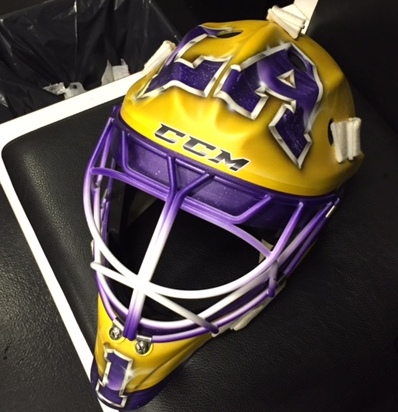 Enroth said that he shares a general sense of what he likes with the designer, but that the ultimate control over the mask is left up to the artist. He also said he's rooting for the Panthers tomorrow.
-Speaking of which, I'll have a story tomorrow on the two big Broncos fans on the team. Try and guess who they are.
-Lastly, after a 50 minute skate and with most of his teammates off the ice, Drew Doughty was having fun and, sans goalie equipment, tried to keep the puck out of his own net while his teammates attempted dekes around him. This was very entertaining. A pictorial: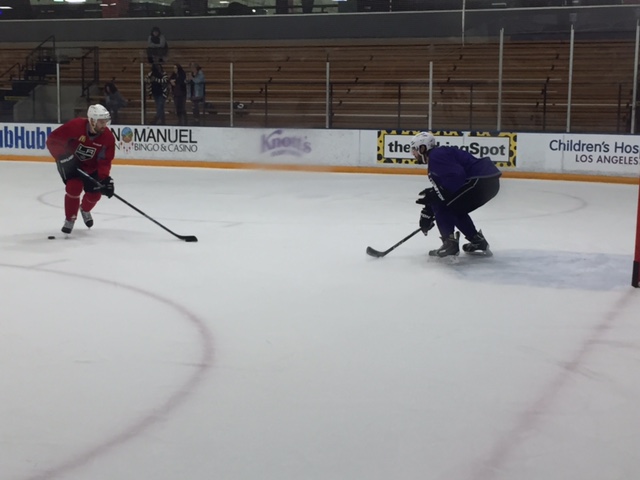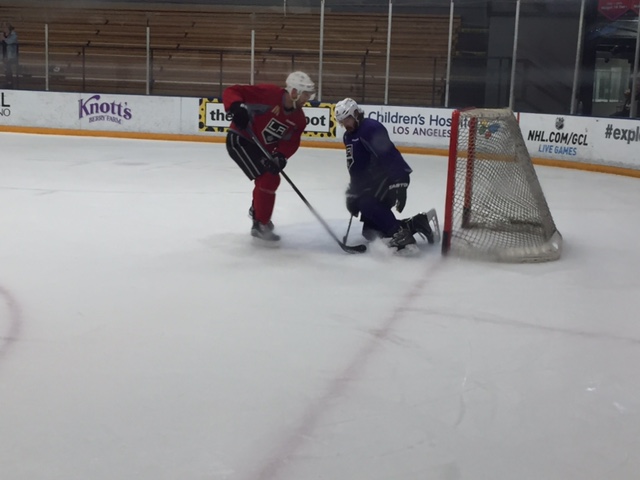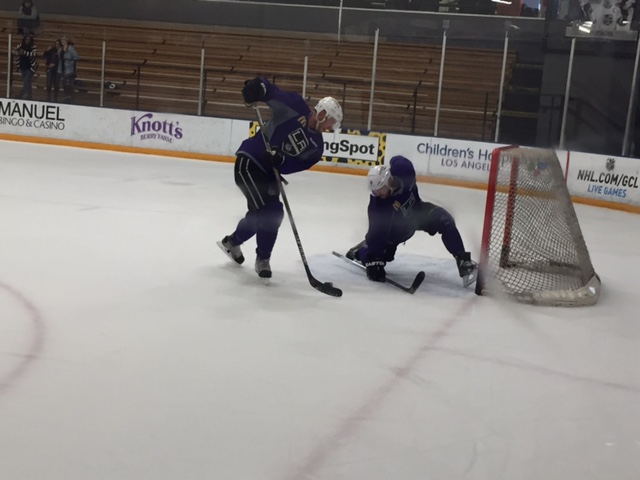 "Make a save!" Bill Ranford shouted as he left the ice. Doughty obliged, stopping several attempts on net.
With trends in today's game leading to large, athletic goaltenders who don't show many holes, might we be able to suggest McNabb as an emergency back-up?
"[Drew] claims he could be the third stringer, but I think I would go in there, give him a run for his money in that one," McNabb said. "We need him out there."
-More to come from Tip-A-King, where I'll host a media panel with Jim Fox and Rich Hammond at 2:30 p.m.