The Arizona Coyotes, who held leads of 1-0 and 2-1, were never really in full control of Tuesday's 6-2 Kings win. From the opening puck drop the Kings were on full attack mode and generated, by an unofficial LAKI eye-tally a higher quantity and quality of scoring chances than in virtually any game played this season (the LAKI eye-tally does not align with War-on-Ice's official tally, which indicates that the scoring chance discrepancy was in line with a "typical possession-driven Kings game"). Even though Louis Domingue allowed five goals and was beaten by Dustin Brown's shot from Blythe, he still made several high quality saves at the outset of the first and second periods as Los Angeles generated very good starts to each frame and operated with a high degree of offensive zone time. The Kings haven't been especially chance-tradey recently, though their goals-for (3.00) and goals-against (2.78) over the last nine games are up, a result most likely due to an on-ice shooting percentage of 9.5% and a save percentage of .896 in all situations over that span. In other words, both their goaltenders and the opposing goaltenders have been beaten a little bit more since the Detroit game.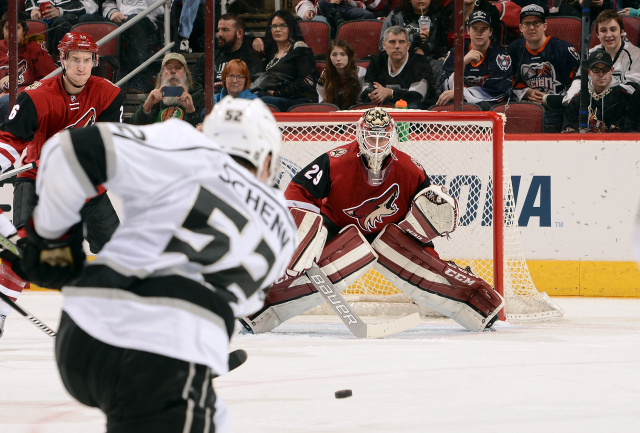 Games after extended breaks aren't always the prettiest on the eyes – remember it took the Kings two periods to get going against the Coyotes after the shorter Christmas break – and while Los Angeles was on the attack most of the night, there was a thought after the game that perhaps some of their early physical play, which included a massive check by Dustin Brown on Connor Murphy and several early Milan Lucic hits disinvested a young Arizona team that would be more prone to pendular play coming out of seasonal stoppages, especially against a more veteran, accomplished and heavier L.A. team. While much of the Kings' damage was done on the power play, they still generated quality and steady zone time, and apart from the physical play of the Ekman-Larsson-Murphy duo, there wasn't much in the way of consistent, tight checking from the home team. There were also 12 power plays and seven stick infractions, so credit Los Angeles for making the most out of starts and stoppages, and once again battling from behind (twice) to win a hockey game (that they were in control of throughout).
The Red Hot Chili Peppers have an old, old song titled True Men Don't Kill Coyotes, and let there be no mistake: That song was not written about Dustin Brown. With two goals last night, he totaled five in the head-to-head series and now has seven in the last eight games between the teams (L.A. is 5-3-0 in that span). His three-pointer last night raised his shooting percentage to 5.1 on the season, and his PDO now stands at 96.6 on the year. More than anything, he set an early tone with his physical play, and though I didn't speak with Darryl Sutter after the game last night, I would imagine that he'd be happy with his hard, energetic north-south game. It seemed to represent the Kings' game well as a whole.