Darryl Sutter may have equated it to a game of shinny, but it was a game of shinny that the Kings led 3-1 with 12 minutes to play. By virtue of three quick strikes that ran counter to a (sloppy) game that they appeared to be in command of, Los Angeles was left with its 2015-16 Calgary Game, one that you hope the team and fans won't collectively be shaking fists at come April while ruing the two-point sacrifice. There were defensive breakdowns in the game, which coupled with imperfect goaltending allowed the Senators to claim victory despite being heavily out-shot and out-chanced. Jonathan Quick appeared to be fighting the puck a bit even from the first two saves he made in the first period, and that happens from time to time. You can count on one hand the number of off-nights he's had this season, but there were moments in Saturday's game when he wasn't at his best. Darryl Sutter never shied away from using Martin Jones in Anaheim, so it will be interesting to see if Jhonas Enroth gets the nod in tonight's game. If not tonight (and I still think Quick goes tonight), Enroth is certainly due for some playing time this week during a stretch of six games in nine nights.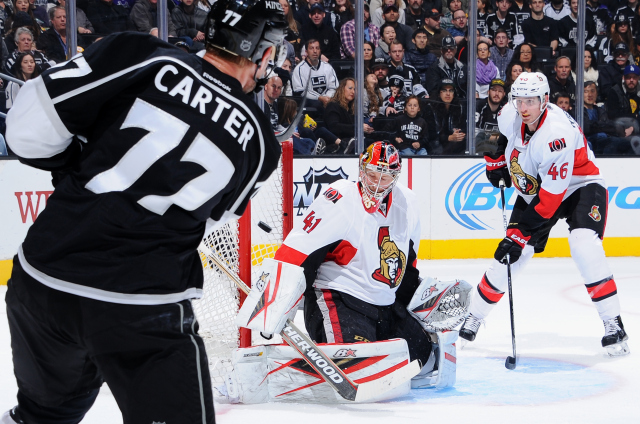 There were defensive miscues that led directly to Ottawa goals. The first, on Alex Chiasson's goal, came on a deflected stretch pass that handcuffed Luke Schenn before hopping over Christian Ehrhoff's stick, setting up a bang-bang Chiasson finish of a Curtis Lazar puck on net. On the Senators' second goal, Mika Zibanejad and Bobby Ryan worked the puck around Schenn on a mini two-on-one with Ehrhoff above the puck when the rebound of Erik Karlsson's point shot popped loose. Jake Muzzin's gaffe was the most glaring as Jean-Gabriel Pageau more or less forechecked the puck away off Muzzin's stick and past Quick into the Los Angeles net and was followed by Zibanejad's game winner, which came off a failed Drew Doughty penalty killing clear. It's tough to read if there was a dent in the forwards' play or positioning that may have more surreptitiously led to these defensive breakdowns, but from what is expected of the stingiest and perhaps most structured team in the league, the team's play in its own end left plenty of room for improvement. Though he made a nice play to earn an assist on Vincent Lecavalier's goal, Ehrhoff hasn't hit a zenith in January, and his point ended a string of 12 consecutive games without any. He and Schenn will face an interesting challenge in Anaheim tonight as the duo – assuming they'll remain together – hit the road for their first game away from Staples Center as a pair.
I was actually surprised to see that the Kings have now been shorthanded at least four times in eight of their last 11 games. That's somewhat misleading as Los Angeles was whistled only three times for infractions (one was a costly high-sticking double-minor), but the timing of those penalties yesterday did not help the team's cause. The Kings forged one of their finest shifts of the year late in the second period when Anze Kopitar's line was able to change every player on the ice while maintaining possession deep in the Senators' zone before Jordan Nolan blunted the momentum with an offensive zone penalty, though to be fair, with three shots and 10:03 of ice time, Nolan otherwise appeared to be fine. But the Nick Shore double-minor came at the worst possible juncture, exactly two minutes after Pageau had tied the game off the forecheck.
39 games remain, 16 of which will be waged against Pacific Division rivals, including five against the Anaheim Ducks. There's some hockey to be played.