Los Angeles Kings (27-13-3) at Anaheim Ducks (19-17-7)
Sunday, January 17, 2016, 6:00 p.m. PT
Honda Center, Anaheim, CA
Referees: #15 Jean Hebert, #3 Mike Leggo
Linesmen: #83 Matt MacPherson, #55 Shane Heyer
Fox Sports West, KABC 790 AM, I Heart Radio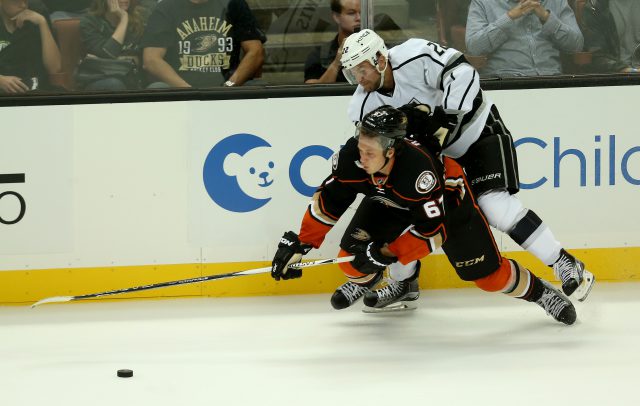 Los Angeles Projected Starting Goaltender – Jonathan Quick
2015-16: 36 GP (36 GS) / 24-10-2 record / 2.11 GAA / .922 Sv% / 3 SHO
Career vs Anaheim: 29 (29) / 14-7-6 / 2.48 / .906 / 1
Last Game vs Anaheim: 3/18/15 / 61 MP / 23-26 shots / 2-3 OTL
2015-16, Away: 15 (15) / 11-3-1 / 2.01 / .934 / 2
Anaheim Projected Starting Goaltender – Frederik Andersen
2015-16: 23 GP (20 GS) / 7-8-5 record / 2.40 GAA / .915 Sv% / 0 SHO
Career vs Los Angeles: 6 (6) / 4-0-1 / 2.29 / .925 / 0
Last Game vs Los Angeles: 1/17/15 / 65 MP / 26-28 +3/3 shots / 3-2 SOW
2015-16, Home: 12 (9) / 5-1-3 / 2.17 / .922 / 0
2015-16 Los Angeles Leaders
Total Points: Anze Kopitar (12-24=36)
Goals: Tyler Toffoli (21-13=34)
Assists: Anze Kopitar (12-24=36)
Plus/Minus: Tyler Toffoli (+24; 21-13=34)
Penalty Minutes: Brayden McNabb (52; 2-4=6)
Time On Ice: Drew Doughty (27:55; 7-18=25)
Corsi-For Percentage: Nick Shore (61.6%; 2-4=6)
2015-16 Anaheim Leaders
Total Points: Corey Perry (17-11=28)
Goals: Corey Perry (17-11=28)
Assists: Ryan Getzlaf (3-24=27)
Plus/Minus: Shawn Horcoff (0; 6-4=10), Josh Manson (0; 2-2=4)
Penalty Minutes: Kevin Bieksa (61; 1-6=7)
Time On Ice: Cam Fowler (22:38; 3-9=12)*
Corsi-For Percentage: Hampus Lindholm (57.9%; 3-8=11)
*On injured reserve; active leader: Hampus Lindholm (22:14; 3-8=11)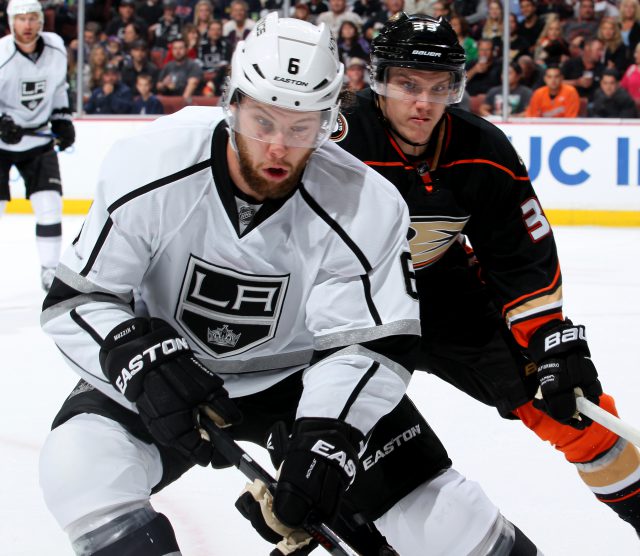 Rankings and Statistics
Goals/Game: LAK – 13 / 2.63; ANA – 30 / 1.95
Goals Against/Game: LAK – 3 / 2.21; ANA – 6 / 2.33
Power Play: LAK – 7 / 20.6%; ANA – 10 / 20.0%
Penalty Kill: LAK – 11 / 81.8%; ANA – 1 / 89.4%
Shots/Game: LAK – 1 / 32.3; ANA – t-10 / 30.3
Shots Against/Game: LAK – 5 / 28.1; ANA – 3 / 27.3
Faceoffs: LAK – 20 / 49.8%; ANA – 3 / 51.9%
Save Percentage: LAK – 2 / .922; ANA – t-9 / .914
Corsi-For Percentage: LAK – 1 / 56.2%; ANA – 3 / 53.8%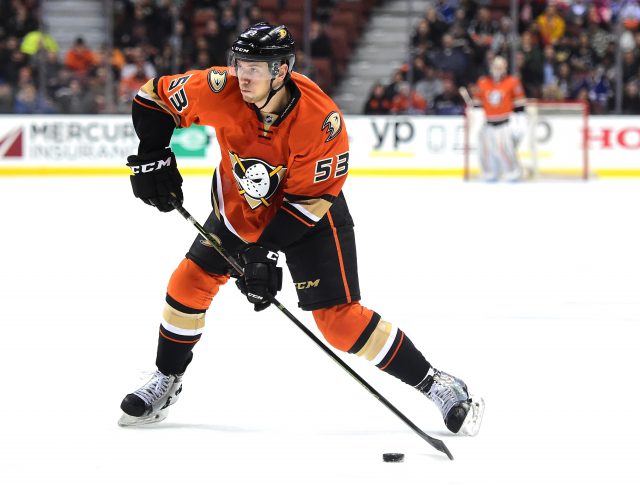 Los Angeles Projected Lineup
Milan Lucic – Anze Kopitar – Tyler Toffoli
Tanner Pearson – Jeff Carter – Marian Gaborik
Dwight King – Trevor Lewis – Dustin Brown
Andy Andreoff – Vincent Lecavalier – Jordan Nolan
Brayden McNabb – Drew Doughty
Jake Muzzin – Alec Martinez
Christian Ehrhoff – Luke Schenn
Jonathan Quick
Jhonas Enroth
Notes and milestones: Los Angeles is 54-44-24 all-time against Anaheim, a record that includes an away mark of 21-27-13. The Kings have two wins, four regulation losses and four overtime/shootout losses in the last 10 series match-ups. These teams will meet four more times this season: February 4, March 5 and April 7 at Staples Center, and February 28 at Honda Center. … Los Angeles is 14-7-1 against the Western Conference and 8-5-0 against the Pacific Division. … Jake Muzzin has points in a career-long six games. According to Elias Sports Bureau, it is the longest point streak by a Kings defenseman since Jack Johnson recorded a six-game point streak from December 21-30, 2010. … Tyler Toffoli, who leads the league with a plus-24 rating and ranks eighth with 21 goals, has goals in two straight games (2-1=3). … Anze Kopitar has points in three straight games (2-4=6) and 16 points (3-13=16) in the last 10 games. He ranks second amongst league forwards with an ice time average of 21:10. … Milan Lucic has assists in three straight games (0-4=4). … Jonathan Quick is 15-3-2 with a 1.79 goals-against average and a .932 save percentage over his last 20 games (1240:05 minutes / 543 SA / 506 SV), dating back to the 3-1 win at Florida on November 23. … With 456 career points (211-245=456), Dustin Brown is one point behind Mike Murphy (457 points) for 11th place on the franchise's all-time list. In his last seven games, he has no points, a minus-two rating and 11 shots on goal. … Drew Doughty ranks third in the league with an ice time average of 27:55.
Anaheim Projected Lines
Rickard Rakell – Ryan Getzlaf – Corey Perry
David Perron – Ryan Kesler – Jakob Silfverberg
Andrew Cogliano – Shawn Horcoff – Jiri Sekac
Patrick Maroon – Nate Thompson – Chris Stewart
Hampus Lindholm – Josh Manson
Sami Vatanen – Kevin Bieksa
Shea Theodore – Adam Clendening
Frederik Andersen
John Gibson
Notes and milestones: Lines via NHL.com correspondent Abbey Mastracco … Anaheim is expected to be without Simon Despres (concussion symptoms), Cam Fowler (knee) and Clayton Stoner (hip). … The Ducks acquired forward David Perron and Defenseman Adam Clendening from Pittsburgh in exchange for forward Carl Hagelin on Friday. … Anaheim is 7-2-1 since the Christmas break and 4-2-0 through six games of a season-long, eight-game home stand. … Seven of the last nine Kings-Ducks games have been decided by one goal. Since the start of the 2010-11 season, Anaheim has outscored Los Angeles 66-63 (shootout goals excluded). … Since the Christmas break, the Ducks have allowed 16 goals (excluding shootout goals) in 10 games. … Anaheim has successfully killed off 56 of the last 60 shorthanded situations, a stretch that included a club-record 34 consecutive kills between December 27 and January 15. … Ryan Getzlaf has three goals this season, none of which have been scored in five-on-five play. … With 665 consecutive games played to open his NHL career, Andrew Cogliano is the NHL's reigning Iron Man. His streak is the seventh-longest stretch of consecutive games in NHL history, trailing Doug Jarvis (964), Garry Unger (914), Steve Larmer (884), Craig Ramsey (776), Jay Bouwmeester (737) and Henrik Sedin (679).