Drew Doughty's roster has received a shake-up.
This isn't a reference to the Michael Mersch roster move earlier today, but rather the Pacific Division's All-Star Game squad, which is no longer likely to feature the services of John Scott, who was voted in by fans to serve as team captain. As part of the Montreal-Arizona trade today, Scott will join AHL-St. John's, which clouds his availability for the Skills Competition and All-Star Game on January 30-31.
So, who might be added to the roster in his place?
Via Craig Morgan of ArizonaSports.com:
The league currently restricts each division's roster to three defensemen. The Kings' Drew Doughty, the Flames Mark Giordano and the Sharks' Brent Burns hold those three slots so unless the NHL lifts that restriction to allow Oliver Ekman-Larsson in the game, the selection will likely be forward Max Domi or forward Shane Doan.

As for Scott, TSN's Bob McKenzie reported that both the Coyotes and the NHL had previously asked him to bow out of the All-Star Game and he refused. The NHL is currently deciding how to handle his spot now that he has been traded away. One possibility is for Montreal to send him to the AHL, where he would not be eligible to compete in the game. Scott could also bow out on his own.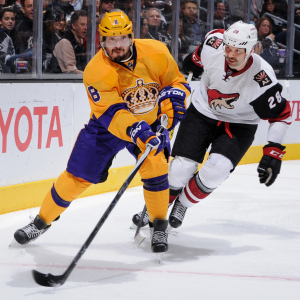 It's not worth developing Internet Outrage™ over this issue, but if Domi or Doan were chosen to represent Arizona over Ekman-Larsson, who is an underappreciated and phenomenal defenseman on the league's most undercover team and exactly the type of player that the league would want to promote, then the sham here continues. Ekman-Larsson is the one player on the Coyotes who significantly affects the way the opposition lines up and game plans.
"That's the only guy I could think of that's most deserving on that team – it would be him," said Doughty, who along with Jonathan Quick will represent the Kings in Nashville later this month. "I don't know if we already have too many defensemen on the team or whatever it may be, but obviously he's probably their best player and he deserves to be there. I would say him."
And therein lies the rub: Too many defenseman. But wait – Doughty to the rescue!
"I could always play forward, too. I used to play it back in the day. I was all right at it," he said.
"I was a forward until I was like 13 years old, I think, so I was a centerman my whole life, and then one coach decided to switch me to defense, and I did and it worked out," he said.
Yes, yes it did. He's a Norris Trophy candidate, and hey, wouldn't you know it, the Ottawa Senators are in town tomorrow, so questions about Erik Karlsson surfaced again after today's practice, and Doughty shared ample respect towards the two-time Norris winner who is probably his most significant competition for the year-end award this season.
"He's an unbelievable player. He's a lot of fun to watch," Doughty said. "He's someone I think I could learn a lot from. His offensive skills are just out of this world. Some of the things he does not too many players in the world can do. When I watch the Senators play, I pay special attention to him because there's a lot of things I can learn from him, and I have learned a lot from him over the years. He's a hell of a player. We're obviously going to pay special attention to him when game time arrives."
Karlsson is Ottawa's captain, and if one were to talk to the Kings' hockey operations or coaching staff about the strides he has made this season, it would come in his leadership.
"I've gotten better at that stuff," he said. "When I was young, kind of just relied on my skill and basically just going out there and playing games, so now I realize there's a lot more to it, a lot more to be a pro and a lot more to being a better teammate, too. That's where the leadership steps in – giving more off the ice to help our team win rather than just going out there and playing my best. There's a lot more things that go into it."
Will there be much going into game-planning for a tough Central Division squad at the All-Star Game?
"I doubt it, I don't know," he said. "Just keep the puck, I'm sure that will be one of the strategies. No one wants to give up the puck, we just want to play offense the whole time. Short shifts, I'm sure, will be one of the strategies as well. We're going to try to win, obviously, but it's not the end of the world if we don't, I guess."
Drew Doughty, on Ottawa being a much better team with Erik Karlsson on the ice:
I didn't know about that, but obviously scoring-wise, they've done a great job when he's on the ice. He's got like a point a game as a D-man, which is so hard to do. He's great at getting his boys in the offensive zone and creating some offense from there.
Doughty, on whether he wishes he had more of a "green light":
I think I do. I don't play the two full minutes of the power play like he does, but besides that, I basically have the same green light he has. I just choose to use it a little differently than he does.