Los Angeles Kings (26-12-3) vs Detroit Red Wings (22-13-7)
Monday, January 11, 2016, 7:30 p.m. PT
Staples Center, Los Angeles, CA
Referees: #36 Dean Morton, #28 Chris Lee
Linesmen: #63 Trent Knorr, #76 Michel Cormier
Fox Sports West, KABC 790 AM, I Heart Radio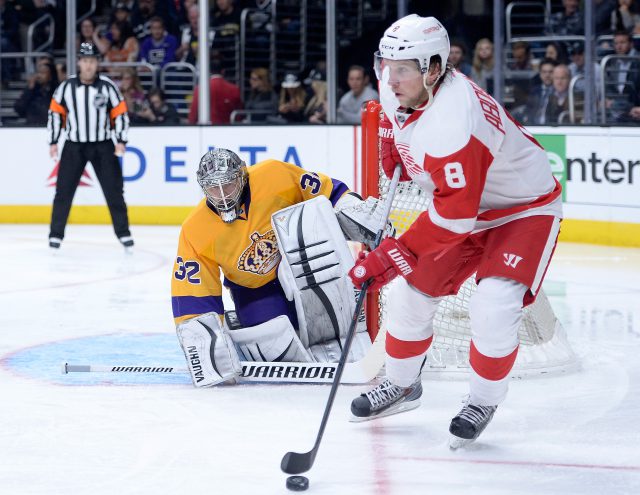 Los Angeles Projected Starting Goaltender – Jonathan Quick
2015-16: 34 GP (34 GS) / 23-9-2 record / 2.05 GAA / .925 Sv% / 3 SHO
Career vs Detroit: 21 (21) / 7-13-1 / 2.96 / .904 / 2
Last Game vs Detroit: 2/24/15 / 60 MP / 20-20 shots / 1-0 W
2015-16, Home: 19 (19) / 12-6-1 / 2.09 / .915 / 1
Detroit Projected Starting Goaltender – Jimmy Howard
2015-16: 17 GP (17 GS) / 7-5-4 record / 2.66 GAA / .910 Sv% / 1 SHO
Career vs Los Angeles: 16 (16) / 10-6-0 / 2.38 / .926 / 0
Last Game vs Los Angeles: 10/31/14 / 60 MP / 28-30 shots / 5-2 W
2015-16, Away: 6 (6) / 2-1-3 / 3.09 / .905 / 0
2015-16 Los Angeles Leaders
Total Points: Tyler Toffoli (19-12=31), Anze Kopitar (11-20=31)
Goals: Tyler Toffoli (19-12=31)
Assists: Anze Kopitar (11-20=31)
Plus/Minus: Tyler Toffoli (+23; 19-12=31)
Penalty Minutes: Brayden McNabb (50; 2-4=6)
Time On Ice: Drew Doughty (27:59; 7-17=24)
Corsi-For Percentage: Nick Shore (60.9%; 2-4=6)
2015-16 Detroit Leaders
Total Points: Henrik Zetterberg (7-23=30)
Goals: Dylan Larkin (14-15=29)
Assists: Henrik Zetterberg (7-23=30)
Plus/Minus: Dylan Larkin (+24; 14-15=29)
Penalty Minutes: Justin Abdelkader (49; 13-9=22)
Time On Ice: Niklas Kronwall (22:51; 2-14=16)
Corsi-For Percentage: Pavel Datsyuk (57.0%; 5-11=16)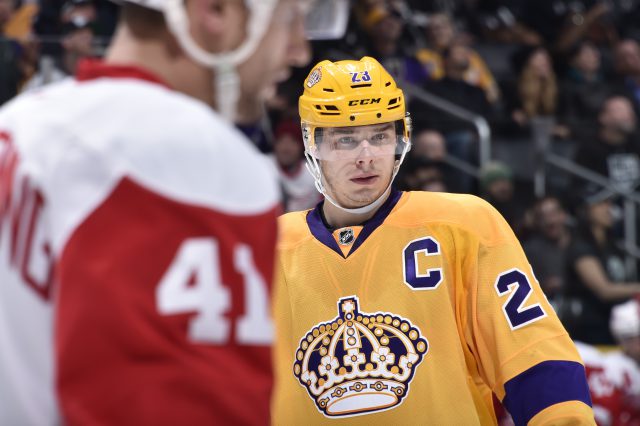 Rankings and Statistics
Goals/Game: LAK – 16 / 2.59; DET – 21 / 2.48
Goals Against/Game: LAK – 3 / 2.15; DET – 13 / 2.52
Power Play: LAK – 11 / 19.2%; DET – 23 / 17.4%
Penalty Kill: LAK – t-10 / 81.8%; DET – t-17 / 80.1%
Shots/Game: LAK – t-1 / 32.3; DET – t-24 / 28.4
Shots Against/Game: LAK – 8 / 28.3; DET – t-21/ 30.6
Faceoffs: LAK – 22 / 49.4%; DET – 14 / 50.3%
Save Percentage: LAK – 4 / .924; DET – t-8 / .918
Corsi-For Percentage: LAK – 1 / 56.2%; DET – 12 / 50.4%
Los Angeles Projected Lines
Milan Lucic – Anze Kopitar – Tyler Toffoli
Tanner Pearson – Jeff Carter – Marian Gaborik
Dwight King – Nick Shore – Dustin Brown
Trevor Lewis – Vincent Lecavalier – Jordan Nolan
Brayden McNabb – Drew Doughty
Jake Muzzin – Alec Martinez
Christian Ehrhoff – Luke Schenn
Jonathan Quick
Jhonas Enroth
Notes and milestones: Los Angeles is 82-81-32 all-time against Detroit, a record that includes a home mark of 48-34-15. The Kings are 3-6-1 in their last 10 games against the Red Wings. … Los Angeles is 12-5-2 against the Eastern Conference and 5-3-2 against the Atlantic Division. … With 26 wins, the Kings are tied with the 1980-81 team for the most wins after 41 games in franchise history. With 55 points through 41 games, they have also registered the third most points through 41 games in franchise history. … Jonathan Quick is 14-2-2 with a 1.66 goals-against average and a .937 save percentage (1121:08 minutes / 494 SA / 463 SV) over his last 18 games, dating back to the 3-1 win at Florida on November 23. … Anze Kopitar now has 11 points (2-9=11) in the last eight games and ranks second amongst NHL forwards with an ice time average of 21:15 per game. … Drew Doughty ranks third in the NHL with an average of 27:59 of ice time per game. … With 456 career points (211-245=456), Dustin Brown is one point behind Mike Murphy (457 points) for 11th place on the franchise's all-time list. …Tyler Toffoli ranks second in the league with a plus-23 rating. … With 99 regular season goals as a King, Jeff Carter is one goal away from 100.
Detroit Projected Lines
Gustav Nyquist – Henrik Zetterberg – Justin Abdelkader
Darren Helm – Pavel Datsyuk – Tomas Tatar
Brad Richards – Riley Sheahan – Dylan Larkin
Tomas Jurco – Luke Glendening
Niklas Kronwall – Jonathan Ericsson
Kyle Quincey – Mike Green
Danny DeKeyser – Brendan Smith
Alexey Marchenko
Jimmy Howard
Petr Mrazek
Notes and milestones: Detroit is expected to activate and play Kyle Quincey, who has missed the last 35 games, dating back to October 23, due to bone chips in his ankle. Johan Franzen (concussion) and Teemu Pulkkinen (shoulder) are injured and will miss tonight's game. … Brad Richards has 31 points (11-20=31) in 30 career games against Los Angeles. … Jimmy Howard won his NHL debut at Staples Center on November 28 2005, a 5-2 decision in which he allowed goals to Joe Corvo (on a penalty shot) and Sean Avery. … Coach Jeff Blashill coached Alec Martinez as an assistant coach at Miami University from 2005-08. … The Red Wings are 32-9-1 against the Kings since the 2002-03 season. … Kyle Quincey spent the 2008-09 season in Los Angeles, totaling 38 points (4-34=38) in 72 games. … Dylan Larkin leads the NHL with a plus-24 rating and ranks second amongst rookies with 29 points (14-15=29). His four game-winning goals lead all rookies. … Detroit has won all four of its games (at BUF, NJD, SJS, ANA) on a season-long, six-game road trip that concludes in Arizona on Thursday.