The Kings have moved on from the events of last night's third period in which Brayden McNabb was assessed a five-minute charging major on a play involving contact with Magnus Paajarvi in which he likely shouldn't have received any penalty at all. If there were more glaring infractions on the play, they were either on Milan Lucic's slash to the Paajarvi's wrist or the cross-check to his back as McNabb strode into position to make a hit.
"I saw him coming up and trying to get the puck in," McNabb recalled of the play. "It was right when I was about to step up, I think he started to stumble and fell. I couldn't really control myself after I was committed to [the hit], so it was unfortunate, and it's too bad they called the five."
McNabb said that the referees didn't share their interpretation of the play with him.
"They grabbed me pretty quick out of there and they didn't let me say much," he said, and that's pretty much par for the course. McNabb's not a captain or an alternate captain, so he's not necessarily going to be on the receiving end of an extended explanation, but officials don't always communicate their verdicts to captains or the coaching staffs.
"They just had a little meeting by the bench and they discussed it and came up with the five," McNabb said. "There are four refs out there. I don't know."
It brought up a question that was raised to Darryl Sutter: How often to referees engage in conversation about calls that might be deemed controversial, and how often do they give coaches an opportunity to present their cases?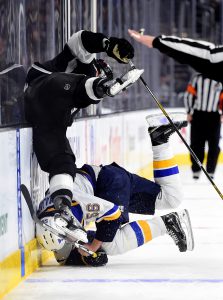 "Last night it was a frustrating circumstance because the referees now go caucus by the penalty box," Darryl Sutter said. "Very seldom do you see a referee give any sort of explanation or any kind of feedback to the coaching staff, and that's one of the issues that I feel strongly about. As a senior head coach in the league, it should be addressed, and when you get upset with somebody, it's because either you don't get an explanation or you know it's the wrong call. The biggest area that I want to talk to a referee, I want to help him. I want to help him, I'm not trying to make him look good or stir it up or something. You want to help the officials. Quite honest, there's a lot of guys that need a lot of help. We had a very young referee last night who made that call. We had a senior referee that was behind the play, and when they go caucus at over by the box, they should discuss it, and you don't know what they're discussing."
"It'd be interesting to see if you actually did mic it over there what they'd actually say because there's too many situations already where we're all in favor – the league, players, coaches, everybody's in favor – of taking out and getting the head stuff out of the game, the injury part of it out of the game. But when there's calls being made that are clearly not based on that but rather based on the noise or what they thought, it's not right. We've put in this review system when they look at an iPad to make calls, well it's sort of in some ways made it easier to make the wrong call then. It's just a little bit off. And I know we've been in it a little bit lately – hey, you think about it, how important those penalties are. That Muzzin call, and it's natural for guys to come out and say, 'Well, what'd you think of that?' Well, I think it was a penalty. And he gets kicked out of the game and it cost us a point in the standings, which might cost you a playoff spot. And last night's five-minute play, it could've cost you two points. When you're in the big picture, I say it over and over and over. The teams are all the same. It doesn't matter. There's not enough difference in the league. Anybody beats anybody on any given night now. That is a fact. It's not like pre-salary cap or 10 years ago. The league has totally changed, and scheduling, officiating and injuries are the three biggest areas that affect winning and losing, more than performance."
Brayden McNabb, on whether he has moved on after the penalty:
Yeah, it's frustrating because it took away five minutes we could've scored. I mean, we had a good chance on the PK anyways. It's definitely frustrating, but you can't do much about it now.
McNabb, on the team's penalty kill:
I think I was in the box for every PK last night. The guys did a great job. We've been going over a lot of film, and we've been sticking to the program on how we want to kill and just playing as a group of four and being aggressive when we can and having good sticks and blocking shots.
McNabb, on the team's overall performance:
I thought we played well. I thought we controlled most of the game. We've just got to find a way to score and bear down in the O-zone.
Jake Muzzin, on whether he liked the power play last night:
Not really. Could be a little cleaner, a little faster. I think sometimes we try and force plays or try to be too cute where we've just got to shoot it, get bodies to the net, recover and do it again as opposed to trying to make the perfect play. A little more simpler, and I think it's more effective for us. [It's been working a lot recently. I think you guys had, what, six straight games with a power play goal?] Yeah, and then when you have success, you try to do too much sometimes, and I think that's what we've fallen into, and we've just got to get back to moving it, shooting it, recovering the screens, tips, rebounds, all that stuff.
Muzzin, on whether he got a feel for a "boring" game early, considering St. Louis would be likely to slow the game down to compensate with its injuries:
It was kind of a boring game, but you've got to win boring games. Those one-goal games, you've just got to find a way to bear down and get that goal, that extra goal. We had opportunities – breakaways and stuff like that – but their goalie played well, he made some big saves and we ended up going to an overtime and a shootout. I thought we played well, but at the end of the day we lost, so we've got to find a way to win those games as well.
Muzzin, on the team's performance through 41 games:
I think we responded. The way we started the season, we were 0-3 and looking like we didn't know what the hell we were doing and kind of got back to work, and then we started scoring from there and we've kind of kept that mentality, and I think we've done a good job. We like where we are in the standings, and we've got to continue pushing to continue improving that gap between second place. Overall, pretty solid. Some stuff we can improve on and look at, but we've got to be happy with where we are.