The St. Louis Blues will be without Paul Stastny, Jay Bouwmeester, Jaden Schwartz, Steve Ott and Jake Allen when they face the Los Angeles Kings at Staples Center this evening (7:30 p.m. / FOX Sports West / KABC 790 / I Heart Radio), but they won't be without a well-developed reputation as being one of heaviest and most structured teams in the National Hockey League.
"St. Louis in general is a team that is very committed to checking as a group," Associate Head Coach John Stevens said Saturday morning, They have all four lines and all six D committed to playing that way. Their top offensive guys are committed to playing that way. So it makes them tough to play against, you know? They check well in all three zones. It's not just the checking line that does it. They expect everybody to play that way and they've got some size and they've got a bunch of guys that have been there for a long time with a lot of familiarity with the way they want to play. These are games you always look forward to because they are like playoffs games."
And while there are challenges in personnel that the visitors will face this evening, they will still rely on one of the most electrifying players of the game in Vladimir Tarasenko, who has a bevy of moves in his arsenal but is among the most skilled players in the National Hockey League in swooping from the perimeter to the tops of the circles and unleashing a wrist-shot that gives Joe Sakic's a run for its money.
"I wish he only had one move, to be honest with you," Stevens said.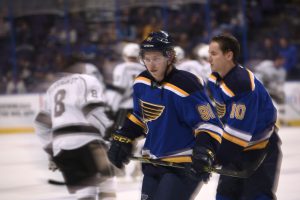 Speaking with several Kings about his patented step from the half boards into high scoring areas, it was learned that the stick check is a valuable asset in containing one of the league's most gifted offensive players. Tarasenko, 24, enters tonight's game with 24 goals and 43 points in 42 games played.
"First, you get your stick down and try to move him to the outside," Christian Ehrhoff said. "But he's a very skilled player, so if he gets some time he'll make some plays and he's got a really quick release, too. So you've got to try to play him tight and limit his time with the puck, but that's often easier said than done."
Stevens continued his scouting report on the young Russian, who also finds success in more scripted power play situations. Goal scorers, it is often said, are able to score goals in many different ways.
"He's a pretty dynamic player. He's a big, powerful guy and he's very deceptive on his edges," he said. "I think the play you were talking about is he kind of gets you leaning outside and he can over-skate the puck to the middle of the ice, and then he becomes really dangerous. I think the big thing with him is you just have to play him straight up one-on-one. You've got to try to get gaps established early and then you have to take his time and space away…especially in the middle of the ice."
John Stevens, on the team's direction:
Well, our goal is to make the playoffs and accumulate as many points as we can along the way. So we're certainly happy with the position we're at, but I'd consider it to be lying if we didn't have to improve in a lot of areas. I think we're like everybody else. We've got points here along the way, but we certainly know we can be a lot better in a lot of areas. Our focus right now is just trying to get better every night and just focus on the next game.
Stevens, on where he would like to see the team improve:
Obviously the penalty kill has dropped off lately. We continue to want to be better defensively. And more consistently, we want to be a team that can create more offense. So we're always going to be a team that's built on our defensive play but clearly the area of our penalty kill has dropped off lately. Our checking as a team we wanted to get better and I usually think that leads to more offense for us.
Stevens, on whether the team has enhanced its identity after last season:
Quite honestly, we addressed last year at the end of the season and we don't really look at it too much anymore. Last year is last year and this year is this year. We do think we have an identity as a team, a team that really plays hard. We're all committed to playing that way, playing a tough defensive game that wants to possess the puck. We think for the most part this year if you watch us play, you know that.
Christian Ehrhoff, on whether the team is establishing consistency in its play:
Yeah, I think so. I know it's very clear to see that other teams know how we play. You hear from other teams that it's frustrating to play against us. And no matter the score, we always play the same way which is kind of one of the, I'd say, rare things in the league because not many teams can do that. It's a tight group in here and everybody believes in the team. So it's a good thing.
Ehrhoff, on developing chemistry with Luke Schenn:
I think we match up well together. We complement each other with our different skillsets and our first game I thought was really good. Going forward, we'll try to talk a lot. I tried to talk to him a lot during the game and went through some things before the game and that communication will help us get that process of getting to know each other speed up.
Ehrhoff, on limiting penaltie, given St. Louis' road power play success:
Yeah, that's always a priority. Sometimes it just doesn't work, but we have to be better on our penalty killing, too. That's something that we've given up a little much lately. Yeah, it's a great challenge for us, for sure.
Brayden McNabb, on St. Louis' forecheck:
Yeah for sure, they're a big, heavy team and so are we. So we're going to have to play that style and we're going to have to be quick below our goal line and play as five.
McNabb, on whether the team recalls the previous game against St. Louis:
Yeah, I mean they're in the same conference. We can play these guys in playoffs. So we're treating this as a playoff game and it's going to be a hard-fought battle from the guys on our end.