Vincent Lecavalier, on joining the Kings:
It's a first-class organization with a great hockey team. I'm just glad to be a part of it, and it's just very exciting.
Lecavalier, on whether he feels he could jump in right away and contribute:
Yeah, I haven't played in a while, but I've been practicing hard, and I'll try as be as ready as possible for that first game, and you know, obviously short shifts is the key, but no, I'm ready to go.
Lecavalier, on taking on a lesser role than one he previously held in his career:
I mean if you look at the lineup, obviously with Carts and Kopi, some top centers in this league, they just want me to come in here and fill in that role that they want me to. I'm ready for it, I'm excited for it, they've had a lot of success playing as a team, and that's what everybody's doing. That's what everybody has to do to win, and I'll do the same.
Lecavalier, on whether he has spoken with the coaching staff about his role:
We haven't talked. I got here pretty late, so it's been a long day. I think we're meeting after. Just play hockey, and I've been watching their games, we were here last week, and I've watched a few games. I know how this team plays, it's all about support and all about playing together. You can tell when you watch the Kings play, it takes 10 seconds to figure out how they play because it's so simple yet effective, and that's what makes them so good. It's not everybody everywhere, it's everybody supporting. That's why they've been so good the last little while.
Lecavalier, on whether he sees himself fitting in well:
Yeah, like I said, I'm excited. I think I'll fit in really well. I don't know who I'm playing with, I don't know really anything right now, I just want to do my best and make sure tonight that I'm ready to go and play well with the guys.
Lecavalier, on how long he had been mulling retirement, and how difficult the decision was:
It wasn't. It's something that I was planning on doing, and it's something that I'm going to do. I'm happy to be a part of a team where I get a chance to play, to play a certain role, I'm really excited about that, and to get a chance to win another Stanley Cup would be great. The best season of my career was when I won in 2004, so hopefully I can come in here and help out as much as possible, try and help these guys keep going. Obviously they're doing well, so keep going with them and hopefully it's going to be another great season.
Lecavalier, on the difficulty of his time in Philadelphia, and whether it was enjoyable:
No, it wasn't. I think the first 30 games, or 20 games I really enjoyed myself, I thought I was playing some pretty good hockey and I got some injuries. But, you know, the decision for me to go there was mainly for Peter Laviolette. He left after three games – he got let go after three games – and the mentality changed. I wasn't really a part of their plans after that, so yeah, very frustrating, but I'm happy I'm here now.
Lecavalier, on whether he has any friends on the Kings roster:
I don't, actually. I mean, a few guys I've met before, but nobody – I know Luke knows a few of the guys personally. I've met Gabby and Kopi a few times here and there, but I don't know anybody really personally. But it's good, kind of feels like the first day of school, but it's exciting.
Lecavlier, on whether he'd still consider retirement if his Philadelphia tenure had been different:
I don't know. A lot of things happened over two years It was very frustrating, but that's where I'm at right now, that's what I'm planning on doing.
Lecavalier, on whether he spoke with Martin St. Louis when mulling retirement:
Well, we talked, not necessarily about that. I was just asking him how he was doing because I know how he loves the game, and he was happy. He's got three kids and he's coaching all three teams, so he's probably busier now. But no, we haven't really talked about my situation, about that. He's the type of guy that wants me to stay positive and keep going, keep pushing, so he's happy for me to change teams.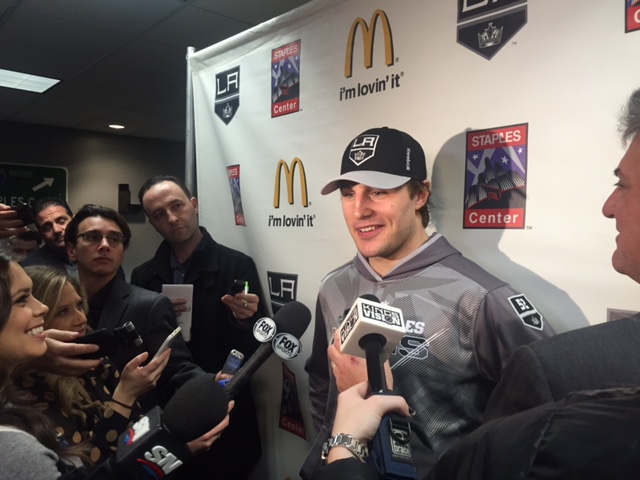 Luke Schenn, on joining the Kings:
I'm really excited, you know, it kind of hits you as a bit of a shock initially. I've never been traded before in the season, so a bit of a whirlwind, but really excited. We just played the Kings last week, and they're obviously a great team. We were all talking after the game about how we thought it was probably the toughest game we've played all year, against the Kings, so to get traded to a team like that, where you know they get respect around the league, it's a pretty good feeling.
Schenn, on whether it's helpful that he's played with and is friendly with Drew Doughty:
Yeah, for sure. Obviously I've played with him a little bit before. We were in the same draft class together, and we're buddies. We've grown up a little bit, but I know a few other guys on the team too, so it always helps to see a few familiar faces around.
Schenn, on whether his playing style fits the Kings' systems:
I hope so. Obviously you just try to fit in any way you can, but I know that obviously they're a big team that plays physical, plays hockey the right way, and I just want to come in here and help out and be simple and help out any way you can.
Schenn, on Vincent Lecavalier:
You know what, I think if you asked any guy on our team in Philadelphia, the way the situation was the past couple of years in Philly, he's nothing but a true professional. He's handled it better than anyone I think possibly could. He came to work every day in practice, he's the first one to do extra drills in practice with the scratches or the hurt guys. In a situation like that, it's pretty easy to probably walk around and not feel so great about yourself and bring your teammates down, but he hasn't shown that at all. He's been nothing but a true professional, and I think that's probably one of the impressive things, and you can ask any guy on our team about that in Philadelphia and everyone would say the same thing.
Schenn, on how his family responded to the trade:
Yeah, it's funny how everything comes a full circle. Brayden was drafted here, had a short time here, but we ended up in Philadelphia together. That was real exciting for the both of us – we got the chance to play together for a couple years. Now I come back here, it's kind of funny how everything works out. It's something you definitely wouldn't expect, but you know, the time he did spend here he said it was nothing but great memories and a great organization, and obviously he knows a handful of guys here that were around five years ago. Obviously it's a great organization, you can tell by the past few years how they've done and the way they've built things. It's nice that he can give you a few pointers and tips. It's crazy how everything works itself out.
Schenn, on trying to bring a physical element to the team:
I think that's part of my game for sure, is to try to be physical. That's probably when I feel I'm most successful is when I'm playing physical. I don't want to say you're going to replace Matt Greene or this guy or that guy, I just want to try to come in here and play and try to help the team and try to fill whatever role they want me to fill.