Lots going on today from Citizens Business Bank Arena in Ontario. The Reign practiced at 10 a.m. and welcomed back Adrian Kempe and Derek Forbort. I caught up with Kris Newbury, who made his first comments since his injury. Many other updates as well, so here we go.
–The biggest story of the day was indeed the return of Adrian Kempe from World Juniors. After missing eight games while in Finland representing Team Sweden, he'll wear a Reign uniform again Friday night when the team hosts Stockton. Click here if you want everything he had to say after his first practice. "It was very good to see him and I thought he looked outstanding in practice today," head coach Mike Stothers said. "So, I guess that's all positive and all good." Thursday he was skating with center Derek Army and right winger Sean Backman and Stothers said we should "probably" expect the same for tomorrow night. "I like the speed on either side for Army, some skill, and I like Kempe and Backs together," Stothers said. The coach previously said it can take players some time to regroup when returning from World Juniors and that could certainly be the case for Kempe. "Today he looked great, tomorrow is probably when he's going to hit the wall with the fatigue and everything else," Stothers said. "We'll see how it goes tomorrow, but his slow is probably faster than most guys' fast. So even if he's not 100 percent, I still think he brings a lot to our team. And we talked about it, getting through the two games and then if he needs some time, a couple of recovery days we can do so next week because the schedule kind of permits it, allows it." So will he be looking to monitor his ice time, or just throw Kempe right out there? "I let them dictate their ice time," Stothers said. "If they get a lot, it means they're playing well and I'm happy with them. If they don't get so much it usually means I'm not real happy with them and they're not having a great game. I anticipate and I expect with Kempe that he'll see a lot ice tomorrow."
–Defenseman Derek Forbort practiced today following his reassignment yesterday from the Kings after the parent club made a trade to bring in Luke Schenn and Vincent Lecavalier from the Flyers. "I just want to come down here and help the team win," said Forbort, who got to Ontario last night. "I'm not going pout or anything or get a bad attitude or anything like that, I'm just going to work my hardest and help the fellas."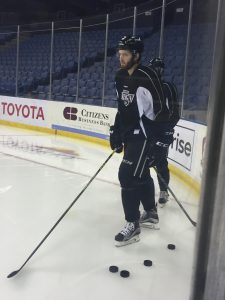 Forbort was reassigned to Ontario in late October, playing two games, so this is his second stint with the AHL affiliate. As is for Kempe, Stothers said he expects an adjustment period for Forbort as well. "It's not easy," the coach said. "Everybody would think, you come back from the NHL and you're just going to light it up or play great and dominate a game and it's far from the truth. It's actually harder to play in the American League than it is in the NHL in the fact that everybody in the NHL is an elite player and is in the position they're supposed to be and making the plays they're supposed to. Here, we're close, but there's still some hiccups. It's hard. There is a period of adjustment." Stothers wouldn't indicate who he plans to pair Forbort with, but did say he likes the options he has with him. "It makes us bigger and he's very reliable, very dependable," Stothers said. "It's real good addition to the back end, that's for darn sure." With the addition of Schenn to the Kings, it could be more of an extended stay for Forbort in Ontario. This is what he said was the message from the Kings: "Just go down and not try and do too much because you're going down, but do your thing, play your game and just be hard to play against and be assertive."
–Veteran center Kris Newbury has missed the last three games with what head coach Mike Stothers called a "mid-range" injury on Wednesday. On Thursday, I talked with Newbury as he made his first comments since being out of the lineup and he said the injury occurred in the New Year's Eve loss to Stockton. "I don't know what exactly happened, I just didn't feel right when I came back to the bench," he said. "The next day it just got worse, so just kind of proceeding with caution at this point." Newbury said he doesn't expect he'd be in the lineup this weekend and that he is instead hoping to get back on the ice next week. "It's getting better every day so we'll just have to wait a couple more days and see how it is and hopefully go from there and see me on the ice sooner than later," he said. It's been a tough season for Newbury, who also missed 12 games earlier in the season after suffering a broken foot. "Both kind of injuries where I didn't know the severity of it," Newbury said. "Obviously with the foot, I knew it hurt at the time but was able to play the rest of the game. And come that next Monday, eventually go for the X-ray to find out it's broken. It's been frustrating but at the same time, you know, I've been pretty lucky the years that I've played I've kind of avoiding injuries so maybe it's just catching up to me now. Take it in stride and just try to get better."
–Defenseman Nick Ebert was not on the ice and has now missed the last two practices for the Reign with "maintenance" days. "It's just more maintenance, an upper-body thing, I should hopefully be back out there this weekend," he said after practice. "That's the plan, so I'm just trying to take it easy and hopefully everything will be OK the next few days here." Ebert said he couldn't recall when the injury occurred and that it was "more over time." He's taking these days off as he's "trying not to push it," and to avoid the chance of potentially aggravating it a little more in practice." He said he hopes to be out at morning skate on Friday but that it's up to the trainers.
–As part of the Kings' trade on Wednesday, Jordan Weal, a former player for Stothers with Manchester last year and the Calder Cup MVP, was moved to Philly. Stothers talked about other players moving on from the organization that were integral to last season (he didn't name names, but of course there's Colin Miller, Brian O'Neill, etc.). "If they're getting an opportunity to play in the NHL on a regular basis, then I'm extremely happy for Wealer," Stothers said. "I'm familiar with the Flyers organization, I know it's a great organization. I'm happy for him. If he gets a legitimate chance to play in the NHL as a regular, it's a great thing. And as far as the rest of the trade works out, it certainly gives the Kings some size and some depth, some experience. So, to me it looks like a win-win for everybody."
–Kings prospect Alex Lintuniemi of the Manchester Monarchs has been working out with the Reign as he rehabs from surgery on his left wrist (he has some gnarly scars, by the way) in early December. "There's more equipment here than down in Manchester and Muirsy's doing a great job in helping me with the scar and movement in my wrist, so it's a huge improvement," he said. (Muirsy is a reference to the Reign's head trainer, Mike Muir.) Lintuniemi has been mostly limited to skating, but today he was stickhandling and also doing a drill almost ringette-esque with weights on the ice and his stick turned over.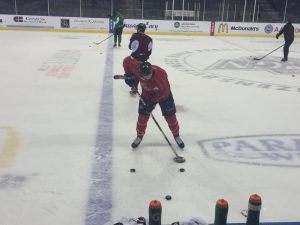 "It was kind of fun actually," Lintuniemi said, adding that that kind of movement will help with strength and in getting used to the puck. "It's a little sore in some spots, a little swollen still but I guess that's normal," he said. "It's getting better every day so hopefully I'll be back soon." Lintuniemi said his timeline to stickhandle was four weeks and to be back playing was six weeks, adding that he's "a little ahead of schedule," as far as the stickhandling goes.
–In Wednesday's conference call featuring Kings GM Dean Lombardi, he mentioned not anticipating centers like Jeff Carter and Anze Kopitar going anywhere as part of the reason in his thought process of moving Weal. But Lombardi also did reference the Reign's Nic Dowd, who could be waiting in the wings at this point. "It's great," Stothers said on what he thought of Lombardi mentioning Dowd. "Dowd is a guy in my opinion that could very easily be an All-Star in the American Hockey League. Very deserving of it and he's done a lot of good, positive things for us all through last year and this year. Obviously he's headed in the right direction and he's impressing the people that he needs to impress, which is upper management with the Kings. I think that's high praise coming from Dean and he doesn't just throw that out there easily either. When he throws it out there, there's obviously some substance to it. Again, it's encouraging for Dowder but it's also encouraging for the other guys who are here. You're being watched, you're being evaluated and maybe you force them to make other decisions that get you your opportunity to be up there. Terrific."