Los Angeles Kings (25-12-2) vs Toronto Maple Leafs (16-15-7)
Thursday, January 7, 2016, 7:30 p.m. PT
Staples Center, Los Angeles, CA
Referees: #11 Kelly Sutherland, #21 TJ Luxmore
Linesmen: #79 Kiel Murchison, #57 Jay Sharrers
Fox Sports West, KABC 790 AM, I Heart Radio
Los Angeles Projected Starting Goaltender – Jonathan Quick
2015-16: 32 GP (32 GS) / 22-9-1 record / 2.12 GAA / .923 Sv% / 3 SHO
Career vs Toronto: 5 (5) / 2-2-1 / 2.74 / .906 / 0
Last Game vs Toronto: 12/14/14 / 65 MP / 28-31 + 2/3 shots / 3-4 SOL
2015-16, Home: 17 (17) / 11-6-0 / 2.22 / .912 / 1
Toronto Projected Starting Goaltender – James Reimer
2015-16: 17 GP (15 GS) / 7-4-4 record / 1.96 GAA / .936 Sv% / 0 SHO
Career vs Los Angeles: 4 (3) / 3-0-1 / 1.83 / .950 / 0
Last Game vs Los Angeles: 12/14/14 / 65 MP / 33-36 + 3/3 shots / 4-3 SOW
2015-16, Away: 8 (7) / 4-2-1 / 1.53 / .948 / 0
2015-16 Los Angeles Leaders
Total Points: Tyler Toffoli (19-12=31)
Goals: Tyler Toffoli (19-12=31)
Assists: Anze Kopitar (10-20=30)
Plus/Minus: Tyler Toffoli (+22; 19-12=31)
Penalty Minutes: Andy Andreoff (46; 3-1=4)
Time On Ice: Drew Doughty (27:56; 7-17=24)
Corsi-For Percentage: Nick Shore (60.9%; 2-4=6)
2015-16 Toronto Leaders
Total Points: James van Riemsdyk (14-15=29)
Goals: Leo Komarov (15-13=28)
Assists: Tyler Bozak (9-18=27)
Plus/Minus: Roman Polak (+13; 0-9=9)
Penalty Minutes: Dion Phaneuf (38; 3-17=20)
Time On Ice: Matt Hunwick (22:25; 0-5=5)
Corsi-For Percentage: Brad Boyes (56.9%; 4-8=12)
Rankings and Statistics
Goals/Game: LAK – t-15 / 2.64; TOR – 17 / 2.61
Goals Against/Game: LAK – 2 / 2.21; TOR – 15 / 2.61
Power Play: LAK – 8 / 20.2%; TOR – t-17 / 18.6%
Penalty Kill: LAK – 9 / 81.7%; TOR – t-16 / 80.0%
Shots/Game: LAK – 2 / 32.2; TOR – 5 / 31.2
Shots Against/Game: LAK – 9 / 28.7; TOR – 24 / 30.9
Faceoffs: LAK – t-20 / 49.6%; TOR – 11 / 50.7 %
Save Percentage: LAK – 4 / .923; TOR – t-10 / .916
Corsi-For Percentage: LAK – 1 / 55.8%; TOR – 12 / 50.4%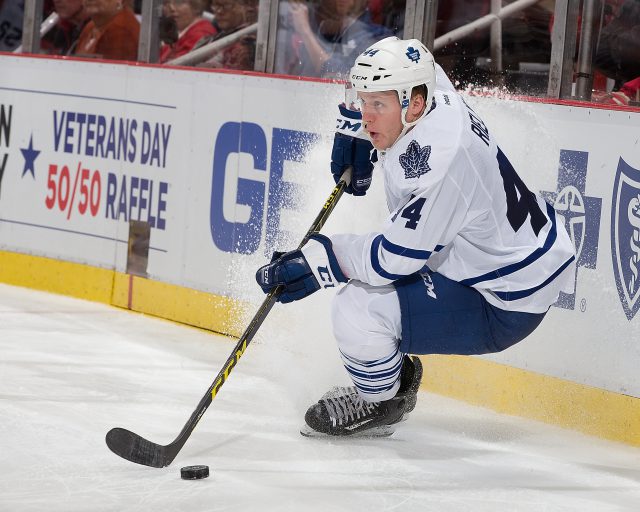 Los Angeles Projected Lines
Milan Lucic – Anze Kopitar – Tyler Toffoli
Tanner Pearson – Jeff Carter – Marian Gaborik
Dwight King – Trevor Lewis – Dustin Brown
Andy Andreoff – Nick Shore – Jordan Nolan
Brayden McNabb – Drew Doughty
Jake Muzzin – Alec Martinez
Christian Ehrhoff – Jamie McBain
Jonathan Quick
Jhonas Enroth
Notes and milestones: Los Angeles is 62-59-23 all-time against Toronto, a record that includes a home mark of 36-24-10. The Kings are 0-1-0 against the Maple Leafs this season, and tonight's game will conclude the season series. … Los Angeles is 11-5-2 against the Eastern Conference and 4-3-2 against the Atlantic Division this season. … The Kings have power play goals in six straight games and are 7-for-20 over that stretch. … Anze Kopitar has assists in six straight games (1-9=10), which is tied for a career-high. The only other time he recorded assists in six straight games was between November 6-19, 2010. It is tied for the third longest assist streak by any player in the league this season (currently the longest active streak) and the longest by a King since Dustin Brown registered a six-game assist streak between March 6-16, 2012 (0-7=7). … With 456 career points (211-245=456), Brown is one point behind Mike Murphy (457 points) for 11th place on the franchise's all-time list. … Jonathan Quick ranks second in the NHL in wins with 22 and has five consecutive wins. He is 13-2-1 with a 1.75 goals-against average and a .936 save percentage (996:44 minutes / 452 SA / 423 SV) over his last 15 games, dating back to the 3-1 win at Florida on November 23. … With 98 goals as a King, Jeff Carter is two goals from 100. … Tyler Toffoli is tied for the league lead with a plus-22 rating. … Marian Gaborik has 25 points (15-10=25) in 22 career games against Toronto.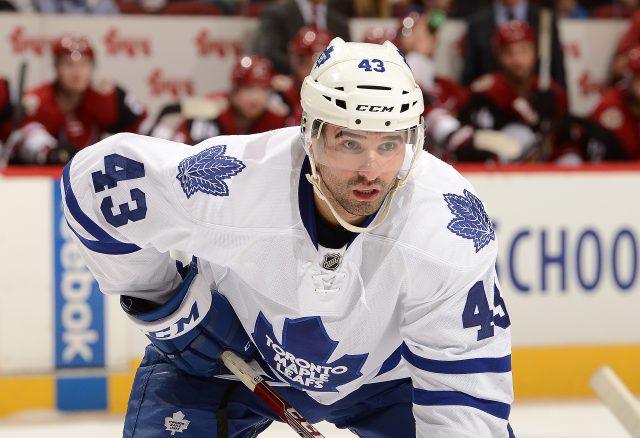 Toronto Projected Lines
Michael Grabner – Nazem Kadri – Leo Komarov
James van Riemsdyk – Tyler Bozak – P.A. Parenteau
Daniel Winnik – Marc Arcobello – Joffrey Lupul
Shawn Matthias – Peter Holland – Brad Boyes
Jake Gardiner – Dion Phaneuf
Matt Hunwick – Morgan Rielly
Martin Marincin – Roman Polak
James Reimer
Jonathan Bernier
Notes and milestones: Lines via MapleLeafs.com … Toronto is 8-2-2 in its last 12 games, having recorded a first period goal in 10 of those games. … James van Riemsdyk has 16 points (7-9=16) in his last 15 games. … Leo Komarov has 12 points (5-7=12) in his last 10 games. … Tyler Bozak has 13 points (5-8=13) in his last 12 games. … Nazem Kadri has 10 points (3-7=10) in his last nine games. … Jake Gardiner has seven points (1-6=7) in his last seven games. … Only four players expected to dress tonight (Nazem Kadri, Leo Komarov, James Reimer, Morgan Reilly) were drafted by Toronto. … The Maple Leafs are 0-3 in overtime and 4-4 in shootouts this season. … Toronto is 11-5-1 against the Western Conference and 4-2-1 against the Pacific Division.