If you're looking for 10 minutes to kill, might I suggest the following Drew Doughty and Luke Schenn conversation with Gary Bettman and Bill Clement during the 2009 All-Star Weekend?
Doughty and Schenn are close. "I think Schenner likes his share of pillow talk at night," Doughty said in the interview, referencing the fact that the two chose to room together during the weekend in which they both participated in the Young Stars game. Players had the option of having their own room.
Also learned in the interview: The two defensemen took in a Lakers game from the floor when Schenn and Toronto visited during their rookie seasons in 2008-09. The next night, they chirped each other at ice level.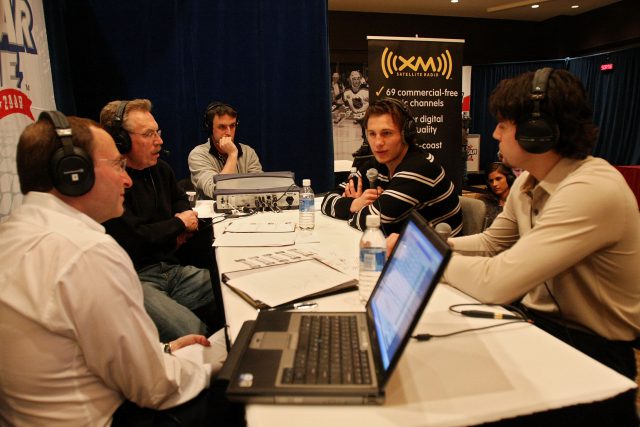 Doughty and Schenn were teammates at the 2008 World Junior Championships and took home gold medals from the Czech Republic after Matt Halischuk beat Jhonas Enroth in overtime to secure Canada's fourth of five consecutive golds. They appeared on opposite sides at the 2008 CHL-NHL Top Prospects Game and were selected three spots apart at the draft that year, with Doughty going second overall to Los Angeles and Schenn joining Toronto with the fifth overall pick.
"We were pretty good buddies on all those teams," Doughty said Thursday. "I hung out with him a lot. For three or four years there I was around him all the time, and he's a great guy. Came up from a great family, really, really nice people, and he wants to win a Stanley Cup, and that's what we want to do here, too. Bringing him in, I know that he's determined to get that championship, and he's determined to play whatever role the coaches want him to play and be effective in that role."
Doughty also said that Schenn had reached out to learn more about where to live while tying up odds and ends in planning a cross-country move.
"He was really excited, happy to come to a winning team here and exciting he wants to win the Stanley Cup," Doughty said.
Like Lecavalier, who Doughty believes to have met but has scant recollections of facing in game action – I've watched him play when I was growing up, so I know the talent level he has," Doughty said – he sees the two newest Kings as players who will come in hungry to have a chance to do something special with a group that reached a league zenith multiple times.
"[They] obviously came from a team where they're maybe not doing great in the standings or whatever it is, and to come to a team that's in first place in the division, a team that's won two Stanley Cups in the last four years, that's going to make both those guys hungry," Doughty said. "They want to fit in right away and they want to be effective in their roles and do whatever it takes to help us win."