Good afternoon from Denver, where the Kings will be taking a quick nap in advance of their game tonight against the Colorado Avalanche (6:00 p.m. PT / NBCSN / KABC 790 / I Heart Radio).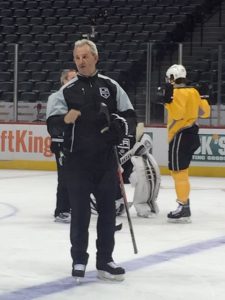 At the morning skate, the Kings aligned as such:
Lucic-Kopitar-Toffoli
Pearson-Shore-Gaborik
King-Lewis-Brown
Mersch-Andreoff-Nolan
McNabb-Doughty
Muzzin-Martinez
Ehrhoff-McBain
Weal-Forbort
-Jeff Carter did not take rushes during the morning skate and should not be expected to play tonight against the Avalanche. He remained on the ice for extra work with Derek Forbort, Jordan Weal and Jonathan Quick. And yes, I am aware Jordan Weal isn't a defenseman, but when a forward is paired with a D-man during rushes, it's probably a sign that neither will be in the lineup.
-Jhonas Enroth left the ice first. He's expected to draw his first start since the game in Toronto on December 19.
-That could give a night off to Jonathan Quick, who was named the NHL's First Star from play last week. Quick had previously been named the Third Star of the week that ended October 25.
Quick went 4-0-0 with a 1.00 goals-against average, .968 save percentage and one shutout to help the Pacific Division-leading Kings (25-11-2, 52 points) extend their winning streak to five games. He stopped all 27 shots he faced to record his 40th career shutout (and third this season) in a 5-0 victory over the Vancouver Canucks Dec. 28. In doing so, Quick tied John Vanbiesbrouck (Detroit, Mich.) and Frank Brimsek (Eveleth, Minn.) for the most shutouts by a U.S.-born goaltender in NHL history. He followed that performance with 42 saves in a 5-2 triumph over the Edmonton Oilers Dec. 29. Quick then closed the week by allowing one goal in a pair of wins, making 23 saves in a 4-1 victory over the Calgary Flames Dec. 31 and a 29 saves in a 2-1 triumph over the Philadelphia Flyers Jan. 2. The 29-year-old Milford, Conn., native ranks second in the NHL with 22 wins in 32 appearances this season (2.12 GAA, .923 SV%, 3 SO), including five straight victories and a 12-2-0 record in his past 14 outings.
–As Terry Frei of the Denver Post reports, Semyon Varlamov will start in net for the Avs one game after he allowed four goals on 19 shots in a loss to Calgary.
"Even in the (Calgary) game, I thought he was not responsible for goals," said Roy, as reported by Frei. "We just had a hard time (picking) up guys in front of the net. They were perfect tips, under the bar, post and in. He certainly wasn't responsible for that game."
Also from a Colorado perspective: Nathan MacKinnon will be reunited with Matt Duchene, with Norwegian Andreas Martinsen skating to their left. Martinsen appeared to get under Los Angeles' skin during a Kings exhibition win at Pepsi Center on September 27. Michael Mersch scored on Varlamov in that preseason shootout (yuck) win.
-Darryl Sutter took the option, but I'll have a story on Alec Martinez up later this afternoon in which I'll consult with Associate Coach John Stevens. I'm also planning on recording a SolarCity video from the warmth of the fireplace at our team hotel, and that should be available tomorrow. There's plenty more to come on a busy game day, Insiders.