Los Angeles Kings (24-11-2) vs Philadelphia Flyers (15-14-7)
Saturday, January 2, 2016, 1:00 p.m. PT
Staples Center, Los Angeles, CA
Referees: #22 Ghislain Hebert, #23 Brad Watson
Linesmen: #56 Mark Wheler, #70 Derek Nansen
Fox Sports West, KABC 790 AM, I Heart Radio
Los Angeles Projected Starting Goaltender – Jonathan Quick
2015-16: 31 GP (31 GS) / 21-9-1 record / 2.16 GAA / .922 Sv% / 3 SHO
Career vs Philadelphia: 10 (9) / 5-3-1 / 1.88 / .934 / 1
Last Game vs Philadelphia: 11/17/15 / 65 MP / 36-38 shots +3/3 / 3-2 SOW
2015-16, Home: 16 (16) / 10-6-0 / 2.30 / .908 / 1
Philadelphia Projected Starting Goaltender – Michal Neuvirth
2015-16: 16 GP (14 GS) / 8-4-2 record / 2.06 GAA / .937 Sv% / 3 SHO
Career vs Los Angeles: 2 (1) / 0-1-0 / 2.27 / .889 /0
Last Game vs Los Angeles: 1/9/12 / 20 MP / 7-8 shots / 2-5 L
2015-16, Away: 9 (8) / 3-3-1 / 2.44 / .927 / 1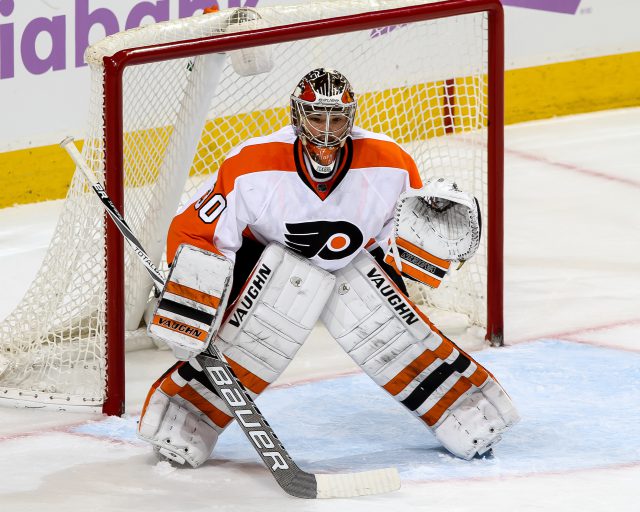 2015-16 Los Angeles Leaders
Total Points: Tyler Toffoli (18-12=30)
Goals: Tyler Toffoli (18-12=30)
Assists: Anze Kopitar (10-18=28)
Plus/Minus: Tyler Toffoli (+22; 18-12=30)
Penalty Minutes: Andy Andreoff (41; 3-1=4)
Time On Ice: Drew Doughty (27:57; 6-17=23)
Corsi-For Percentage: Nick Shore (62.2%; 2-4=6)
2015-16 Philadelphia Leaders
Total Points: Claude Giroux (12-17=29)
Goals: Claude Giroux (12-17=29)
Assists: Jakub Voracek (4-20=24)
Plus/Minus: Shayne Gostisbehere (+4; 6-8=14)
Penalty Minutes: Wayne Simmonds (82; 9-11=20)
Time On Ice: Michael Del Zotto(23:54; 1-7=8)
Corsi-For Percentage: Sean Couturier (55.1%; 6-9=15)
Rankings and Statistics
Goals/Game: LAK – 12 / 2.70; PHI – 29 / 2.14
Goals Against/Game: LAK – 2 / 2.19; PHI – 18 / 2.69
Power Play: LAK – t-11 / 19.8%; PHI – t-27 / 16.0%
Penalty Kill: LAK – 7 / 83.5%; PHI – 24 / 77.6%
Shots/Game: LAK – 2 / 32.2; PHI – t-11 / 30.1
Shots Against/Game: LAK – t-7 / 28.5; PHI – 29 / 32.6
Faceoffs: LAK – t-20 / 49.6%; PHI – t-22 / 49.4 %
Save Percentage: LAK – t-3 / .923; PHI – t-8 / .917
Corsi-For Percentage: LAK – 1 / 56.1%; PHI – 16 / 50.0%
Los Angeles Projected Lines
Milan Lucic – Anze Kopitar – Tyler Toffoli
Tanner Pearson – Nick Shore – Marian Gaborik
Dwight King – Trevor Lewis – Dustin Brown
Michael Mersch – Andy Andreoff – Jordan Nolan
Brayden McNabb – Drew Doughty
Jake Muzzin – Alec Martinez
Derek Forbort – Christian Ehrhoff
Jonathan Quick
Jhonas Enroth
Notes and milestones: Los Angeles is 42-83-17 all-time against Philadelphia, a record that includes a home mark of 22-42-8. The Kings are 2-8-0 in their last 10 home games in the series, with the Flyers having won four straight games at Staples Center, outscoring Los Angeles 14-7 since a Kings victory on January 3, 2009. Los Angeles, which won 3-2 in a shootout in Philadelphia on November 17, has never swept a two-game season series against the Flyers. … The Kings completed the month of December with a record of 10-3-1 (21 points), the best December in team history for wins (previously 9; three times: last 2010) and points (previously 19; three times: last 2010). It was also tied for the third most wins in team history in any month (sixth time; last: March, 2013) and tied for the fifth best points percentage (.750) in any month in team history (third time; last: November, 1984). … After a stretch of playing 15 of 20 games on the road, Los Angeles opens up a stretch of 14 games in which nine will be played at home and 11 in the Pacific Time Zone. … Jonathan Quick is 12-2-1 with a 1.83 goals-against average and a .934 save percentage (916:44 minutes / 422 SA / 394 SV) over his last 15 games, dating back to the 3-1 win at Florida on November 23. His 21 wins rank second in the NHL. With 40 career shutouts, he is tied with John Vanbiesbrouck and Frank Brimsek for the most shutouts ever by a United States-born goalie. … Tyler Toffoli ranks second in the league with a plus-22 rating and has points in five straight games (6-2=8). … With 99 career points (26-73=99), Jake Muzzin is one point from 100 in his career. … With 456 career points (211-245=456), Dustin Brown is one point behind Mike Murphy (457 points) for 11th place on the franchise's all-time list. … Darryl Sutter is coaching his 299th regular season game with the Kings this afternoon.
Philadelphia Projected Lines
Michael Raffl – Claude Giroux – Brayden Schenn
Jakub Voracek – Sean Couturier – Wayne Simmonds
Matt Read – Scott Laughton – R.J. Umberger
Chris VandeVelde – Pierre-Edouard Bellemare – Ryan White
Mark Streit – Nick Schult
Luke Schenn – Radko Gudas
Shayne Gostisbehere – Michael Del Zotto
Michal Neuvirth
Steve Mason
Notes and milestones: Philadelphia is 0-2-0 on its three-game, eight-day road trip through Anaheim, San Jose and Los Angeles. The Flyers are looking to avoid their fifth straight loss on the road (0-3-1) after having won four straight road games prior to the current stretch. … Philadelphia is 2-0-0 in afternoon games this season. … Seven of Wayne Simmonds' nine goals have come on the road. … The Flyers' .665 points percentage (189 points / 142 games) against the Kings is the third highest winning percentage they have against any NHL franchise, trailing Atlanta/Winnipeg (.732) and Hartford/Carolina (.680). Philadelphia had posted a 32-game unbeated streak against Los Angeles between October 22, 1974 and February 13, 1983 (27-0-5). … Claude Giroux has 10 points (3-7=10) in 10 career games against the Kings.