Good afternoon from the team hotel in Calgary. The Kings skated at the Scotiabank Saddledome earlier today and aligned thusly: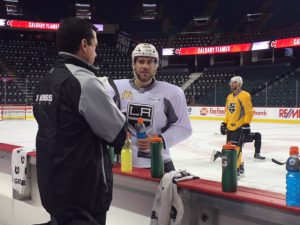 Lucic-Kopitar-Toffoli
Pearson-Shore-Gaborik
King-Lewis-Brown
Mersch-Andreoff-Nolan
Extras: Weal, Carter
McNabb-Doughty
Muzzin-Martinez
Ehrhoff-McBain
Forbort
–BUT. Jamie McBain remained on the ice for extra work with Jordan Weal and Jeff Carter, so it appears as though Christian Ehrhoff will be in for McBain and not Derek Forbort. There was a moment when the thought was that the team could using seven defensemen tonight, but that doesn't appear to be the case. Jonathan Quick left the ice first and will be expected to lead the team out of the tunnel to conclude the road trip.
-Jeff Carter (upper-body) didn't take part in the line rushes that opened the skate. He's not expected to play tonight, but hey, we weren't expecting Dwight King to play in Edmonton, either. January 2 or 4 seems like a better bet for a Carter return.
-Kari Ramo will draw his eighth straight start for the Flames, who are likely to line up with Gaudreau-Monahan-Hudler, Ferland-Backlund-Colborne, Bennett-Granlund-Jones and Bollig-Stajan-Bouma, backed by Giordano-Brodie, Russell-Hamilton and Engelland-Wideman.
-Darryl Sutter quotes will follow shortly. Happy New Year, Insiders.