A version of this story, which I wrote in October, originally appeared in the 2015-16 LA Kings Yearbook, available at the Team LA Store at Staples Center. All photos credited to Andrew D. Bernstein / LA Kings.
Wayne Gretzky, so the stories go, had a particular affinity towards fast food, so much so that he'd regularly consume a Big Mac immediately after leaving the team's practices at the old Culver City Ice Arena.
Gone is that rink, sadly, as well as what many would describe as an outdated nutritional model in athletic training.
Today's game represents a peak in the training, body-shaping and on and off-ice commitment towards what represents an encompassing hockey "lifestyle."
Teams bring in chefs to prepare balanced meals for the team, and in addition to the strength and conditioning coach who oversees the players' off-ice training and weight management, individual players, such as Dustin Brown, see nutritionists.
"I think it takes a maturity," Jake Muzzin said. "I guess it all depends on who the guy is and what their eating habits are. When you go pro, you're on your own. You may not eat the way a pro should eat. It's not because you don't want to, it's just that some guys don't even know how to cook because their billet families and moms have cooked for them their whole life and that's just the way it is. I was the exact same way. It takes some time to take responsibility and learn that eating healthy is very important and not just going to some place that won't help you."
And, on game days, peak performance dictates a steady intake of vegetables, chicken and pasta.
"I'm Italian, so I could eat chicken and pasta every day and I wouldn't get sick of it," Muzzin said. "We have a lot of it, what with 82 games and then playoffs, so over 100 times. That's fine with me. I grew up on chicken and pasta."
Today's players grew up with hockey as a year-round job with only periodic spots of relaxation and recovery. Many players in their draft years go through an extended junior or collegiate season, attend agency camps and world junior camps and meetings with scouts and team representatives all while their exploits and trajectories are rated and compared with their peers. By the time they've progressed past junior or collegiate hockey to the point where they've earned a NHL job, they've already gone a long way towards establishing a daily practice day and game day routine that helps them build consistency and positive habits.
The oldest player on the Kings is Marian Gaborik, and after 15 NHL seasons, his game day routine is standard and easily repeatable.
"I usually get here 90 minutes before the skate," he said. "Get in, we have a great set up here, have breakfast, hit the shower or go in the hot tub for a couple minutes to warm up, get dressed and go into the gym. Usually we have video after a morning skate or something like that. So just go to the gym and warm up."
Players will take the ice prior to 10 a.m. for morning skates, so Gaborik is accustomed to arriving early for his morning workouts.
"First, get on the roller. Roll out my legs. I have a specific warm-up to fire up the deep muscles and to get the posture squared away and then do some dynamic warm-ups and just stretch and get ready to go."
Said Muzzin: "For a 10 o'clock skate, usually around 8, you get here around 8:15 or so. You have some breakfast, have some coffee, [talk] with the guys, head upstairs [for a workout in the gym] and start getting the body ready for the morning skate."
Practices often begin with line rushes and flow drills as the team seeks to strengthen its speed in transition. Head coaches often talk about the importance of "detail" in individuals' performances and practice habits, an intangible that Dustin Brown looks to cultivate by "just being really sharp in practice overall."
"I think it's just making tape-to-tape passes, getting your feet moving, those sorts of things," he said. "If you're struggling to make tape-to-tape passes or moving your feet, it has to be practiced or how are you going to do it in a game? There are details in it, but most importantly is making good passes, getting your feet moving. Those are the few things I think of when I think of Darryl and what he wants out of us in practice, because you can see it pretty quickly when we're not making tape-to-tape passes in practice. It gets really sloppy, really quickly."
The team often takes the ice shortly before 10 a.m., and early in the season, practices tend to be longer in the installation of systems. Later in the year, veterans may be more inclined to take a recovery morning and work out or ride a stationary bike, and practices and morning skates, especially on the second night of back-to-back sets, may be optional.
There's also, both in group and individual instruction, learning through video.
"We do a lot of video here," Dustin Brown said. "I think as the year goes along, we probably do a little bit less. A lot of coaches are video-oriented nowadays. It's one of those things where you try to take what you can get from it. You can learn a lot from it. As players, I think there's a fine line between enough video to help you, then it gets to a point where you're sitting in the video room for a long time."
At home the players are clustered together across the South Bay, and on home game days, before the players settle down under the sheets for a regular pre-game nap, they meet at restaurants in Manhattan Beach.
"They're both Italian places, and we always try to complement that specific restaurant we go to with the other restaurant, so everybody's excited to have the pre-game meal and then just hit the wrappers," Gaborik said.
If the team is on the road, there will be a team lunch – and often a coinciding video session – in a private room at the team hotel. After the players wake up from their mid-afternoon nap, they have the choice of taking buses designed to arrive either two or two and a half hours prior to the start of the game.
"Sometimes [I'm on] the first bus and sometimes it's the second bus," Muzzin said. "If I'm hurt or I'm battling something, I'll come early and get it looked at. If I'm not feeling so hot, I'll come in, or if I had a bad night's sleep the night before and I need an extra half-hour of sleep to feel better for the game, then I'll take advantage of the second bus."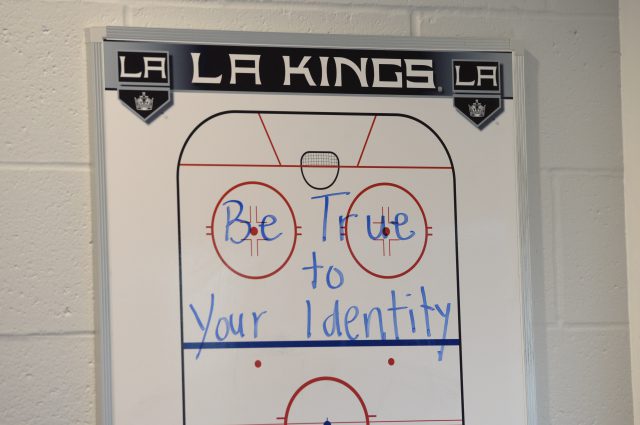 Hockey players, whether at home or on the road, are apt to fall into easily repeatable routines that serve as cushions for the mental grind brought about by an 82-game season.
With 879 career games to his name at the start of the season, Gaborik has played under several coaches. And over 82 regular season games, there's no constant grinding or grating on players. On ice, and on game-days, there's a sharpened focus. But when the team congregates in the back of the facility for a meal, or in transit to the team hotels, Sutter has built up relationships with his players.
"He's cool. He talks to us," Gaborik said. "Obviously game day, he's game-on, and he wants us to be game-on and focus on things and when you step onto the rink, it's all about business on a game day. Practice day, before practice, he can have some fun as well, and then practice, it's all about business.
"You have a long year, so it can't be all serious because you'll kill each other here. It's loose at times. Obviously game days, it's game on."