It wasn't quite the road script that the Kings have relied on in the past – not when eight goals are scored – but last night's game did provide a carbon copy of some familiar road elements in that Jonathan Quick kept the game scoreless with a superb first period in which the Kings spent 20 minutes trying to find their legs on the second night of a back-to-back that opened up with a track meet. Los Angeles handled Edmonton's speed better in the second period, and used their own underrated quickness to generate a rush chance or two – see: Tyler Toffoli's and Trevor Lewis' goals – and benefited from their bread-and-butter possession and cycle game as Dwight King and Michael Mersch scored on opportunities generated from good muscle deep in the offensive zone. Cam Talbot had been better in recent weeks for an Oilers team that had won seven in a row on home ice but was pulled 25:58 into the game as the Kings struck three times in a span of 96 seconds.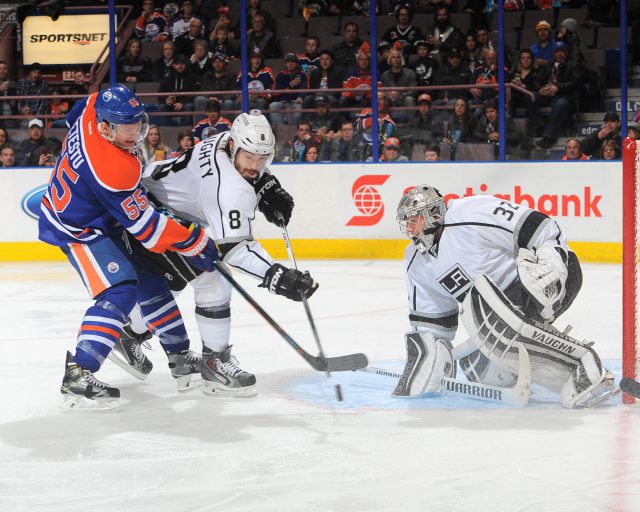 With Jeff Carter out, Los Angeles has needed an all-hands-on-deck effort, and while the tip-top players emerged with very good performances in a 5-0 win over Vancouver the night prior, Tuesday's goal scorers were Dwight King, Michael Mersch, Tyler Toffoli, Trevor Lewis and Dustin Brown. The King-Lewis-Brown line was excellent, and Dustin Brown's slight fake towards the net that resulted in a crisp feed to Lewis on the right wing was a terrific look-off that led to Lewis re-establishing the team's three-goal lead. The trio combined for eight points, with Lewis and Brown accounting for 10 of the team's 26 hits. Offensively, the team has scored 14 goals in the three games on this trip.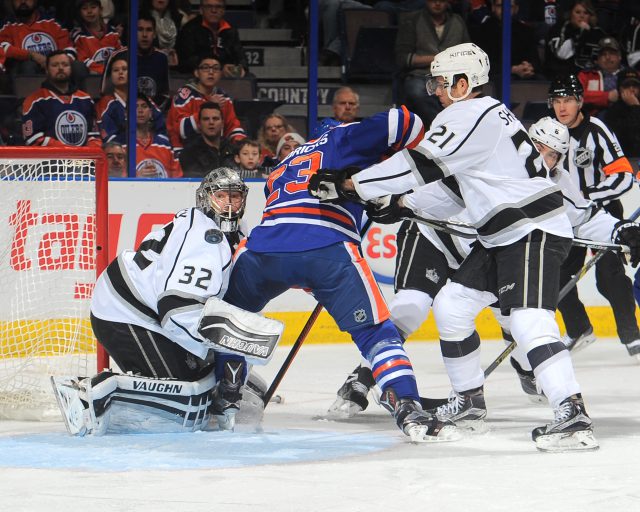 The Oilers still have a Max Power feel – the wrong way, but FASTER – but from the outside, it appears as though a step is being taken. For whatever reason, it seems that the morning after Kings-Oilers games this season, there's a "they're heading in the right direction, you guys" observation, and there are still major questions in net and on the blue line, where there are great young defenders in Darnell Nurse and Oscar Klefbom, and a strong complementary piece in Andrej Sekera, but not a ton of depth. This is still a team that obviously has high-octane offensive pieces, and even without Connor McDavid, Todd McLellan appears to have kept a high degree of positivity as he coaches the players to approach the next level that many have been waiting for. This is a team that will clearly have to learn how to win, and they haven't done that yet, evidenced yet again by a night in which they controlled long stretches of the game and were able to create chances om the rush against a Kings team that doesn't allow teams to cleanly exit its own zone. But they're still within striking distance within the Pacific Division, never mind that they fell into last place after the loss, and when Connor McDavid rejoins the team, they should still be in a position to make some noise to compete for a playoff spot late in the second half. The Oilers had won seven in a row at home before last night's game, and while there are completely different circumstances, different personnel and wholly different systems, there is somewhat of a similar feel to the 2008-09 Kings (minus the Brown-Kopitar-Greene-Stoll leadership pillars), who went on a late January / early February run to pull to within two points of a playoff berth but ultimately finished 12 points out and went on to draft Brayden Schenn (packaged for Mike Richards), Kyle Clifford, Nic Deslauriers (packaged for Brayden McNabb), Jordan Nolan and Nic Dowd by virtue of their draft position. Here's to Operation Keep Auston Matthews Away From Edmonton.