Los Angeles Kings (21-11-2) at Vancouver Canucks (14-14-9)
Saturday, December 28, 2015, 7:00 p.m. PT
Rogers Arena, Vancouver, BC
Referees: #20 Tim Peel, #32 Tom Kowal
Linesmen: #54 Greg Devorski, #89 Steve Miller
Fox Sports West, KABC 790 AM, I Heart Radio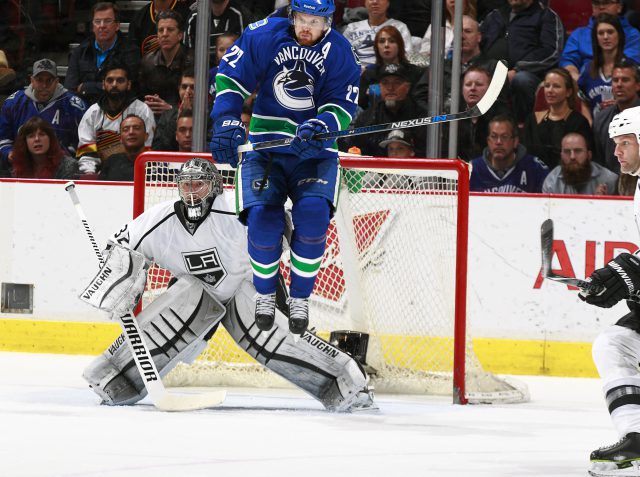 Los Angeles Projected Starting Goaltender – Jonathan Quick
2015-16: 28 GP (28 GS) / 18-9-1 record / 2.28 GAA / .916 Sv% / 2 SHO
Career vs Vancouver: 28 (28) / 13-13-2 / 1.70 / .936 / 2
Last Game vs Vancouver: 12/1/15 / 62 MP / 15-16 shots / 2-1 W
2015-16, Away: 12 (12) / 8-3-1 / 2.26 / .925 / 1
Vancouver Projected Starting Goaltender – Jacob Markstrom
2015-16: 11 GP (8 GS) / 3-3-3 record / 2.33 GAA / .924 Sv% / 0 SHO
Career vs Los Angeles: 2 (2) / 0-1-1 / 2.46 / .928 / 0
Last Game vs Los Angeles: 12/1/15 / 62 MP / 38-40 shots / 1-2 L
2015-16, Home: 3 (3) / 1-2-0 / 2.65 / .896 / 0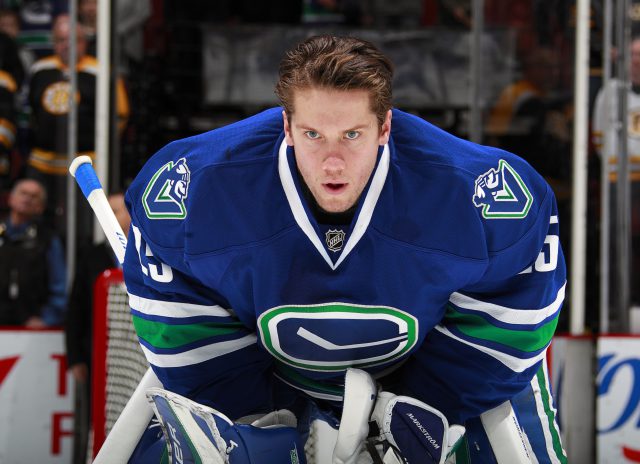 2015-16 Los Angeles Leaders
Total Points: Jeff Carter (11-17=28)
Goals: Tyler Toffoli (14-11=25)
Assists: Jeff Carter (11-17=28)
Plus/Minus: Tyler Toffoli (+18; 14-11=25)
Penalty Minutes: Andy Andreoff (41; 2-0=2)
Time On Ice: Drew Doughty (27:59; 6-15=21)
Corsi-For Percentage: Nick Shore (62.1%; 2-4=6)
2015-16 Vancouver Leaders
Total Points: Daniel Sedin (16-21=37)
Goals: Daniel Sedin (16-21=37)
Assists: Henrik Sedin (9-24=33)
Plus/Minus: Jannik Hansen (+11; 12-10=22)
Penalty Minutes: Derek Dorsett (106; 3-4=7)
Time On Ice: Alexander Edler (24:34; 6-11=17)
Corsi-For Percentage: Radim Vrbata (51.2%; 10-8=18)
Rankings and Statistics
Goals/Game: LAK – t-18 / 2.53; VAN – 22 / 2.46
Goals Against/Game: LAK – 4 / 2.29; VAN – t-22 / 2.76
Power Play: LAK – t-18 / 18.0%; VAN – 25 / 16.9%
Penalty Kill: LAK – 9 / 82.1%; VAN – 20 / 79.7%
Shots/Game: LAK – t-1 / 32.3; VAN – t-17 / 29.4
Shots Against/Game: LAK – t-5 / 28.2; VAN – t-25 / 30.6
Faceoffs: LAK – 23 / 49.0%; VAN – 30 / 45.7 %
Save Percentage: LAK – t-6 / .919; VAN – t-18 / .910
Corsi-For Percentage: LAK – 1 / 56.3%; VAN – 22 / 48.1%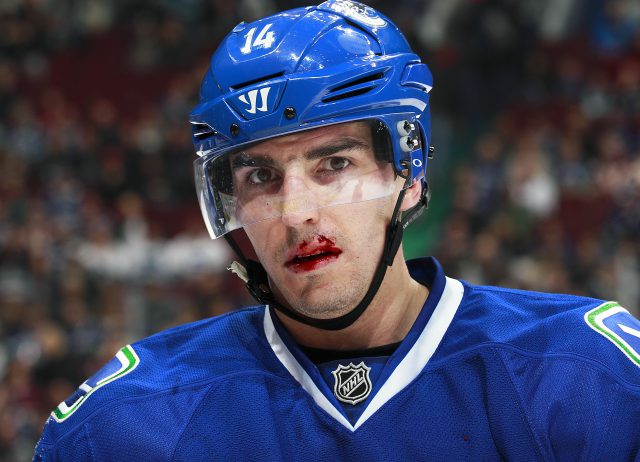 Los Angeles Projected Lines
Milan Lucic – Anze Kopitar – Tyler Toffoli
Tanner Pearson – Nick Shore – Marian Gaborik
Trevor Lewis – Andy Andreoff – Dustin Brown
Michael Mersch – Jordan Weal – Jordan Nolan
Brayden McNabb – Drew Doughty
Jake Muzzin – Alec Martinez
Derek Forbort – Jamie McBain
Jonathan Quick
Jhonas Enroth
Notes and milestones: Los Angeles is 103-98-36 all-time against Vancouver, a record that includes an away mark of 40-59-18. The Kings are 1-1-0 against the Canucks this season and will conclude the season series with games at Staples Center on March 7 and at Rogers Arena on April 4. … Los Angeles is 11-6-0 against the Western Conference and 5-5-0 against the Pacific Division. The Kings are 1-1-0 over a stretch of five consecutive games against the Pacific Division (L vs SJS, W @ ARI, 12/28 @ VAN, 12/29 @ EDM, 12/31 @ CGY). … Los Angeles has nine wins (tied for second in the NHL) when allowing the first goal (9-7-1) and a league-leading five wins when trailing after two periods (5-8-0). … Drew Doughty, who ranks third in the league with an average time on ice of 27:59, is tied with Steve Duchesne for third place on the franchise's all-time list of assists by a Kings defenseman with 216. … Jonathan Quick ranks third all-time among American goalies in shutouts with 39, trailing John Vanbiesbrouck and Frank Brimsek (both with 40). He leads all active American goalies with 39 shutouts. … With 243 assists, Dustin Brown is one assist behind Charlie Simmer (244 assists) for 12th place on the franchise's assist list. … With 98 career points (26-72=98), Jake Muzzin is two points from 100 in his career. … Should Jeff Carter not play tonight, his streak of 174 consecutive games played would end. Dustin Brown ranks second on the team with 129 consecutive games played. The club record is 330, set by Anze Kopitar between March 21, 2007 and March 26, 2011.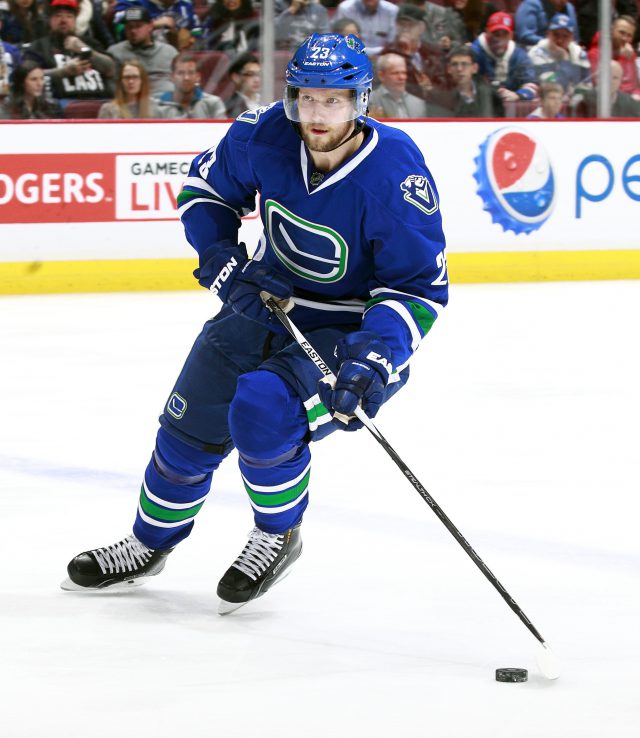 Vancouver Projected Lines
Daniel Sedin – Henrik Sedin – Jannik Hansen
Sven Baertschi – Bo Horvat – Radim Vrbata
Chris Higgins – Jared McCann – Alexandre Burrows
Brandon Prust – Linden Vey – Derek Dorsett
Alexander Edler – Alex Biega
Ben Hutton – Yannick Weber
Andrey Pedan – Matt Bartkowski
Jacob Markstrom
Joe Cannata
Notes and milestones: Lines via NHL.com correspondent Kevin Woodley … The Canucks are expected to be without Ryan Miller (undisclosed), Christopher Tanev (lower body), Dan Hamhuis (facial surgery), Luca Sbisa (hand) and Brandon Sutter (sports hernia surgery). … Vancouver has points in four straight games (3-0-1) and has won a season-long three straight home games. … Chris Higgins is expected to play in his 700th career game. … Daniel Sedin has 19 points (9-10=19) in his last 17 games and points in three straight games (2-1=3). He ranks seventh in the league with 133 shots on goal. … The Canucks are 1-10-3 when trailing after the first period and 7-0-3 when leading after the first period. They are winless in 14 games (0-13-1) when trailing after two periods. … Linden Vey appeared in 18 games with the Kings in the 2013-14 season, totaling five assists. … Back-up goaltender Joe Cannata appeared in 21 regular season games and nine playoff games for the ECHL's Ontario Reign last season.