Early in the first period on Saturday night, a reporter and I were speaking upstairs about how we weren't exactly expecting Game 7 of Kings-Blackhawks. Both teams had three days off and the visitors lost an hour in traveling day-of to face an opponent that has infused some skill and speed into its lineup but still adheres to a hard identity and intends to keep five-on-five scoring to a minimum. Power play goals were expected. What viewers received for two periods was an exhibition game that counted in the standings. "Sloppy" was used in other league cities to describe Saturday's games. 10 penalties were assessed through the first 40 minutes in Glendale – "They had their arms up the whole night. It was all penalties. All special teams," Darryl Sutter said about the officiating – before chaos reigned supreme in a third period that featured five goals and a Jake Muzzin match penalty that spurred an Arizona two-goal comeback. When the dust settled after 60 minutes, Los Angeles was at right at home in a three-on-three overtime situation, where they improved to 6-1 after Viktor Tikhonov, who had entered the ice for Antoine Vermette, was tasked with disrupting an Anze Kopitar power net-bound drive. Interestingly, after Toffoli's good look from the left circle sailed wide, the Kings were able to pick up the puck, regroup and reset in their own end, and enter the offensive zone with little resistance. Usually shots fired wide in three-on-three result in an odd-man chance in the other direction, but I'm not sure that the Coyotes even played the puck in the OT session. It was an enormous win for a team that shuffled its lines around to account for an early loss of a top-two center and still found a way to win after the home team scored twice late and had late third period opportunities to put the game away in regulation.
After the game, several players and Darryl Sutter referenced the Toronto game, in which Los Angeles trailed 1-0 after two periods but were felled 5-0 when the Leafs scored an early third period insurance goal and the Kings had to stretch their game out a bit as the play got away from them. I'm not privy to what is said in the room – "Win the third period," Darryl Sutter said when I asked him about what was exchanged after 40 minutes last night – but it became clear when speaking with Anze Kopitar and Tanner Pearson on FOX Sports West and Sutter after the game that the team was focused on not letting the Air Canada Incident happen again in the Sonoran Desert. What they received/generated surely couldn't have been planned for, with six goals scored over the final 20 minutes and 36 seconds, but they scored an enormously important power play goal 37 seconds into the third when Drew Doughty blasted an Alec Martinez feed past Louis Domingue and carried the momentum through the next 10 minutes as Tanner Pearson and Dustin Brown added big goals that allowed L.A. to play with the lead prior to Arizona's power play markers. Brown and Pearson, as well as Nick Shore, who could absorb a wider role should Jeff Carter be sidelined for any length of time, were all very good in the win.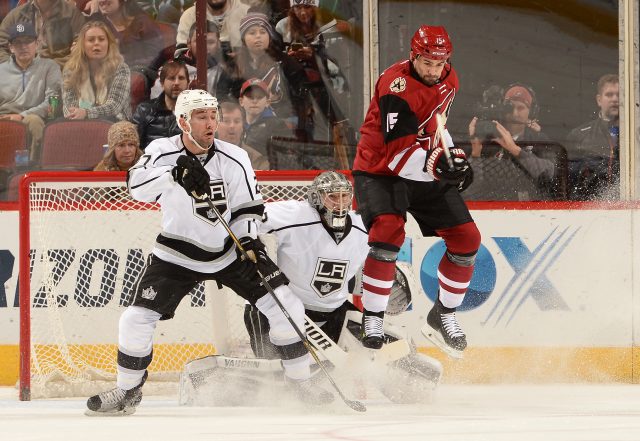 There was controversy last night, but Jake Muzzin, who unfortunately caught Boyd Gordon in a vulnerable position with his rear end, resulting in Gordon's head violently whipping back as he hit the ice, isn't likely to receive a suspension. There isn't an exact science to the verdicts assessed by the Department of Player Safety, a cadre that has among the most difficult and highly scrutinized roles in the league, but there appears to be an expectation that Muzzin's match penalty will be rescinded and he'll be available for the Vancouver game. Jeff Carter, who appeared to suffer an injury off the opening faceoff, will be evaluated in Los Angeles, and whether or not he's able to rejoin the club on the trip, or whether the injury is more concerning, will be reported soon on LAKI. Though the injury took place during a challenging four-game divisional swing, the Ontario Reign are in Southern California, so if the Kings need to make a roster move to bring a player up, there shouldn't be any travel complications. More to come on these topics soon.